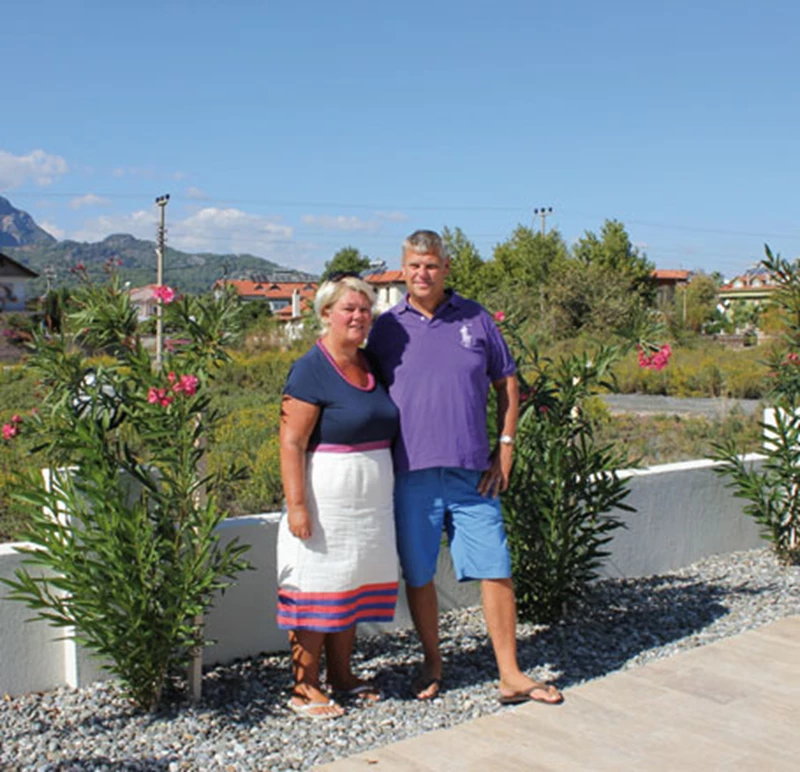 New Year's Eve will be extra special for British expats Allan and Denise Warren this year - it will be the first one the couple celebrate in their new home in Turkey.
The Warrens received the keys to their three-bedroom villa in Dalyan at the start of December 2013. They'd been living in the resort for several months prior to that, after relocating there with their two cats, Ronnie and Reggie, from Dorset earlier in the year.
"We retired on the 31st March 2013," said Denise, aged 48 who worked as a qualified jeweller. "Then in April we moved over from Swanage, where we have lived for most of lives and where we still have properties."
Although the Warrens, who have celebrated their silver wedding anniversary since arriving in Turkey, had enjoyed numerous holidays in the Dalyan area, they decided not to rush into buying a home there.
"We rented first, to give ourselves time to adjust to retirement and to ascertain the area and type of property we would require," said 49-year-old Allan, who worked as a risk and insurance manager with a local council.
"The property we rented was a three-bedroom villa, close to the river in the Gulpinar area and with a private pool.
Our advice...
Our advice to others thinking of moving over would be to holiday in as many different locations in the province as you can - just like we did, then rent first and take your time to choose the right property.
"Rental prices in Dalyan are considerably lower than those for similar properties in the UK."
The 'right' property for the Warrens is a brand new villa completed in March 2013, for which they paid £167,000, including white goods.
Close to the centre of Dalyan, downstairs the property has an open-plan lounge, kitchen and dining area with a fireplace, as well as a bathroom and utility room.
French windows open out on to a large sun terrace, while to the front of the property is a car port, accessed through gates. All of the three double bedrooms, which are split over the first and second floors and reached via marble staircases, are en-suite, while two have French windows overlooking the pool and garden. All rooms have air-conditioning units and the property also benefits from solar panels.
"We chose the villa because it stood out from the rest that we viewed in that it is very modern with a high quality finish," said Denise. "The property is just what we want as it has spacious bedrooms and a low maintenance walled garden with a private infinity pool."
In total, the Warrens' plot is 500 square metres. Allan and Denise bought their new home through local estate agency Sunray Property, who also developed the property in Spring 2013.
"Sunray have been very helpful and informative, and gave us step-by-step guidance to buying a property in Turkey," added Allan.
Sunray sells a range of property in the Dalyan area, including apartments priced from £30,000 to just over £100,000, villas, land, restoration projects and some commercial opportunities. The English-speaking firm also manages and lets property.
So why Dalyan?
The town's appeal to British and other foreigners lies in its stunning natural scenery combined with its low level of development compared to other popular resorts, which has allowed it to retain its Turkish character. By contrast, holiday hotspot Marmaris is just an hour north.
Still a fishing and farming hub, Dalyan nestles in a river delta - much of it a conservation area - surrounded by cotton and pomegranate fields, and orange and lemon groves.
A few miles downstream, where the Dalyan River meets the sea, is İztuzu beach, a protected turtle-breeding sanctuary also known as Turtle beach.
It's thanks largely to Turtle beach that Dalyan has remained unspoilt. When plans to build tourism facilities there were thrown out to protect the loggerhead turtles in the late 1980s - campaigners included David Bellamy, the Turkish Government made the Köyceğiz-Dalyan region a Special Environmental Protection Area (SEPA).
Not only does this protect the natural environment, but it also affects town planning in Dalyan, meaning there are tight building restrictions, including on the height of property.
The area has history too - on the other side of the river to Dalyan is the ancient city of Kaunos. Meanwhile, upstream is the large Köyceğiz lake, where you can spend the day at one of the many private beaches or hire a boat. Also nearby are thermal springs at Sultaniye and the Dalyan mud baths.
Much of life in Dalyan revolves around the river, particularly at its waterside bars and restaurants, which boast views of the famous Kaunos Rock Tombs and the pine-clad mountains beyond. Boats ferry people back and forth to the sandy beach at İztuzu - a very picturesque 35-40 minute trip, which is otherwise a 20-minute drive away in one of the regular dolmus buses.
Authentic and not too touristy
"We love Dalyan," confirmed Denise.
"It is not your typical tourist town as it still remains Turkish and has no large hotels. The lakes, mountains, rivers, beach and sea are spectacular. We've been holidaying here for the last 15 years and now have many Turkish as well as English friends - everyone is very friendly."
Another attraction of Dalyan is the weekly market each Saturday, where you can buy fresh local produce grown and sold directly by the local farmers, as well as typical household items, including spices, clothing and shoes.
For holidaymakers and British second homeowners, the easiest way to reach Dalyan is to fly to Dalaman Airport, just 30 minutes away.
Airlines that currently operate services there from the UK include Monarch, Thomas Cook, Thomson and EasyJet.
But it's hard to imagine Denise and Allan wanting to leave Dalyan and their new life in Turkey too often.
"The main benefits of being retired in Turkey are the climate, the food and the friendly Turkish people," enthused Denise.
"And the way of life not only costs less than in the UK, but is much more enjoyable."
Read our guide to buying a property in Turkey or search for home to buy in Dalyan.