Whether our summers are like last year's, whose perpetual sogginess drove us en masse to the nearest airport, or a belter like this year's (all is forgiven, 2012), it makes us long for winter sun - either to re-discover what we'd forgotten existed or to prolong the feel-good feeling.
So when searching for a home overseas, which always look wonderful when dappled in summer sun, the crucial question for those who know they need a December injection of ultra-violet is "will it work in winter?"
Climate is one factor. You also need to think about flights. The Balearics are seeing an ever-increasing number of year-round flights, for example, but the Greek islands or Turkish coast are less appetising when you have to kill a few hours at Athens or Istanbul airports en route.
Rental potential is also important; if you don't want to go there in winter, the chances are nor will anyone else.
We look at the options that could see you through this winter...
Less than five hours
CANARIES, MOROCCO, CYPRUS
Marrakech sits in the same time zone as us, but there the similarities end, which is what makes it so exotic and appealing. Winter days are blue-skied with easy double-digit temperatures and the medina is a blaze of colour, noise, smells and sights, all within a 3.5 hour flight. Medina life is intense, but if you can handle it, you can still find ancient riads needing total renovation for under £100,000. Or have the hard work done for you and buy a renovated riad such as the beautifully contemporary Zaouiat Lakdhar, with views of the nearby Koutoubia from the serene roof terrace, on sale for £250,683 (savills.co.uk).
Alternatively there's a three-bed, two-bath 164m2 ground floor apartment in a quiet area of Gueliz, for €359,000. It's got an attractive pergola covered terrace with small heated swimming pool and comes with 24-hour porterage and undergound parking space (Moroccan-properties.com).
The Canaries are the classic winter holiday destination if you want a hassle-free, guaranteed sunny spot with the comfort of English being widely spoken. Tenerife has plenty of greatly discounted properties on offer, including a one-bed apartment in Chayofa Country Club, five minutes from Los Cristianos, reduced by €9,000 (£7,700) to €129,950 (£111,595). (investintenerife.com).
Also good value, say Invest In Tenerife, is a four-bedroom villa in Callao Salvaje, a popular spot among British expats, ensuring plenty of life in winter, and 30 minutes from the airport, on sale for £410,000.
Cyprus has had its woes lately, most recently in our headlines when the banks were threatening to pilfer residents' savings. But the island has a longstanding appeal to the winter sun fraternity, with 300 days of sun a year and classic Mediterranean lifestyle, and there are discounted properties galore to zoom in on if you're cash-rich.
Some fancy waterfront development is still taking place, too, largely being lapped up by Russian buyers. In Limassol marina, one-bed apartments at Nereids & Thetis Residences cost from €370,000 (£323,500) and have uninterrupted sea views (limassolmarina.com). See pic above.
Near Paphos, new super-villas at the long-established, sporty and luxury Aphrodite Hillls resort are selling to wealthy Russians, Brits and Europeans - but you can still find cheaper properties for sale too, with one-bed apartments costing from €242,500 (aphroditehillsproperties.com).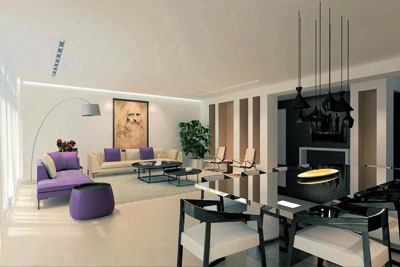 5-6 HOURS
DUBAI, CAPE VERDE, MADEIRA
It may not be the place to go if it's local history and quaint village charm you're after, but for guaranteed sun, beaches and huge air-conditioned shopping malls, Dubai is the place.
Property-wise, Dubai is on the turn again. After boom and bust, villa prices are now rising by 20 per cent a year again according to Knight Frank (knightfrank.com).
But the rampant speculation of old is being quelled by new laws clamping down on mortgage approvals and flipping before completion - and relatively little is being built.
Stick to the established locations, such as Dubai Marina, where Select Property have sold more than 90 per cent of apartments in West Avenue, a new residential tower, in five months. One-bed apartments start at £122,500 (selectproperty.com). Or Palm Jumeirah, where Cluttons Dubai are selling a two-bed apartment costs £342,000 and a one-bed in Downtown Dubai with views of the Burj Khalifa for £270,000 (dubai.cluttons.com).
Cape Verde came and went on investors' radars within the boom and bust years, but it hasn't diminished as a holiday hotspot with tourism up by 12 per cent last year and hotels on Sal island seeing near 100 per cent occupancy.
Cape Verde was also recently named "the most stable country in Africa" by the Economist Intelligence Unit with economic growth of 4.3 per cent expected this year.
But what about winters there? Sal, the most developed island, is still where most people head. The climate's wonderful, the beaches endless (with a stiff breeze perfect for windsurfers) and there's an international airport.
Prices are cheap too; you can still buy one-bed apartments for £35,000, including distressed resales on the Vila Verde resort (capeverdeproperty.co.uk).
Another winter stalwart is Madeira, a rocky outpost of Britain in the North Atlantic with a genteel charm and warm winters. Prices have fallen, owners are keen to sell, so look out for bargains. Two-bed flats with sea views in Calheta cost from £95,000 (nobregarealty.com) and two-bed apartments on the upmarket Palheiro Estate overlooking Funchal start at £427,000 (palheirorealestate.com).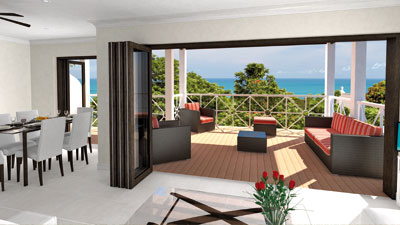 7-9 HOURS
The Caribbean and Florida
It's hard to beat Barbados for winter sun - an easy eight-hour flight that leaves after breakfast and has you on the beach in time for late afternoon cocktails.
With its long, hot December days, laidback feel and friendly demeanour, it's the most welcome antidote to British winters you could ask for - with plenty of reassuringly British features, if you're worried about feeling homesick, from driving on the left to Waitrose products in certain supermarkets.
A 10-minute drive - or a free shuttle bus ride - from Mullins Beach is the golf-lovers' Royal Westmoreland Estate, where apartments start at £260,000 (royalwestmoreland.com).
Also offering good value on the West coast (though community charges can be high on Barbados resorts) are two remaining apartments at Weston, St James, just across the road from prime Platinum coast beaches. The one-bed apartment costs £134,000 (cluttonsresorts.com). See pic above.
St Lucia - a quieter (unless you're living it up in Rodney Bay), more rugged and cheaper alternative to Barbados - is also on the up and apartments at The Landings, an award-winning beachfront resort near Rodney Bay, offering a private marina, unrestricted freehold ownership and various tax perks, cost from £363,000 (Jackson-stops.co.uk).
The Dominican Republic has always been the more budget Caribbean for Brits, yet it's the tourism engine of the Caribbean, loved by North Americans, and now Aman Resorts are building and selling homes there.
New nine-hour direct flights from Gatwick to El Catey international airport in the north-east of the island could up the British interest though.
You can buy new beachfront villas on the Las Nomadas resort in Las Terrenas - "a gem set on a peninsula and an amazingly affordable Caribbean town - one of the world's best-kept secrets," says Zoe Handy from Dreams2Realty.net - from £195,000.
"The town has year-round summertime with temperatures in the high 70s, fresh ocean breezes. It's reachable, affordable and delightful," says Handy.
Of course within this flight time-frame there's also Florida, with its fast-recovering market appealing to both lifestyle buyers and investors.
For the latter, Knight Knox are selling tenanted condos in St Petersburg on the West Coast with "strong net rental returns" from $59,500 (£38k).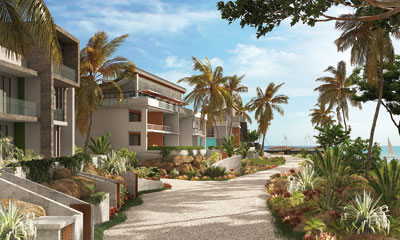 11-12 HOURS
INDIAN OCEAN, BRAZIL, FAR EAST
In Mauritius, a 12-hour flight from the UK, overseas buyers can only invest in properties that belong the Integrated Resort Scheme (IRS).
With the average price of IRS properties $1.6m (£1.06m) - and foreigners must spend at least $500,000 (£320,000) to qualify for residency and its tax perks - Mauritius is never going to be a budget option.
But its sense of exclusivity due to quiet island life, limited availability of property and luxury hotel resorts - plus the laidback, tropical French culture - is what is driving British buyers to see it as an attractive alternative to the Caribbean. Resort properties also come with the benefit of being fully-managed, with rental programmes in place.
At Azuri (azuri.mu), on the north-east coast, apartments start at the magic $500,000 mark (pictured above) and prides itself on being unusual in "blending residences for both Mauritian and foreign owners to live side by side", says Murray Adair, CEO of Azuri's developers, IOREC.
On the more remote South-East coast, Amalthea is the latest development on the large, low-density Anahita resort, set along six kilometres of turquoise sea. Properties cost from £429,191 (savills.com).
Or there's the new lifestyle development of Royal Park in Balaclava Bay located in 90 hectares of undulating parkland an beachfront the north-west of the island with three-bed ocean-facing apartments from €275,000.
Concierge and rental management available, plus 60 per cent finance packages from the leading Mauritian bank (royalpark.mu).
It's less than a year until Brazil is plunged into the global spotlight with the Football World Cup and then two years later with the Olympics - and the property market is gearing up accordingly.
Average prices in Rio have risen by 165 per cent in three years, according to the UN, with beachfront property in Ipanema and Copacabana among the most expensive in the world. But in Rio Hills, a lakefront country resort an hour's drive east of the party capital, designed by world-class architects, a three-bedroom villa costs from $350,000 (paradisehomesabroad.com).
In the north-east, Natal - another World Cup host city and home some of Brazil's most stunning coastline - is seeing huge investment in airports, infrastructure and property developments.
Pipa is a popular, high-end beach haunt among Brazilian holidaymakers and you can buy two/three bedroom resale apartments on the Pipa Beleza resort, near the village and beach, from £79,000 (uv10.com).
Thailand isn't a place you can pop to on a whim, give the 14-hour flight, but it is a destination that attracts a large number of winter refugees from the UK, lapping up idyllic island life in steamy temperatures for a few months at a time.
Phuket is a popular option, but "over-developed and you'll certainly see traffic jams," says agent Garry Wright from Jump Real Estate. Instead, he'd head by speedboat - a £4 journey - from Phuket to little-known Koh Yao Noi, weaving among the iconic islands (it's where James Bond raced around in Goldfinger) of Phang Nga bay.
New four-bedroom villas there, set around a large communal pool, cost from around £510,000 (and rent out for up to £300 a night), but Wright says the developer is planning cheaper options from around £250,000 (jump-realestate-pattaya.com).
"Koh Yao Noi is very undeveloped with only just four resorts, one convenience shop, a bank and a few small estaurants, but the views across the islands from these villas is amazing," he says.
Or in Pattaya, on the Gulf of Thailand's east coast, prices are cheaper still, with new apartments from £50,000 - "About 40m2, which is ideal for a holiday home," says Wright - and older properties from £36,000.