"Everyone always talks about the great food and culture in France, but for us it was more than that," explains Rosie.
"It's the ambience of the place and the genuinely relaxed approach to life. When you're in France you can totally de-stress, which is partly due to the courtesy of the people. It's a bit like going back to England in the 1950s, but the nice bits of winding the clock back."
Their hectic working lives (her as a Deputy Head Teacher, him as an hotelier) meant that they had little time to indulge their French passions, which was one of the reasons they decided to invest in a holiday property which has now become their permanent home.
Last year they paid €118,000 (£96k) for a characterful two-bedroom house on the edge of the village of Champniers, in the south-west Poitou-Charentes region, and relocated full time in August 2012, a process made easier by the team at Leggett Immobilier.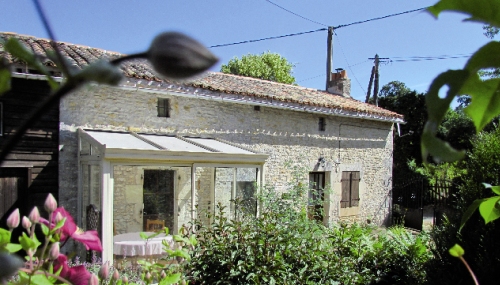 "We'd definitely recommend an established agent, and one that speaks English if your French is a little rusty," suggests Rosie. "We were so lucky with our agent Didi who not only showed us properties but also made sure that everything else went smoothly. She helped us set up the broadband and even organised for our central heating to be fixed when it started coughing and spluttering.
We'd now consider her to be a friend, not just an agent. Having someone who was on your side when you've moved to a new place was fantastically comforting."
Now that they're finally able to slow down, the Deans have the opportunity to really think about what they want from their new life. "We toyed with the idea of starting a gite business, especially considering Richard's hotelier experience, but in the end we decided that the whole point of moving to France was to stop working and slow down a bit. Instead, we're planning to spend our time becoming more self-sufficient. We've got a small amount of land and we're planning to build a potting shed and spend our time growing vegetables and raising chickens. Far less stressful!" says Rosie.
However, they do have plans to convert the property's attached barn to produce a large open-plan living/kitchen area, which will give them plenty of entertaining space.
"What attracted us to the house is the fact that the original features are just so stunning. Everywhere you look there are fabulous twisty beams that look like gnarled old tree trunks, which we both absolutely love, and we want to make the most of the features in the barn and bring those into the house," says Rosie.
The couple is already looking forward to having a traditionally French Christmas in their new home alongside their 18-yearold son Jake, who is at uni in the UK.
"The only thing I regret about the move is the fact that we didn't do it sooner. It would have been lovely if Jake had grown up being able to speak French like a native, but we'll now just have to make sure we make up for lost time." says Rosie.