What we've learnt... from our Greek renovation
Joan and Colin Bailey's Greek property "fixer-upper" was featured in our magazine last year. Now, after four months of building work, another four clearing up after it, and a €230,000 bill, we are able to show you the lovely result. Again, they are willing to share some helpful tips for anyone thinking of doing the same - but there's quite now a few more!
Just in case you missed the feature, to recap: the Baileys from Cornwall, bought a wreck in Fres, in north-west Crete, for £73,000 a year ago (left). The century-old detached stone cottage was in severe need of TLC and after a few pitfalls (see below!), the couple's patience has paid off.
1.Get to grips with Greek. You are working blind with no Greek language and thus you have to trust everyone... Not the best idea!
2.Take your time (like Greeks). We rushed headlong in and once the process has started it starts to cost you... Plan before you buy.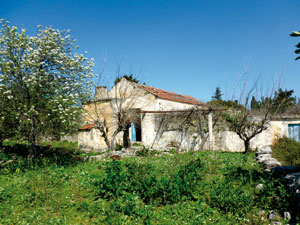 3. Don't choose a lawyer who advertises on an online forum. We did and found one that was unprofessional and overcharged. Instead use recommendations from contacts who have already used someone and had a good experience - not one linked to the agent.
4. Make sure you get every bit of advice in writing, and copy emails for your file. You will find that any dubious advice will have been given verbally only.
5. Receipts - the reality. In Greece you will get a receipt when you hand over money for a car, services, anything you buy. But it won't always be an official receipt (with perforations) - so ask for one- you'll need it for tax return.
6. Always get a quote up front for any job/service. This goes for engineers, architects and especially lawyers.
7. Don't be too nice. We realized a bit late that if you are your usual, pleasant, well-mannered self, this is taken for weakness and you will be marked as ripe for exploitation.
So be assertive + send out a firm message = less stress.
8. Never hand over money up front - you will never see it again! And don't hand over any unless the person you are handing it to gives you an official receipt...(see 5, above)
9. You will need an independent, English-speaking architect and engineer. Sometimes a person is qualified in both (as ours) but don't choose one with links to the builder. Often the estate agent will make recommendations, for which they take a percentage of the cost, for builders, engineers, architects, lawyers. You will never be sure they are working for you, so again, get recommendations from contacts.
10. Don't allow lengthy discussions between professionals that you are paying to take place in Greek. If they speak English insist you are in involved in the conversations - it is your house!
11. You and your engineer will need to make regular site visits. We visited every day and the engineer twice a week, but the builder still took short cuts, after giving the impression of listening to us! If you are absent, you will have no idea of what is being done and how.
12. When costing a builder, again, don't go for one recommended by the estate agent, who will take a cut of the cost. Make sure that any previous work that the builder shows you to see was actually done recently by the same workers he has now.
13. Have the building contract drawn up by your lawyer. If you don't any guarantee that goes with it won't be worth the paper it is written on. Make sure there are no ambiguous clauses, eg "waterproofing agent will be applied to all walls": ask what will be applied, what is it designed to do, and what guarantee comes with it?
14. Have a timeline for the work and tie this to stage payments (and make sure you have a sufficiently large final stage payment). Insist that official receipts are given with each stage payment and write this in to the contract. Add a deadline with a penalty clause if it is not finished on time - or you may find that the builder starts work and disappears off on anther project.
15. Agree extras at each stage and get the builder to sign a paper confirming what has been agreed. If you do not think work has been done as agreed say so in writing and get a response in writing.
16. You are responsible for the IKA paperwork - not the builder. IKA is the national insurance that you have to pay as the employer of the workers on your property. Arrange for your lawyer or accountant to file details of workers each month, or you could be in trouble with the authorities.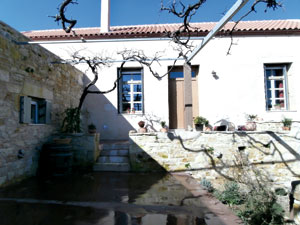 This is their completed house. Tempted? And not put you off by the above? Search for properties for sale in Greece here.
This features appears in the Spring 2013 edition of A Place in the Sun magazine, on sale now at all good newsagents