Zoe Dare Hall looks at where is hot to buy this year...
Brazil
From the moment that dancing street cleaner took to the stage in the 2012 Olympic closing ceremony, we were sold on the idea of Rio 2016, one long party of beach volleyball and caipirinhas.
Serious property investors are finding the world's sixth biggest economy hard to resist too. When billionaire Warren Buffett describes it as "one of the world's greatest investment opportunities in modern times", you know it's one to watch.
Brazil's property prices rose by 23.5 per cent in 2011, say Knight Frank - faster than anywhere else in the world - buoyed up not just by foreign investors but a fast-growing Brazilian middle class who have access to mortgages for the first time.
The 2016 Olympics - and the FIFA World Cup in 2014 - are prompting a frenzy of building and regeneration in Rio. Prices of beachfront flats in Ipanema and Leblon are up there with prime London or Paris, but Crystal Investments and Real Estate (investmentandrealestate.com) have a cheaper offering in the Rio Hills, 64km from Rio, with plots for modern villas on Lake Guarapine from £31,600.
Since the mid-Noughties boom began, Natal in Brazil's north-east has caught the attention of overseas buyers - particularly those who fancy a cheap beachfront holiday home they can use themselves and from rising property prices and high rental demand.
For those with a pure investment hat on, the country's Minha Casa Minha Vida (My house, My life) social housing scheme - which aims to build 3m properties in Brazil by the end of next year - promises attractive returns.
UK developer EcoHouse is building properties in the Government-backed Bosque
Residencial scheme near Natal.
Overseas investors can't buy the properties, but they can invest in the construction, injecting £23,000 in the project to be repaid, with a 20% return, within a year. They can then reinvest in the next project or take their money out.
"The project is structured in the UK and is governed under UK law. As buyers never transfer title deeds into their name they have no concerns regarding legal processes, taxes or political factors. There's also a motivated end-user in the newly-emerging middle class families who want to own a home," says David Almand, Director of Cyan
(www.cyaninternationalproperties.com), who act as EcoHouse's agent.
At Natal Beach Cup in Ponta Negra, Brazil property specialist uv10.com is confident enough in the potential of this South American powerhouse to guarantee rental returns of 6 per cent for four years. Within commuting distance of Natal city and in a popular holiday area, the flats - which cost from £34,000 - are likely to benefit from high local demand for purchase and rentals.
Cape Verde
This tropical island archipelago off West Africa, five hours flight from the UK, is one of the emerging destinations from the mid-Noughties that has survived. Things went quiet for a few years and prices dropped, but it's back in good health, thanks to the government's "prudent management and strong economic foundations", according to the IMF.
With annual tourist numbers expected to hit 1m by 2015, high rental yields are expected on five-star resorts such as Vila Verde on Sal island, where furnished properties cost from £55,000 (investmentandrealestate.com) and a 96 per cent finance package is available.
For those who feel that Sal has sold out, sacrificing local character for British and German tourists, Sao Vicente is a quiet, undeveloped alternative that is offering its first investment opportunities.
"Sal and Boa Vista have gone all out for tourism and the British SIPP market with all-inclusive resorts that could be anywhere from the Caribbean to Spain. Sao Vicente is about mixing with the locals and having a place you want to use yourself as well as rent it out and sell on in a few years," says Marc Herbert from Avante (avanteproperty.com), who are selling beachfront hotel condo-style apartments at Blu Marine on Sao Vicente from £60,000.
"We're realistically looking at 7-8 per cent growth a year and, as the properties are already built, we can get rentals of £70 a night," says Herbert.
Dubai
For a place that builds ski slopes in the desert and the tallest man-made structure in the world, having a property market that lurches from one extreme to another is fitting. Dubai's stratospheric success several years ago was matched only by the speed at which it crashed after 2007.
Now it's on the up again with 2012 seeing surprising growth, especially at the top end, with Knight Frank reporting property prices rising by 19 per cent in prime locations such as Downtown Dubai and Palm Jumeirah and Hamptons citing price rises of up to 30 per cent.
With a return of confidence among investors - particularly Middle Eastern buyers seeking a financial 'safe haven' - come rising prices and a rash of new projects (253 developments are still on hold since the crash), though in a more measured way than in previous years.
The Central Bank's proposal to cap loan to values at 50 per cent for expats and 70 per cent for locals should also eliminate speculators from the market and keep the market in check.
New studio apartments in Dubai Marina cost from £116,000 - a popular spot for expats seeking long-term rentals - and a one-bed flat at Lofts East in Downtown Dubai for £206,000, both through Cluttons Dubai (www.dubai.cluttons.com)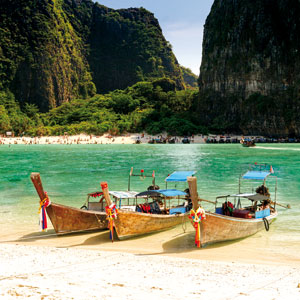 Thailand
Thailand's economy is one of the fastest-growing in Asia and tourism is booming, with 22 million overseas visitors last year. Its property market is still emerging, but there is significant overseas interest in that too.
At the luxury Laguna Beach in Pattaya - due for a 2015 completion in the less-developed East Thailand, away from the West's well-known resorts such as Phuket and Koh Samui - 164 British investors have bought apartments starting at £16,400 since 2011.
"Some are buying multiple units, either to combine into bigger apartments for personal use or as investments to take advantage of the high capital growth and strong, managed rental returns in this resort," says Luke Smith, MD of Crystal Investments and Real Estate (investmentandrealestate.com), who adds that this is the developer's 10th project, giving investors further confidence.
Property is still low-priced in Pattaya (a 12-hour flight from the UK and a three-hour drive from Bangkok) and tourism is growing. The Thai Government is also easing up on restrictions for foreign ownership of property. Laguna Beach's flats are freehold, furnished and expected rental returns are 10-12 per cent.
"The construction standards are far higher than other emerging markets considered for investment as Egypt or Brazil," says Smith.
Pattaya is also on the radar for Knight Knox, who are selling condo flats from £15,500 (www.knightknox.com).
"It's the nearest coastal town to Bangkok, it offers the best value for money and we're finding great interest from Russia, India and China. Pattaya has a spent a lot of money on infrastructure, which is pushing prices up," says Knight Knox's Samantha Jones, who recommends buying off-plan in Thailand to get the best value.
"A typical completed studio will sell for £30,000, but investors who are prepared to take the risk can pick up a unit off-plan for £15,000," she says.
She also recommends investors buy a property with full, freehold title. "It's the easiest and cleanest way to buy and 49 per cent of condos on any developments can be owned in this way by foreign nationals," she says.
In Phuket, Beach Projects (www.beachprojectsuk.com) are building Silver Beach, a new luxury condo resort ready in summer 2014 with properties from £117,000.
"While capital appreciation is currently minimal on land and villas, according to the Bank of Thailand, condos have increased in value by 10 per cent on average over the past five years. Buyers can realise that 10 per cent anticipated return if they buy off-plan and sell on completion or take advantage of income between 8-12 per cent a year thanks to a 250-day high season," says Roy Hanif, a Partner in Beach Projects.
Germany
It may lack the sex appeal of Ibiza or Barbados, but Germany is doing very well without needing hordes
of overseas property investors.
Munich is pricey (up 15 per cent last year), there's little available and the market is pretty impenetrable if you don't speak German. But historic Hamburg has more to offer - and with prices rising by 30 per cent a year and its former port, HafenCity, seeing massive regeneration and interest from foreign investors, there's big potential. At Harvestehuder Weg 36 on Outer Alster Lake, apartments ready this summer start at £303,000 (cluttonsresorts.com).
For pure investment, look at Leipzig, suggest Pro Venture Property (german-property-for-sale.com). They are selling a £55,000 flat in the desirable Gohlis neighbourhood, near the city centre, offering a 5.8 per cent potential yield. Even cheaper is a £21,000 flat in an attractive, newly-renovated 1900s block with a potential 9 per cent yield.
Germany does have one sexy city: gritty, cutting edge Berlin is full of opportunity with property prices still yet to catch up with other European capitals due to low level of property ownership.
In the central Mitte district on the River Spree, yoo berlin has one-bed flats in a 10-storey block from £355,000 (also Cluttons Resorts).
"This eye-catching new development appeals to investors looking for steady returns and capital growth and to those attracted to ultra-chic city living. The apartments will suit professionals interested in corporate lets," says Cluttons Resorts' director Alex Upson.
English property broker Jason Thackray (yourplaceberlin.com) recommends Mitte and cultural Kreuzberg. In Mitte, he is selling a three-bed penthouse for £856,000 (5 per cent yield from long-term rental), or there's a two-bed new flat in Mitte, for £323,000.
| | |
| --- | --- |
| This features appears in the Spring 2013 edition of A Place in the Sun magazine, on sale now at all good newsagents | |