Mary Wilson takes a tour around the Caribbean and offers some pointers for property hunters...
Best for Beaches - Barbados and Grenada
Barbados and Grenada have some of the most pristine sandy beaches in the Caribbean. Barbados may be known for its high life and glamour, but along its Platinum West Coast you'll find some cracking beaches. The hotel lined Sandy Lane Beach has the softest of sand and the water is extremely calm.
More secluded beaches, including Paynes Bay and Paradise Beach, are to the south. The west coast is where most investors buy property. At Royal Westmoreland Golf and Spa Resort (
royalwestmoreland.com
), prices start at £260,000 for one bedroom apartments to just under £4 million for a 7 bedroom villa. The newest properties here are at Sugar Cane Ridge, where semi-detached three and four bedroom villas cost from £805,000.
Brand new developments include Apes Hill and Port Ferdinand. The former is one of the few places where you can see both west and east coasts and on the 470 acre estate, golf and polo villas start at £645,000. Port Ferdinand is a 16 acre luxury marina development near Port St. Charles. Prices for the 86 two, three and four bedroom homes with private berths start at £1.43 million. "This is no doubt going to be the new address on the west coast" says Christian de Meillac, Knight Frank (
knightfrank.com
).
The longest of Grenada's 45 beaches is the two mile Grand Anse Beach, a favourite with both locals and visitors. There are several hotels and restaurants along its stretch, but it's large enough to find a secluded space.

Overlooking the beach is Mount Cinnamon (mountcinnamongrenadahotel.com/realestate), where five furnished one, two and three bedroom villas are available from £395,000. 15 more are coming to the market later in the year. Most of the hot spots are in the south of the island with Egmont and Belle Isle on the south eastern coast being the up and coming areas.
Best for Rainforests - St. Lucia and Tobago
Tobago has the oldest protected rainforest in the Western Hemisphere and it's teeming with wildlife from trap-door scorpions to bizarre botanical species, but you can only discover its secrets if you go with an experienced guide.
Samaan Grove Estate in Canaan is one of the property hotspots in the south.
"Samaan Grove is in one of the Designated Development Areas where non-nationals can get a license to purchase" says Natalie Mahabir of Caribbean Estates (realestatetobago.com).
You can buy a three bedroom villa there from £350,000. In Tobago Plantations, a gated development on the south east coast with villas and apartments set around a 27 hole golf course, two bedroom apartments start from £200,000; and in the established residential area of Mount Irvine, a four bedroom villa in six acres with pool costs around £2.5 million.

The rainforest of St. Lucia covers 19,000 acres and here you can see the colourful St. Lucia parrot, exotic flowers and the occasional boa constrictor. Investors looking for a guaranteed return could buy an apartment or villa at Freedom Bay (freedombaystlucia.com), a luxury eco-resort at the foot of the Pitons on the south west coast.

The homes are sold on a fractional or outright basis and the second phase has recently been launched. Prices start from £22,000 for a one week fraction of a one bedroom hotel villa; outright ownership from £880,000.

Fond Bay on the south east coast, Palm View Resort has 230 one-bedroom beach suites and two, three and four bedroom apartments, golf course and beach club. It is also home to St. Lucia's first casino and Health and Wellness Retreat. Crystal Investment and Real Estate (investmentandrealestate.com) is selling the beach suites from £240,000.

"The area around Cap Estate and Rodney Bay in the north west is also very popular" says Glad Taylor of St. Lucia Homes (stlucia-homes.com).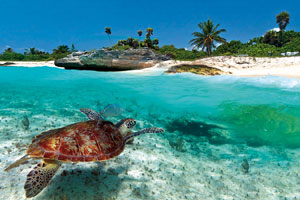 Best for Diving - St. Kitts and Turks & Caicos
There are 40 Turks & Caicos Islands, of which only eight are inhabited. Diving was the reason visitors were drawn to the Islands in the 1970s; not surprising as the water is sparklingly clear and the most extraordinary colours from the palest turquoise to pale pink, where there's a predominance of shellfish.
Diving in the Turks and Caicos-especially off Grand Turk, South Caicos and Salt Cay-is still considered to be among the best in the world.
Most overseas investors plump for the main island of Providenciales. You can buy a two bedroom hilltop home from £138,000, a contemporary two bedroom town house from £196,000 or a four bedroom beachfront villa for just under £2 million through Horton Realty (hortonrealty.tc)

The diving is wonderful off St. Kitts too. "There are many shipwrecks to explore and night diving is excellent - the best time to catch sight of sleeping turtles" says Pauline Bonanni of Select Resorts (selectresorts.co.uk).

Property prices range from £300,000 for a studio beachfront apartment up to £660,000 for a three bedroom house in Basseterre.

The southern tip of St. Kitts, around Frigate Bay, is where most development is, but a more rural, area in the north-west is the new place to be. Here, the 395 acre Kittitian Hill resort is under construction. In an elevated position, it will have villas, cottages, suites, spa, restaurants, shops, cinema and golf course. Fractional ownership of a three bedroom villa starts at around £275,000 up to outright ownership for £2.5 million.

Down in the south, Christophe Harbour (christopheharbour.com) is the largest of the developments. This 2,500 acre resort will have six beaches, super yacht marina, marina village, golf course and Park Hyatt hotel. Prices start from £270,000 for fractional ownership of a four bedroom villa rising to almost £4 million for an oceanfront home.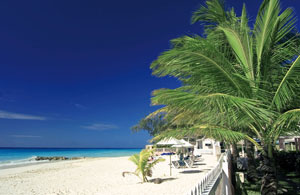 Best for Sailing - Antigua and the British Virgin Islands
Antigua, with its annual Sailing Week - which runs this year from 27th April to 3rd May, has long been one of the favourite Caribbean islands for yachties with its deep water harbours, sheltered inlets and reliable, steady winds.

You can race, learn the ropes or just chill out on a charter and a good number of young men and women from the UK cut their nautical teeth there by crewing for several months before settling down back home.
Jolly Harbour and the surrounding area is popular with investors and the west coast is seeing a boom, due to the success of developments, Tamarind Hills and The Palms.

At Jolly Harbour, prices range from £98,000 for a two bedroom villa needing some modernisation to £3.6 million for a fabulous seven bedroom villa on the beach with boat house and mooring.

At Tamarind Hill, you can buy a three bedroom town house with plunge pool from £725,000 and at The Palms, five three, four and five bedroom villas not far from the beach start from £510,000 through Luxury Locations estate agents (luxurylocations.com)

The British Virgin Islands are a divine place to sail with many islands to visit or sail around (some are private such as Necker, owned by Sir Richard Branson) and plenty of deep water bays to moor in.

On the larger island of Tortola, a three bedroom house could be bought for £500,000.

A new up-market destination is Oil Nut Bay (oilnutbay.com) on Virgin Gorda, a smaller and less populated island. The 300 acre development is on the northern tip, only accessible by boat, with 88 villa plots, restaurant, beach bar and three pools (which are already open) and plans for a children's club, marina, tennis courts, spa and fitness centre. Plots by the marina start at £1.2 million.
Best for Island Hopping - Bahamas and St. Vincent & the Grenadines
The Bahamas are made up of 700 islands with the two largest being New Providence and Grand Bahama. Other inhabited islands include Abaco, Eleuthera and Exuma, but there are many, many more to discover.

"Although Nassau is the capital, the true beauty of the Bahamas can only be found by travelling to the many secluded and unspoilt islands with their crystal waters and white sand beaches" says David Chowen, who is developing Bahama Cays. Here, colonial styled cottages are for sale with either sea views or by the water's edge.

Plots start at around £29,999 and two bedroom furnished cottages from £129,999.

On New Providence Island, a new mega waterside destination is under construction. Baha Mar covers 1,000 acres and will have 307 luxury residential apartments and villas, five hotels, galleries, restaurants and a nightclub, plus an Eco Water Park, three spas and golf course and the largest casino in the Caribbean. Savills (savills.com) is selling one bedroom apartments from £725,000 up to 4-bedroom beach villas for £9.5 million.

On Great Exuma, Roker Point Estates (rokerpointestates.com) is selling 147 plots on two prime sites, both close to the beach, starting at £107,000. A fully furnished two bedroom house including golf cart would cost from £300,000.

There are 33 islands in St. Vincent and the Grenadines to discover. You can hire a boat or take a skippered charter to explore secluded bays, lagoons and harbours to your heart's content.

Bequia and Mustique are the largest populated islands; most of the rest are uninhabited, perfect for finding a private haven for the day.

Alan Whitaker from Grenadine Villas (grenadinevillas.com) says, "Bequia is the place to go, as it has a real buzz going for it". Here, a two bedroom cottage near the beach costs from £180,000 or a five bedroom villa for £650,000.
| | |
| --- | --- |
| This feature appeared in the Spring 2013 edition of A Place in the Sun magazine. | |