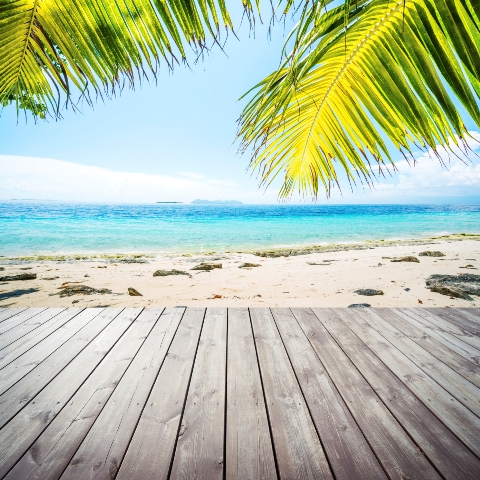 When John and Sally Vettese from Edinburgh began their search for a holiday buy-to-let in Turkey, little did they know they'd end up going a step further and moving out there for good. The Vetteses completed on their two-bedroom apartment near Altinkum on Turkey's Aegean coast in May 2009, after taking part in A Place in the Sun's property-hunt feature. "Originally, the plan was to rent it out, but we quickly changed our minds," said John. "We felt so at home that by July the same year we had decided to move there, which we were able to do in January 2011."
John and Sally's apartment, which cost them £33,500, is in the Apollon Holiday Village on the edge of Didim, a Turkish town two hours from international airports at Izmir and Bodrum. Altinkum, officially Didim's beachfront district, is a free shuttle-bus journey away, while in the other direction the coastal village of Mavisehir is a 20-minute stroll. The Vetteses were won over by the cheerful social scene on their complex, where facilities include pools, restaurants and bars. "We have Scottish neighbours, also here fulltime, who we've made friends with, and we know three other English couples living here, as well as Turkish families." The Apollon Village is where the comedy actor Ricky Tomlinson, of the TV series The Royle Family, has a holiday home, which he typically visits twice a year; while Joe Calzaghe, the former world champion boxer, has bought there as an investment.
Compared to other Turkish resorts, Altinkum is a relatively new expat destination where development has gained momentum only within the past five-to-ten years. Brits outnumber other foreign property-owners by far, although this year agents have noticed a surge in interest from other nationalities. Consequently, prices are still cheaper than, for example, in the Bodrum area, Alanya or Fethiye, but arguably not for much longer: "Investment is being ploughed into Altinkum," said Julian Walker of the property agency Spot Blue. "Recently finished or ongoing projects that benefit the resort include the new international terminal at Bodrum Airport, which opened in May, improvements to the road system linking Altinkum with Bodrum and Izmir, Altinkum's new marina — one of Turkey's largest and where permission for a handful of 5-star hotels has been given, its revamped seafront and plans for a golf course."
Encouragingly, care is being taken over the development of Altinkum, which translates as "Golden Sands". "A big effort is put into ensuring there are green spaces, so there are trees and plants along roadsides, on central reservations and on roundabouts," said Rob Thomas of the local property agency Ozsubasi Homes. "This isn't a concrete jungle, and there are restrictions on height levels — seven storeys in the Didim area and five storeys in the beach areas — ensuring that it will never become a high-rise city."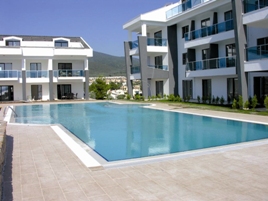 Currently, quality new two-bedroom apartments, either in a small private block or a larger complex, are available in Didim or Altinkum for £30,000-£45,000, or £25,000-£35,000 for a resale one. A three-bedroom villa will set you back £60,000-£80,000. Resident expats in Didim, of which there are an estimated 2,000, typically prefer to be a step back from the busy Altinkum seafront, most of which shuts down during the winter months, unlike Didim town. "They tend to opt for areas such as Third Beach, Mavisehir, Yesilkent and Apollo Temple," said Andy Probert, the editor of the expat newspaper Voices, and a Didim resident for six years. "For second homes, central Altinkum, the new Marina Road, Hunters Valley and Akbuk are popular." Local Turkish people tend to stick to the centre of Didim, home to one of Turkey's largest covered markets, the Pazar.
Carol and Gary Phoenix, from Manchester, are typical second homeowners in the central Altinkum area. They completed on a two bedroom duplex apartment in June, paying £42,500 through the agent Spot Blue. When the couple decided to buy abroad in January, after Gary came into some pension money, they initially considered Spain before being put off by the economic problems there. So they looked at Turkey, and, despite knowing Alanya, Side, Antalya, Fethiye and Calis from family holidays, chose to buy in Altinkum when they were won over by the resort on their first visit in February.
"My daughter and I spent three days looking at property in Alanya before travelling up to Altinkum," said Carol, who works in education. "When Jayne, our agent, showed us around the resort for the first time, we loved everything about it — the bars and restaurants, the proximity of everything and its quirky, seaside feel. They call it the Blackpool of Turkey!" The Phoenixes' property, which comes furnished, with two bathrooms and a balcony, is on the Golden Park complex. It is a ten-minute walk from Altinkum's beach, and they have a sea view and access to a communal pool. "We saw around 20 properties over the course of four days, so got a good perspective of what was available," said Carol. "However, Golden Park really stood out for us."
As for getting to their holiday home, from May to October the Phoenixes can fl y direct to Bodrum from Manchester, with Monarch, Thomas Cook, Thomson and Jet2 [Turkish Airlines have a longer season]. Otherwise, they must fl y to Izmir and take an internal transfer to Bodrum.


Akbuk, Yesilkent and Mavisehir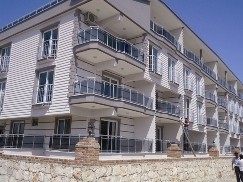 While Altinkum receives the lion's share of publicity, agents are keen to stress it's only one of a handful of areas worth considering in the area. Thomas of Ozsubasi Homes said: "There really is more to Didim, which has 55 kilometres of coastline, with 11 Blue Flag beaches. Yesilkent is a quiet leafy area, with small beaches and villas, and Mavisehir has a fishing harbour and gets stunning sunsets."
Twenty minutes round the coast from Altinkum is Akbuk, a much smaller resort, where people buy for the tranquillity and views. "People who buy in Akbuk regularly visit Altinkum and vice versa, so get the best of both worlds," said Jayne Schofi eld of the agency Turkish Connextions. "Property in Akbuk is more expensive now, and building has slowed due to the difficult terrain there. Planning permission is very different to neighbouring Altinkum, so in Akbuk there is more green space, but in coming years there will be several resorts and spas there."
Throughout Didim and Altinkum, the feeling is that the area is still up-and-coming, with further development expected to put it on a par with other Turkish hotspots. Interested buyers shouldn't hold back, as things are starting to happen there and it appears as if prices can only go one way. "Next year's elections could see a swing over to the governing AK party, and then more money will be given to the area," pointed out Mr Walker at Spot Blue. "And Altinkum does already have more upmarket areas as well as a lovely marina. Not many people seem to venture there… yet."


Can you afford not to live in Altinkum?
You might be able to afford a home in Altinkum, but what are day-to-day costs like? We asked some resident expats…
John and Sally Vettese, owners of a two-bedroom apartment: "The cost of living, local food, clothes and public transport are all good value. Our outgoings include £380 a year for our complex's maintenance fee, around £500 on electricity and £120 on water. Our two bottles of gas, which are 70 lira each, cost us 140 lira (£48) a year, and our annual council tax for two is 82 lira (£28). Compare these to the UK, where our gas bills were £32 a month and council tax £140 per month."

Rob Thomas of the agency Ozsubasi Homes: "What we paid for a year's council tax in the UK would here cover our annual council tax and our electricity, water, internet and phone, bottled water and gas, and still leave some over. Some residents act as though they are on a permanent holiday, and, of course, their money disappears fast. But live as you did in the UK and it is a lot cheaper. Prices are rising here just as they are everywhere else, but things like fresh fruit and vegetables from the Saturday market are excellent value. Freshly baked bread is about 25p.

Jayne Schofield of the agency Turkish Connextions: "Food and drink here is cheaper than in, say, Bodrum, where you are paying for the name. Seafront prices in Altinkum vary from places nearer to the Turkish quarter, where many homeowners go."