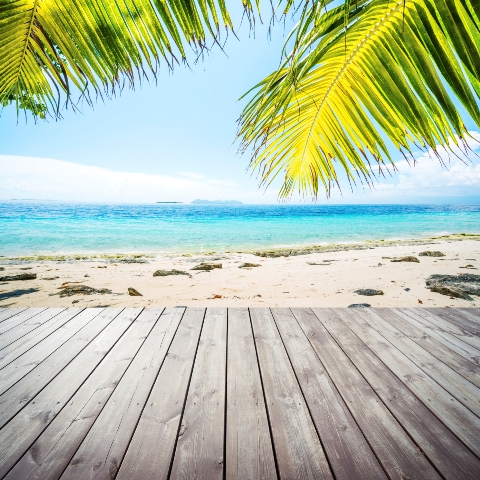 Resorts are great if you seek shops, bars and restaurants on tap. But maybe you prefer peace, privacy and authenticity? If so, read on…
Of the 111,000 overseas property owners in Turkey it's a safe bet to say that around 95 per cent of them live in a resort on the country's south-west coast. With thousands of kilometers of appealing shoreline, there's plenty to choose from between lively Bodrum in the far west to fast-changing Antalya at the eastern end. However whilst resorts can offer vibrant nightlife, the best amenities and essentially everything you need on tap, they are not for everyone, as a small but growing trend reveals.

"Over the past five years, an increasing number of British buyers are opting to buy outside the big resorts, in pursuit of privacy, quiet, and a greater sense of identity," says Cameron Deggin of Place Overseas. "Although resorts are great for rentals, the downside of this is that there's a more transient population, which is not everyone's ideal environment, and you have to pay far more for the space than you'd do in a nearby village. "People are beginning to realize that there is more to Turkey than villas in resorts and are beginning to venture inland, like buyers in France have done for years."

Elizabeth Talbot calls Turkey's villages a "well-kept secret" which she and husband Bruce stumbled upon about six years ago when property-hunting in Fethiye. Entranced by a combination of the dramatic scenery and the hospitable locals, they bought a plot in Ortakoy on which they built two villas, designed specifically to accommodate holiday rentals. "Areas of Fethiye are now heavily populated by British residents and developed with mainstream tourism in mind," says Elizabeth, 40, from Newmarket, Suffolk.
"But we wanted something both truly relaxing, yet also authentically Turkish. unbroken mountains – snow-capped in the winter and then green after the spring thaw – with not an eyesore in sight and only the sound of goat bells or donkeys braying."

The Talbots are within a ten-minute walk of Ortakoy village – where shops, internet café, doctor and post office may be found – and 30 minutes from the beaches and bright lights of Fethiye. Seki ski resort is half an hour away inland. Not being at the heart of a resort does not deter rentals, and the Talbots manage to fill both their villas for the school holidays every summer. "We designed the villas – separated by a pool - to accommodate two families so they can mix together yet also retain some independence," says Elizabeth, who charges £650 per villa per week.
"But the villas would also a professional couple who really need to wind down – or host friends; or an active retired couple who might want an affordable place to live," she adds, as they are now selling the property, through Place Overseas, for £219,000. It is full-time residents rather than holiday-home owners which these type of locations especially attract, according to Deggin, and another Turkish agent, Julian Walker of Spot Blue. "If you seek functionality in a holiday home then you can't beat a resort that is well-located, very rentable and ideal to lock up and leave," says Julian.
"However if you are relocating to get away from a busy area, and to avoid the extremes of seasonal tourist resorts (do you like their buzz in peak summer/the emptiness of winter?), then they can suit. "But do think ahead. You will need to drive if you live away from it all – so how long will you be prepared/able to do that? "Plus bear in mind that foreign buyers can't buy in all village areas, so it is essential you get a lawyer to do thorough checks that what you are buying has correct title deeds and that you can legally buy it."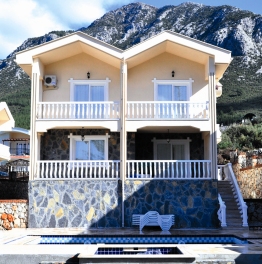 The bulk of his portfolio is within five miles of the coast, yet he suggests that the area inland of Fethiye is the most fertile ground for this type of buyer. In Ciftlik – a non-touristy village between Fethiye and Dalaman - he has a four-bedroomed villa for £219,995 ; he also has several properties in the nearby Kaya valley, and suggests the attractive villages of Mavisehir, Yesiltepe and Yesilkent outside the tourist hub of Didim/Altinkum.

The Fethiye village of Kemer (not the resort near Antalya) is "similar to Uzumlu but smaller" according to Deggin, who has several properties there. "But a stunning mountain village near the Antalya Kemer is Beycik, a nice mix of old and new," he says. "Quiet, scenic, it is a handy 35 minutes from Antalya; old village houses cost from £170,000 but we've also got three bedroom new builds in authentic style for £200,000.

"But other areas to watch are the unspoilt Bozburun peninsula (two hours from Dalaman but with genuinely seafront homes for £500,000 it appeals to yachties); and also Saklikent (near the famous gorge, a big tourist attraction). "This area is half an hour from the coast but I really think it will open up, with the growing popularity of the Seki ski resort.

"Currently you can buy a little village house from £30,000; or some mountain chalet-style homes start at £100,000, but bear in mind that if a property is outside the town borders you need to set up a limited company to purchase."
Case Study #1 : The Priests
"We didn't want to live amongst British people"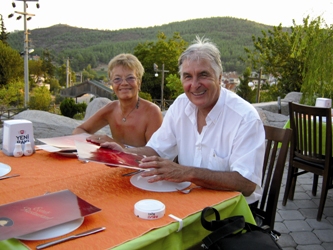 When Jim and Linda Priest bought a home in Uzumlu in 2002, they were one of a handful of British couples in the wine-growing village behind Fethiye. But when a few years hundreds more arrived within the next few years, it wasn't exactly as the Priests imagined, and they decided to buy a new home further off the beaten track – in the village of Kadikoy Their stunning self-built five bedroom villa is now for sale for £299,000 through Place Overseas, but they are now planning to downsize for health reasons, says Jim, 62, a former carpenter from Axminster in Devon.

"We have always wanted to live amongst Turkish people, as they are so friendly, even bringing us a basket of local produce when Linda had an accident. "Some people with a low boredom threshold might find it a bit tame here, but we love just pottering around the house and pool, I always find jobs to do. "The house is on four different elevations with 360 degree views so there's always something good to gaze at; we might walk down to Kadikoy, go out with our builder on his boat, or have a meal out in Fethiye once a week."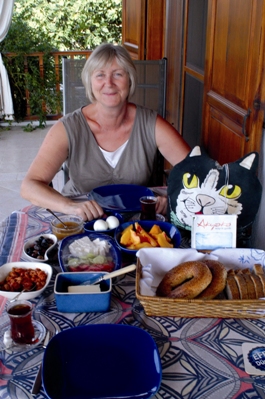 Case Study #2: Joan Shepherd
"If you want the bright lights go to Marmaris. If you want a peaceful retirement come to Akyaka."

Looking at Akyaka's green and pleasant hills, you'd think that you were somewhere in the Lake District. That is, if it wasn't for the fig trees and the sunshine. Little known outside of a small group of well informed ex-pats, and discerning Turkish locals, Akyaka (30 minutes drive from the nearest resort of Maramis), is a picturesque and naturally abundant town that instantly attracted Joan Shepherd and her husband John, originally from Yorkshire, when they were looking for a radical change of life.

After taking early retirement from his job as a training manager in 2004 - and inspired by his compulsive viewing of A Place in the Sun repeats – John convinced Joan to give up her job in school admin, sell up and head off in a camper van in search of a new life in Turkey. Joan, who had lived there in her twenties, knew she could see herself settling there, yet the couple ended up falling for an area that she'd never even heard of, far away from the traditional Turkish tourist destinations.

"As soon as we arrived in Akyaka, we knew we wanted to stay, even though we hadn't explored most of the country yet," recalls Joan, 58. "But we didn't care, we knew that this was the place for us and that it ticked all of the boxes. In terms of a retirement destination there are plenty of boxes that Akyaka ticks. People looking for a bustling resort might want to look away now, for living in the region is more oriented to the traditional Turkish lifestyle. "If you want the bright lights go to Marmaris. If you want a peaceful retirement come to Akyaka," suggests Joan, who says it is around 45 minutes from Dalaman airport. For the Shepherds one of the main attractions was the fact that the area has been awarded 'cittaslow' status - it's a branch of the worldwide Slow Food Movement, which aims to improve the quality of life in towns by slowing down its overall pace (www.cittaslow.org)

As a result, residents are encouraged to live a green and sustainable life, be actively involved in the community and its decision-making process, and work towards environmental goals. The beach has already been awarded a Blue Flag and the river, which Joan describes as "a hub" for the area, is where everyone goes to swim, paddle, and fish - or enjoy dining in the over-water fish restaurants.

Despite the idyllic surroundings however, Joan is now looking to sell. Sadly John suddenly passed away two years ago, before the couple's self-build property was completed. They'd bought a plot of land and designed a traditional style home using local design practices including wooden balconies and shutters and extremely decorative ceilings. "It was important for us that the home was as authentic as possible," Joan says.

Finishing off the house and landscaping got Joan's Turkish up to scratch. "My Turkish is now very technical, I know how to deal with builders and plumbers," she admits, but the end product is rather beautiful: the 4 bedroom home is split over two levels with views over the lake and recently excavated castle as well as a vegetable garden, terrace and planning permission for a swimming pool on its 700 square metre plot.

"It's a beautiful place; I've got a lovely house and wonderful neighbours," says Joan, who is heading back to the UK to be with her son and friends here. "Everyone has been begging me not to go but sadly I do have to leave. The house is calling out for someone to come and give it some love - a family or a retired couple looking for some peace and quiet - but it must be someone who loves DIY because there's always a job to do!"

The house is now for sale for offers around £220,000 - email Joan at [email protected]