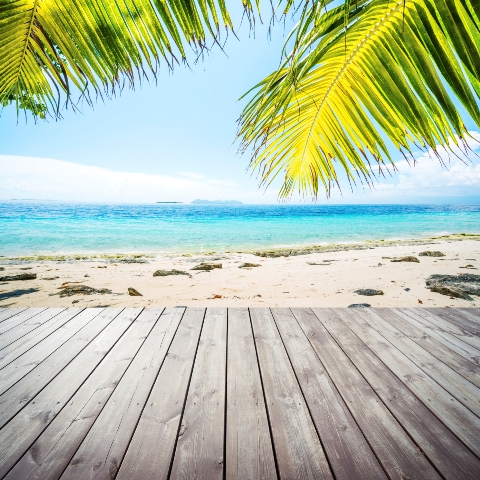 Fed up with days spent commuting up the A2 from Kent, the Cherries headed to Turkey to build their dream home and retire early...
When Paul and Christine Cherry got talking to their local pub manager in Gravesend, Kent, they learnt about a rather nice-sounding place in Turkey called Uzumlu.
The publican and his wife had bought a place there themselves and were thinking of swapping life in Kent for one in the "green valley" near Fethiye in south-west Turkey. So, rather like the drinks in that saloon bar, one thing led to another and the Cherries ended up moving to Uzumlu six years ago to enjoy a stress free early retirement on the back of an inheritance that Paul had received. Their new life was great but a little too quiet for Paul, a successful builder in the UK, so after a couple of property investments in the area, he built a home from scratch – to a design that Christine had always dreamt about.
"I've always been fascinated by styles of houses and spend hours reading interiors magazines or surfing property websites," says Christine, 53, who takes up the tale. "Having long wanted to live on a ranch, I became intrigued by single storey American long houses for their clean and simple lines. I wanted a bungalow that would also make the most of the amazing views here in Uzumlu, so it would need to have plenty of windows from the principal rooms. The village is in a huge green valley, or basin, defined by the Seki mountains covered in pine trees, and the views from the plot we purchased were completely unobstructed. I really fell in love with the place."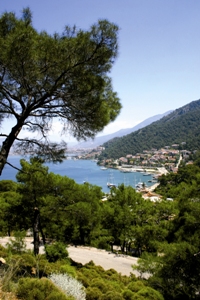 This traditional wine-growing village – 15-20 minutes inland from Calis/Fethiye – has slowly gained popularity with British buyers in the last five years because it's much more affordable than the coastal resorts and because it offers a rural, more authentically Turkish experience. Local ladies still sit weaving on the doorstep in the main street of the village, whilst livestock can be found in the basement of the ancient houses.
"The locals bring their herds of sheep and goats by the bungalow," says Christine. "It really does have a charm that includes festivals based around the locally grown cherries or mushrooms."
After the land was bought for £23,000 (it is now worth £38,000), the bungalow itself took six months to build, after the relevant planning permissions were obtained from the head of the village, or mukhtar. "Waiting eight months for the permissions was the hardest part of the process, because the land is outside the village borders (belediya)," says Paul, 45. "The Turkish do drag their heels on such things! However we had no problems with the design itself – you can pretty much build anything you like – though our Turkish architect kept wanting to put in balconies and dormers!
"Having a Turkish building manager was also helpful - as although I now speak Turkish, he can deal with all the suppliers etc for me."
Its simple design includes three good-sized bedrooms, with the master en suite and overlooking the pool area towards the Seki mountains. There's a kitchen, dining room, lounge with stone fireplace and utility room – spread over 156 square metres. "Every detail was considered, following our experience of living in rental properties in Turkey since we arrived," says Christine, who says that rental rates are so good (they pay £270 a month for a four-bedroom house with a large pool on 5,000 square metres of land) it can make sense to rent rather than buy.
"To start with I wanted more storage than the average Turkish home has; and a separate utility room which few of them have. I also wanted it to suit the winter months, so rather than being typically open-plan and draughty we've put in wooden sliding doors between the lounge and kitchen, keeping it nice and cosy with the wood burner (and underfloor heating). "Plus the pool has got anti-slip tiles around it which, again, many homes aren't built with – likewise outdoor taps for watering the garden."
Christine clearly loves the house, but they are selling it to enable the couple to plough more money into Paul's rapidly expanding building business – for £154,000 through Property Venture. It would clearly suit anyone contemplating a new life in Turkey, where life is a lot more affordable – a bottle of the local wine costs around £1.80; a meal for two in a locals' restaurant around £5 – but things weren't always easy for Christine.
"I was terribly homesick for the first two years, and I was flying back home seven times a year to begin with," she admits. "It wasn't that I didn't like the area, I loved it, but I missed friends and family terribly and would hate coming back. Yet everyone told me to persevere, and I did, and I began to relax and my trips home got shorter and shorter. Eventually, something in me just clicked and I now only return to Kent twice a year.
"It also took a year to adjust to the slower pace of life – which is a big draw for me; alongside the lack of materialism. At home I felt bogged down with trying to keep up with the Joneses, but here nobody cares if you don't have the latest car or designer clothes. I wouldn't want my old life back – I now potter around my garden, where I grow grapes, chillies and tomatoes, walk our five dogs and visit some other expat friends in Fethiye. My only real work is helping Paul with the admin for his self-build business – he's currently looking at a couple of plots for new projects and now employs seven staff (www.villas4uturkey.com)
"Before coming to live here, the bane of my life was commuting up the A2 to Catford where I worked as PA to the Mayor of Lewisham [in southeast London]. "The job was so pressurized that it meant weekends were just spent recovering from the week. Would I go back to Britain? Probably not!"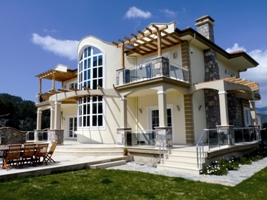 Paul's tips for DIY build
• Buy land that comes with planning permission - it's much quicker, easier and safer (you know it's been granted for sure)
• Pay for the plot first – then pay for the builder separately.
• Don't build a larger property than permitted for the plot or your habitation licence may be refused after final inspection.
• If you build outside town borders (belediye) planning permissions will take much longer than the typical month.
• Specify every detail in the plans, and agree costs at the start.
• Stage-pay the builder so you retain negotiating powers.
• Budget for £700 to £1,500 per square metre build cost.
• Visit regularly to check progress – problems can best be rectified if spotted early.
• Ask for progress reports including photos.