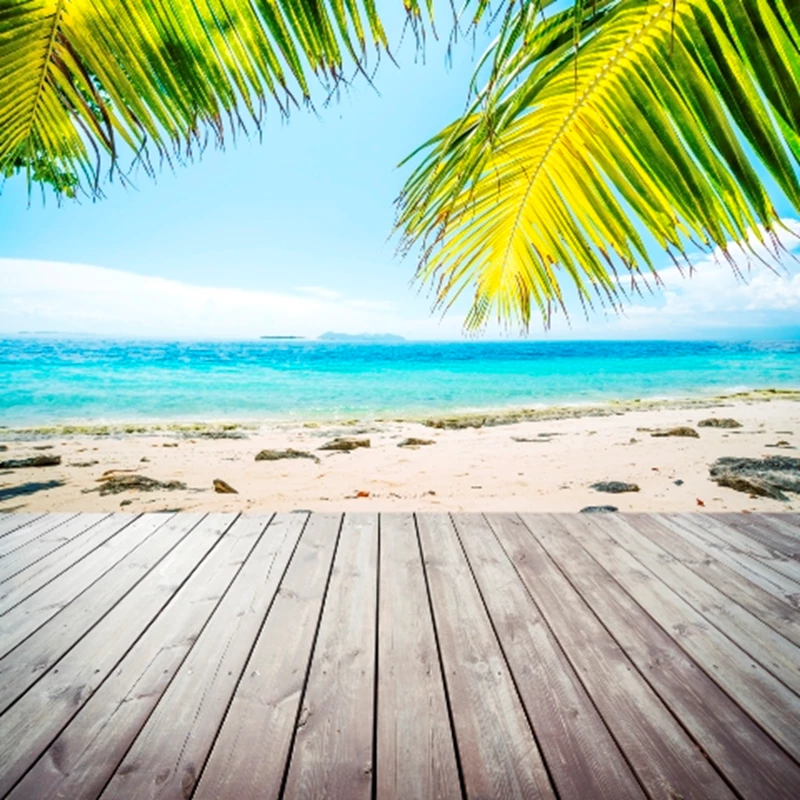 The size of Wales and tucked between Croatia and Serbia, the modest little Republic of Montenegro doesn't exactly attract droves of British migrants like Spain and France have done for years. Yet, with a stunning tranche of Dalmatian coast, and the even more dramatic Bay of Kotor – the Adriatic's largest sheltered harbour framed by the nation's signature "black mountains"– it is hard to beat for picture-postcard scenery.
Most who've ever visited tend to be smitten, as were Jack Delf and Hayley Wright who gave up life in London to move to the former Yugoslav state of Montenegro five years ago. "Actually I don't really like the sun and the sea," confesses Hayley, sitting at a scorching beachside café near her house in Herceg Novi, a pretty coastal town in the UNESCO-listed Bay of Kotor. "My thing is the mountains. But Jack loves sailing and diving, so Montenegro's perfect for us."
Hayley, 39, had been working regularly in the region – for a Russian financial services company – so they had an idea what to expect when they opted to turn their hobbies into their business, setting up Black Mountain, a company offering tourists thrill seeking activities such as mountain biking, hiking and kayaking.Further south, tourist towns like Budva and chi chi Sveti Stefan attract the crowds, but the Bay of Kotor has a still largely unspoilt charm, its sheltered waters lapping onto gorgeous old waterside towns such as Perast and Kotor.
Hayley, Jack, 44, and their two children (four-year-old Max and Emilia, two) are settled now, but theirs is a cautionary tale. "2006 was a big year for us," says Hayley. "We bought a ruined cottage near the sea for €80,000 (now £70,300). The plan was to do it up and live there, but we didn't realise how much work was involved. We moved here in February, Montenegro became fully independent in May, we got married in July and our son was born in October.
"The business took off quicker than we thought – our customers are mostly British but also Russians and Germans - and clearly, as I fell pregnant, we needed to focus on getting an income. "If you're going to try and renovate a property that has to be your main business. So, if you're going to try and run a business you've got to forget about renovating a house as well unless you can employ somebody to oversee the project for you."
Without the capital to renovate, the couple continued renting and two years later, when Hayley was pregnant with Emilia, they were offered a deal they couldn't refuse. "A retired British architect offered to double our money and it made sense to accept and take the €160,000 (£140,600)."
It was indeed good timing. At the time, property prices were rising in tune with the world-wide investment boom. "Property prices in coastal areas rose tenfold between 2006 and 2008 to €1,000 per square metre," says Andreas Scholz, managing partner of high-end estate agency Engel & Voelkers. "Prices have dropped considerably since then, due to the worldwide crisis, but are still around €400 per square metre."
Scholz says he's seeing signs of recovery, especially for top-of-the range villas. "We can't get enough of those at the moment. Apartments around €150-250,000 (£132k-220k) and houses around €500,000 (£439k) in coastal locations are also selling well. The market has such a small volume that a bit of increasing demand will drive prices again. So we are very optimistic."
That optimism would seem well placed. The World Travel and Tourism Council forecasts Montenegro will benefit from a 16 per cent increase in tourism investment over the next ten years and will become the world's fastest growing economy in terms of travel and tourism. Two major resorts are also being built: Porto Montenegro marina, near Tivat international airport – and the €1.1 billion Orascom development on the Luštica peninsula, due to open in 2013 (546 houses, 1158 apartments; prices to be released this month, via Engel & Voelkers).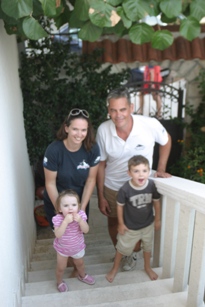 There are still good deals around, says Dobrica Ilic, of Montengro Living estate agents. "Most of the properties on the market are new-build apartments, mainly smallish four-storey buildings with a communal pool or playground. By the sea these are €2000-4000 per square metre – a few kilometres back the price halves."
He has a four bedroom family villa in the small coastal village of Prcanj two minutes way from the bay for €415,000 (£365k) but apartments start from around €80,000 (£70k). Basic living costs are cheaper than the UK, but services such as the internet are slightly higher, according to Jack.
"Montenegro has to import some of its electricity, which makes it even more expensive than the UK, but a €1.50 (£1.28) beer in the sun can take the edge off that!" he says. Most of the locals speak English fairly well – they get the British sense of humour unlike some other nationalities - and Hayley and Jack have made friends easily. "There's a real extended family here and the sense of community's very strong," says Hayley. "And they take responsibility for their own actions – if you fall down a hole, you don't sue!"
Life in the Balkan paradise is not without its frustrations though. "A country in transition can be difficult at times. Last summer we had several government inspections for our business (the official stamp still means everything here!) and we got very close to packing it in," says Hayley. "Getting our visas renewed every year is pretty hellish, involving several trips to the office, queuing for hours.
"Plus government inspectors can call around at any time, and you can be fined for not displaying the right documents on the wall. We have two offices and got fined €500 [£440] last year for not defining them correctly in our signs. Inspectors even call on Sundays and the stress began affecting the kids. "But it's got better - and I've no regrets. My face might be buried in a computer for a month doing admin but then I'll find myself kayaking across a blissfully empty bay at 7am because I've got to drop off some money on the other side. Everyone has really stressful days – we just have ours by the sea."
Montenegro must-know

• You don't need to have full residency to buy property, but if you buy a plot, it has to be designated as building land and not agricultural. It may actually be owned by several different parties, so check this very carefully; and check boundaries.
• Purchase tax is 3% of the sales price. There is an annual property tax, ranging from 0.08% to 0.8%, payable to the local council. Watch out for lawyers' fees – English-speaking lawyers can be very expensive – but you do need a lawyer certified to practise law in Montenegro. Lawyers in Montenegro are not specialists in conveyancing and it is not automatic for a local authority search to be done. Ask your lawyer to check.
• It's illegal to advertise (in print or online) and rent out a property which does not have a rental licence. These cost €45 (£40) in Herceg Novi and regular checks are made, resulting in fines for both owner and agency are unlicensed. An electrical safety certificate is also required (about €65).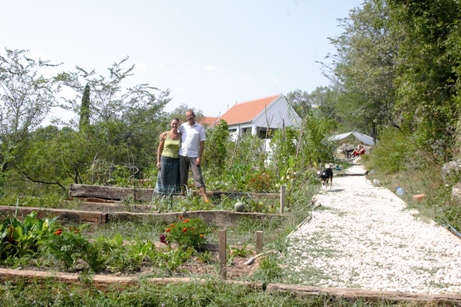 A life with the bare essentials
Steve and Denise Boyton-Jennings are another couple who moved to Montenegro to live their dream – in their case a "clothing optional" holiday resort, the Full Monte - in the hills above Herceg Novi in Kotor bay. Keen naturists, they'd been holidaying in nudist resorts for years, and were keen to copy a Portuguese one they'd especially liked for its lack of rules. The final push came when the computer firm Steve worked for relocated everyone to Slough, so they packed their bags and left Watford in 2005.
It was that year they'd met an agent at A Place In The Sun Live exhibition who'd assured them the tiny country would welcome them with open arms. He wasn't wrong, although it took them over a year to find the right place: an 8,000m2 plot high in the hills above Herceg Novi for €120,000 (£105k) upon which they planned to build log cabins.
"We did all the searches when we first bought it but six months later we were advised to visit the local municipality to check their area plans again," says Denise, 41. "They had decided to build a superhighway right across our land. We were devastated but then quickly became pragmatic. "Given the state of the eurozone economy, we've been told the Pan-european highway to link Greece with the rest of Europe won't happen for at least another ten years," adds Steve. "But the risk of compulsory purchase was still too great for us to invest in a solid infrastructure."
As a result, they've become accidental eco-warriors, creating a semi-permanent campsite with compost toilets (storing water is expensive) with an €80,000 (£70k) communal area which includes showers, kitchen and offices. "Necessity didn't mean sacrificing comforts," says Steve, 51, who is amazingly relaxed about their uncertain future. "Our dream is different, but it's still alive. It's been back-breaking hard graft, but as we watch the sun set over our beautiful, rugged land, sharing a post-dinner drink with guests, you can't help but think it's all been worth it."