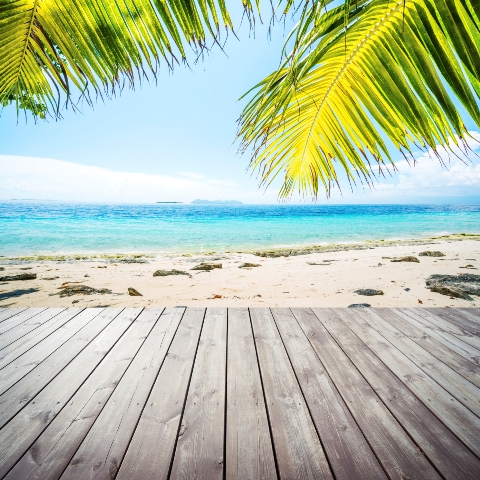 Sunday evening on the Eastern Caribbean island of Antigua and the traditional 'jump-up' at Shirley Heights is underway. Steel bands reverberate, spicy chicken wings sizzle on street barbecues and rum punch flows as tourists and locals join in the laidback reggae vibe, enjoying a perfect viewpoint over the Caribbean Sea.

From the tranquil Caribbean on the west coast to the choppier east coast Atlantic waves, Antigua and its sister island of Barbuda have an excess of views to sigh for. While Barbados is all about its see-and-be-seen restaurants and St Lucia focuses on its lush rainforest, Antigua's appeal lies firmly in its turquoise sea and white-sand beaches, 365 of them according to local lore.

Ever since a youthful Admiral Nelson arrived on island in 1784 Antigua has been associated with people who like messing about in boats. Hardened professionals come for the Classic Yacht Regatta and Sailing Week every April while sybaritic holidaymakers in smaller boats drift idly from cove to cove, snorkelling in the safe, warm waters.

Antigua has had its challenges in recent years. As well as feeling the full force of the global recession, there were the financial failings of Texan billionaire Allen Stanford.

Once viewed as the island's saviour, Stanford invested heavily in Antigua's infrastructure in return for citizenship and tax concessions under the last government. At one point his Stanford group of companies was the island's largest employer before his house of cards came crashing down. Today he remains in prison in the USA awaiting trial on serious fraud charges.

It would be hard to overstate the impact of his actions on the 108 square mile island and its 70,000 population. Around 600 Antiguans lost their jobs and many others their life savings when the Stanford-owned Bank of Antigua faltered. The highly regarded East Caribbean Central Bank moved to stabilise the situation, preventing an outright disaster but the reputation of the island took a battering worse than anything inflicted by recent hurricanes.

Three years on and the mood is more positive. A popular new government appears determined to stamp out corruption and strike a balance between development and preserving the natural beauty of the island. After years of inactivity several off-plan residential projects around the craggy coastline are coming to market.

"The local economy is still suffering but there's a feeling that something is bubbling," says Jeff Hadeed, owner of the island's Big Banana restaurant group for twenty-five years. "At the upper end of the market there are small pockets of high-profile purchasers leading the way."

Rumours are rife that one of the Dolce & Gabbana partners has recently bought at top-dollar Jumby Bay, joining other long-established celebrity owners including British rocker Eric Clapton and designer Giorgio Armani. Hadeed's cautious optimism is backed by British Airways' recent announcement of increased flights from London Gatwick. From March 2012, BA will fly daily to Antigua, up from six flights per week at present. "Direct flights are certainly part of Antigua's appeal for property buyers along with gorgeous beaches, a strong rental market, stable government and friendly people," says Nadia Malla of estate agents Luxury Locations.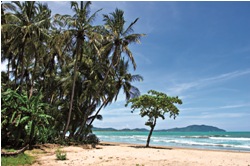 "The island is at least 20 years behind Barbados in terms of growth, so the potential is huge."

Property on her books ranges from a refurbished two-bedroom golf course villa at Jolly Harbour priced at $145,000 (£94k), up to an imposing villa overlooking English Harbour for $7,500,000 (£4.8m).

"The most popular locations for long-term residents are English Harbour in the south, Jolly Harbour in the west and Hodges Bay in the north," says Malla. "All three provide easy access to grocery shops, international schools and sports clubs."

English Harbour and neighbouring Falmouth Harbour are the epicentre of Antigua's sailing industry, dominated by Nelson's Dockyard, the world's only surviving Georgian dockyard.

Substantial villas, with correspondingly large price tags, perch on green hillsides. South Point is a 23-apartment condo hotel on the southern side of Falmouth Harbour with two- and three-bedroom fully furnished apartments that will be managed as part of the hotel accommodation. Prices start from $655,000 (£425k) with over 13 units now sold (www.southpointfalmouth.com).

Building started at South Point in 2006 but was halted when the recession hit and bank funding was withdrawn. With new funding in place building began again earlier this year with completion expected in autumn 2012. Developer Jeff Hadeed aims to create a hip, boutique hotel, a meeting place for the yachting crowd unlike Antigua's more typical resort hotels.

Tamarind Hills is a picture-perfect 14 acres between two of the island's finest southwest beaches, with excellent views across to Montserrat's still smouldering volcano. The first of 62 planned apartments, townhouses and villas featuring Asian-style design and lashings of tropical hardwood have been completed with prices from $575,000 (£373k) for two bedrooms.

Sales, says developer Rufus Gobat, have been the strongest in the past nine months. Rob and Alice Atkins from Guildford bought a two-bedroom apartment at Tamarind Hills in 2010. The couple fell in love with Antigua for its beaches and beauty and as a less touristy option to other Caribbean islands they already knew. "We had thought about buying somewhere for winter sun and just loved the atmosphere on Antigua," says Rob, 36, a company director. "On holidays there we hire mopeds to visit a different beach every day and We never fell unsafe. Tamarind Hills is on Darkwood Beach, one of Antigua's best beaches. The project design and range of activites with tennis courts and pools should make it perfect for a young family."

When their apartment is complete next year the Atkins plan to visit twice a year and put their property in the rental pool at other times to provide an income. "This was the only time I have bought off-plan but the developer's track record elsewhere in the Caribbean and the detailed payment plan gave me confidence," adds Rob.

Five minutes away, Jolly Harbour is a popular residential choice with the eastern Caribbean's largest manmade marina. There's a golf course and a wide collection of shops and restaurants that attract both residents and tourists.

Two-bedroom waterfront townhouses at Jolly Harbour that sold for $400,000 (£253k) in 2007 are now pegged back to $225,000 (£142k) and still taking time to sell says Malla. "Prices are at an all-time low and it is clearly a buyer's market," comments Malla. "Most properties are second homes where buyers can afford to sit out the downturn."

The wilder, less developed east coast is up to 40 minutes drive from the capital city of St John's in the north and is home to Nonsuch Bay Resort (www.nonsuchbayresort.com), a 40-acre gated development which defied the recession to open in February 2011. The resort aims to encourage a sailing crowd to enjoy the trade winds and two square miles of protected waters in the sheltered bay. Completed property includes one- to three-bedroom apartments, townhouses and villa plots priced from $350,000 (£227k) with an on-site restaurant and well equipped sailing centre. One-bedroom apartments rent from $2,660 (£1,727) per week with 65 per cent occupancy in the first full year of operation.

"Two thirds of homes are sold at Nonsuch Bay and all but three buyers are from the UK," says developer Cameron Fraser. "Many of them looked seriously at buying in Barbados but found comparable build quality and better value here where prices are 25 to 40 per cent lower."

Another option is to buy a plot of land and self-build (with expert guidance) on Antigua. One British developer, Rodney Dodd, is offering one-acre plots on an unspoilt area of the east coast – 20 mins from English Harbour – from $225,000 (£142k).

The Peninsula Development (over two headlands, right) offers the option to create bespoke family homes, sloping down to the waterfront, with their own moorings, with build costs from $250 per square foot. This makes a 2,000 sq ft four-bedroom home with a pool come out at around $500,000 (£317k).