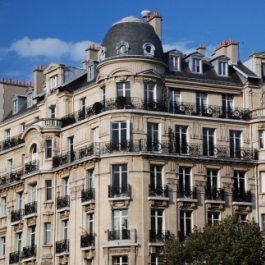 The Beckham family are considering adding to their property portfolio by purchasing a Parisian home, according to reports from the French media.

The whispers add more strength to the rumours that David is looking to end his professional footballing career with a short contract at Paris St Germain.

Both Le Monde newspaper and the country's main TV channel, TF1, have reported that the family is searching for a triplex apartment in a traditional Parisian building, with Victoria favouring a pad in the prestigious 6th arrondissement. The sixth is known for its rich literary heritage and former residents include such heavyweights as Ernest Hemingway, James Joyce, Oscar Wilde, Samuel Beckett and F. Scott Fitzgerald. The area is also packed full of designer shops and boutiques, where Posh could continue promoting her fashion label Victoria by Victoria Beckham.

'Victoria often comes to Paris for fashion events, and would just love to be here full time,' said Josephine Leclerc, who runs a boutique in the 6th arrondissement. 'David and Victoria will set the place abuzz – we would absolutely love to have them here.'

The couple already owns a home in the South of France and also have homes in Beverly Hills and Dubai. They recently put their Hertfordshire home dubbed 'Beckingham Palace' on the market and are rumoured to be looking for a smaller property in central London.
Search for property in Paris
Read our guide to buying a property in France