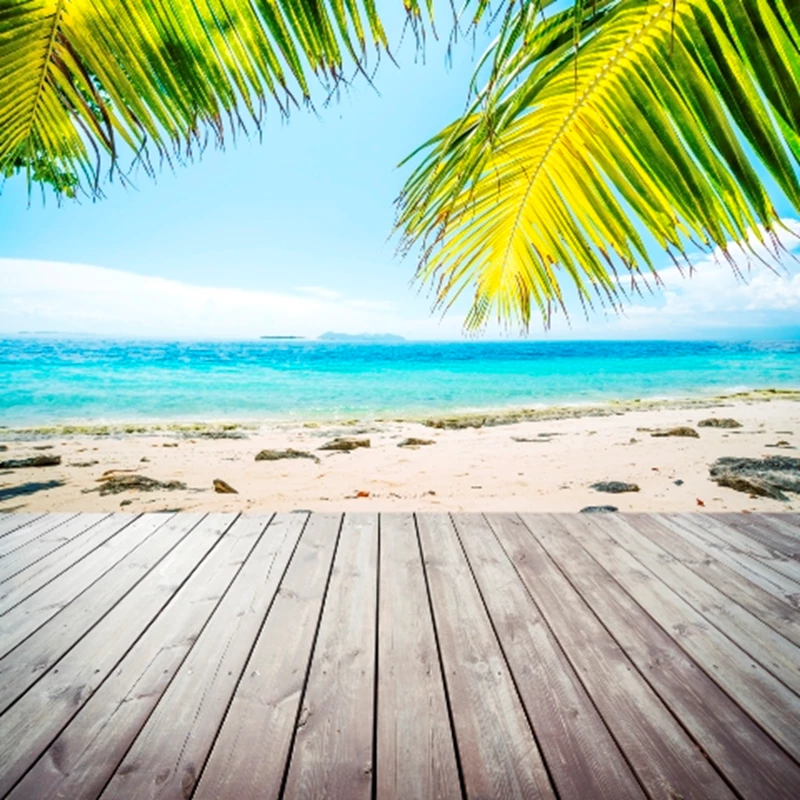 They may seem far away, but Thailand and the other countries of the South China Sea are easy to reach and offer a culturally diverse and exciting option for a second home where you could while away the UK's cold winter months

Thailand could be on the verge of welcoming another celebrity sportsman as a homeowner, following the news this month that Robbie Fowler has signed to play for a club there. During his stint playing for Muang Thong United, a club based just outside Bangkok, Fowler might be tempted to snap up a home in one of Thailand's increasingly popular resorts. Ex-England coach Sven Goran Eriksson and David Beckham both own property on the island of Koh Samui.

Fowler, a former England and Liverpool striker, knows what it's like to be an expat somewhere sunny, after spending the last two years playing in Australia. He's also a shrewd property investor, with a portfolio of around 100 buy-to-lets in the UK.
Of course, Thailand's appeal reaches far beyond the celebrity football world, and it seems to be growing. Holiday home website Villa Renters reports that in the last five years bookings there have grown sevenfold, earning the destination a place in the website's top 10 destinations. Says Victoria Sanders, managing director at Villarenters.com and Teletext Holidays: "So far this year we've seen Hua Hin performing very consistently and Phuket and Koh Samui are also popular. Properties that generate the highest level of occupancy tend to be styled with a local fl avour - people are looking for something that feels authentic."

So if you're tempted by somewhere exotic to escape to during the UK's long winter months, which could also earn you a bit of rental income here's a selection of resorts and developments to consider. We also highlight some options in the Philippines, Indonesia and Vietnam.


Thai mainland

One of Asia's largest beach resorts and the second most visited city in Thailand (after Bangkok, 150 kilometers north), the attraction of Pattaya these days is more than just its famous nightlife.

"The typical buyer in Pattaya is changing from single males to more families, and in particular they're visiting Jomtien, a few kilometers away," says Ian Muir at local agent Thailand Property (www.property-inpattaya.com).

"Pattaya has so much more to offer than its nightlife, everything from floating markets to Tiffany [lady boy] shows and Thai cultural experiences." Houses in Pattaya range in value from 2 million baht (£41,400) to 50 million baht (£1.035m).

"A typical house 15 minutes from the city centre would be 3 million baht (£62,150)," adds Muir, "and this would be in a gated community with a communal swimming pool. Apartments run from less than 1 million baht (£20,700) all the way up to penthouses in excess of 80 million baht (£1.66m). You can buy a very nice apartment close to the beach from 1.2 million baht (£24,900)."

Meanwhile, on the other side of the Gulf of Thailand, 200 kilometers from Bangkok, is the country's oldest beach resort, Hua Hin. Here, new residential and retail developments, as well as golf courses, are attracting an increasing number of buyers from Bangkok, as well as from Europe.

Typical of what is available is a four-bedroom villa on a gated community, four kilometers from the centre and two from the beach, for sale for 14.5 million baht (£300K) through Century 21 (www.pro-realestate. com). The same agent has a similar property on a golf course for 23.5 million baht (£486K).

Forty-five minutes south of Hua Hin is the quiet beach village of Kuiburi. A Swedish company chose this idyllic setting as the site for a boutique development of four semidetached villas. Each has direct access to the beach and comes with a private infinity pool, jacuzzi and rooftop terrace. Available through Beach Villa Thailand (www.beachvillathailand.com), two-bed models (180 sq metres), start at £219,000, three-beds (220 sq metres) from £249,000.



Two Thai islands: Koh Phangan and Yao Noi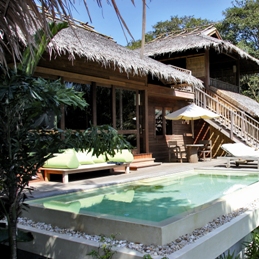 Before you follow Posh and Becks to Koh Samui, with its selection of 5-star resorts, consider its little sister, Koh Phangan. Given that 70 per cent of Koh Phangan is protected by national park status, the island should always maintain its unspoilt charm.

On the west coast, local agent Phangan Island Property (www. kohphanganproperty.com) is selling a two-bed beachfront villa in Baan Tai for 15 million baht (£311K). The property comes with an infi nity pool that falls directly into the sparkling ocean, a large decked area and a sala (open pavilion). Another option on the west coast is Bay Residence, a project of self-build villas near the pretty bay of Haad Salad. Plots there, available through Phangan Island Property from around £50K, are large enough for spacious three- or four-bedroom villas with pools and come with infrastructure in place.

A turnkey build service is available with a finished three/four-bedroom property typically costing 13 million baht (£269K). James Bond fans might prefer a home on the island of Yao Noi in Phang Nga Bay, famous as the setting for villain Scaramanga's hideaway in The Man with the Golden Gun. Here Cluttons (www.cluttonsresorts. com) is selling luxury villas at the Six Senses Private Residences development, 30 minutes from Phuket by boat or 12 minutes by helicopter.

Yao Noi is a natural Eden - 60 per cent of the island is covered in rainforest. One-bedroom villas at Six Senses start at £517K; two- and three-bedroom options are available with prices reaching £806K.

Foreign ownership in Thailand

Phangan Island Property answers some common questions about Thai property law

Am I allowed to buy land in Thailand?

Under current Thai law foreigners are not allowed to purchase land freehold. We therefore provide a straightforward 90-year leasehold contract which provides the option to convert to freehold at any time, either should the law change, or should you wish to set up a company to buy the freehold title. This is the most common method that land is purchased in Thailand and a method fully endorsed by the Thai authorities.

What ownership structure am I receiving?

You will receive a 30-year lease with two subsequent renewal options, each of 30 years. A registered lease is easy to set up and there is no restriction on foreign participation. The standard Thailand residential lease is for 30 years and can be held in your own name. A lease registered with the Land Office remains in force during the term of each 30-year lease.

What happens at lease renewal stage?

After 30 years a new lease must be prepared and filed at the Land Offi ce. As part of our sale and purchase agreement with you we are contracted to do this. Alternatively, you may convert the title to freehold. When you renew the lease there are no further payments to be made aside from a minimal local tax (approximately 1.1 per cent of the lease's value).

Is the law changing at all?

Thailand has already allowed investors investing 40 million baht to own up to one rai (1,600 sq. metres or 0.4 acres) of land in certain areas.


The Philippines, Indonesia and Vietnam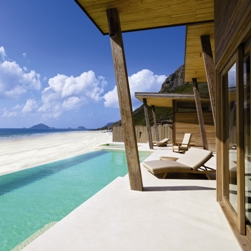 The warm, calm waters of the South China Sea lap against the white sandy beaches of several countries that have some very enticing holiday home options for foreign buyers.

In the west is the Philippines, where Century Properties (www. century-properties.com) offers a wide range of properties in 40 developments both around the capital, Manila, and on exotic tropical islands such as the stunning Cebu.

Prices for off-plan apartments start at just £13,000, payable in instalments of £200 per month over two or three years, plus a final payment at the end. The company have been in the building business for more than 100 years, and all the developments come with swimming pools and jacuzzi, spa facilities, kids' area and security guards. Even the premier range of properties only cost £100,000-£200,000.

Properties on Cebu, an island resort with national parks as well as beaches, offer great scope for rental via the company's own lettings department, but all of the properties are highly lettable, and easy to reach from the UK for around £450 return.

At the southern end of the South China Sea is Indonesia, where Cluttons offers one- and two-bedroom investment villas at the 5-star Banyan Tree Resort and Spa from SG$880,000 (£437,000), providing an annual return of six per cent for six years and 60 days complimentary use per year. Banyan Tree is on the island of Bintan, the largest of 3,000 islands in the Riau Archipelago, a short boat trip from Singapore, with no shortage of direct fl ights from the UK.

The villas, in a beautifully simple style, open on to a bay with a beach, and the resort has an 18-hole Greg Norman golf course, spa, tennis courts and rock-edge swimming pool. The price includes all fixtures and fittings and membership of the Banyan Tree Residence Club.

Cluttons also has apartments further north in Vietnam, with a very special feature. The Six Senses resort on the island of Con Dao has a kilometre of pure white sand, sheltered by Elephant Head Mountain and its foothills. There are 15 villas for sale, with between three and fi ve bedrooms, on an average plot of 2,000 square metres and with sensational ocean views. Not luxurious enough? Well these come with the services of a personal butler. After all, you don't want to be putting your own suntan lotion on, do you? You can also get a gourmet chef to get the most from your well-equipped kitchen, a babysitting service and a massage service in your own villa. The island is a 45- minute fl ight from Ho Chi Minh City, but don't worry, the resort offers a complimentary private plane. All this from just US $2,750,000 (£1.73m). (www.cluttonsresorts.com).

Back on the Vietnamese mainland at Danang, Furama Villas is on one of the greatest beaches in the world, next to an unspoilt mountain landscape in what was once the cradle of the ancient Champa civilisation. The traditional Asian-style, three and four-bedroom villas cost from US$650,000-$2,500,000 (£408K- £1.57m) and will be ready by late 2011. Visit www.sovicoholdings.com for more details.