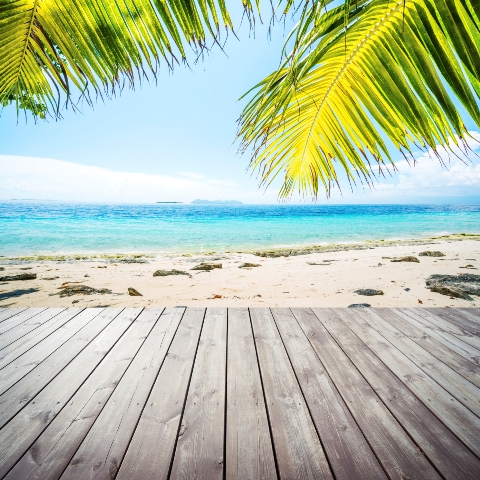 Construction along Malta's most fashionable strip of seafront continues at a rate of knots.

In contrast to the sought after character homes that first attracted British buyers to this charming Med island, a selection of upmarket residential complexes are nearing completion in the St Julians and Sliema area, just west of Valletta.

Primarily pitched at resident professionals - Malta's friendly tax system is attracting a growing number of foreign finance and online-gaming firms - apartments in these developments offer modern comforts and easy access to the island's best selection of shops, restaurants and nightlife. For investors the long-term rental opportunities are obvious.

Pendergardens in St Julians is one of the more affordable options and, typical of these projects, is in a Special Designated Area (so free of buying restrictions for foreigners). The project includes a commercial office block, The Exchange, that has already been snapped up by trade finance FIMBank as its new headquarters. One- and two-beds in phase one have sold out, but three-beds from around €260,000 (£230K) are available. A second phase and 15 villas are planned.

"A three-bed overlooking the main piazza would be around €305,000, but that would produce around €1,600 in monthly rent,"
says Douglas Salt, a director at Frank Salt, one of the island's largest estate agencies that sells at Pendergardens. "The people that own at new developments like this are a mix of nationalities," Salt adds.

"A lot of Maltese are buying, as well as South Africans, British, German and Swedes."

Still in St Julians, Portomaso, built around its own smart marina is arguably the area's trendiest option - the one to be seen at. One-beds are still available in Block 31, starting from €227K (£201K) for 70 sq metres, while a more typical three-bed option (240-sq-m) is for sale in Block 29 for €880,000 (£779K).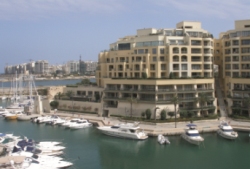 Malta's flagship project though is the waterfront Tigné Point, built on the promontory in Sliema, overlooking Valletta and the entrance to Grand Harbour. Focused around a central pedestrianised area, the project includes a shopping centre, which opened just before Christmas on the site of a restored British barracks, and a clubhouse with pool.

Tigné Point was started ten or so years ago so there are already resales available in some of the earlier phases. But available in the most recent phase, T10, is a ground-floor two-bedroom apartment for €598,000 (£529K) or a three-bedroom, seventh-floor apartment with stunning harbour views for €945,000 (£836K).

Details of the next phase - an apartment block around the piazza - are expected to be announced soon.

Next door to Tigné Point is Fort Cambridge, a seafront project of 349 apartments, 70 per cent of which are sold, built to a highly eco-friendly specification. A 200-sq-m three-bed unit with sea views is available from €590,000 (£522K), or €428K (£379K) for less of a sea view.

Elsewhere on the island, other notable new projects, aimed more at the tourism market, include the Tas Sellum development in Mellieha, where Frank Salt is selling a threebedroom apartment for €385,000 (£341K), and the Ta Monita in Marsascala, by the same developer (which also built Portomaso).

By contrast, buyers looking for one of the idyllic houses of character that Malta is known for, should head inland to any of the popular "Three Villages" - Attard, Lija and Balzan.

In Balzan, Frank Salt is selling a 600-year-old three-bedroom (with possible fourth) property for €407,640 (£361K); it's converted and ready to move into.

Another popular option is the nearby village of Naxxar. Here a four-bedroom property, with a walled courtyard and plunge pool, but in need of some work, is available for €439,000 (£388K).

Gozo
That local residents of Malta buy weekend homes on the neighbouring island of Gozo should be an indication of the laid-back charm of Malta's smaller neighbour.

"Gozo offers clean air and a traditional rustic way of life," says Fiona Keeling of local agent move2Gozo. "It is only a short ferry ride to enjoy the busy nightlife and cultural events of Malta, rather as one would visit London for the day, and then return with a sigh of relief to the tranquillity of Gozo."

Like Malta, Gozo's property offering is no longer limited to centuries-old properties, tucked away in sleepy farming villages. A handful of new projects combine the island's stunning scenery with the convenience of modern, highly specced apartments. In pride of place is Fort Chambray, the redevelopment of a medieval fortification on the cliff overlooking Mgarr harbour, where the ferry arrives from Malta. Strict planning regulations mean existing ruins had to be restored and any new buildings must match the original style (most property in Gozo and Malta is built in the local cream sandstone).

Phase one at Fort Chambray, which comprises apartments set around a pool beyond which unrivalled sea views extend to Malta, is complete and properties have been occupied in the past few months. Phase two is on the verge of completion, while
phase three, which will comprise the conversion of the medieval barracks into a restaurant and other retail amenities as well as a hotel and further residential units, is yet to be started. Currently available at Fort Chambray is an 80-sq-m two-bed apartment for €175K (£155K) or if you can stretch to €235K (£298K), you get one with a view.

On Gozo's northern coast, on the edge of the island's highest village, Zeebug, is the Hal Saghtrija development of 75 apartments. Overlooking the sea and surrounding hillsides, the masterplan includes more than the usual communal pool - it comes with land for growing fruit and vegetables, including olive groves and vines (owners will benefit from the obvious products), wine cellars and a horse paddock and spa. Two-beds here start at €230,000 (£204K) through Frank Salt.

San Lawrenz in the north-west of Gozo is home to two further lock up and leave style projects. First is the Tal-General Residence, a project of 25 apartments (eight with a private pool/garden), two penthouses and two maisonettes, with views of the sea and local landmark Fungus Rock. Two-beds here start at €185,000 (£164K), or €262,500 (£232K) for a three-bed with pool. Secondly, the Kempinski Hotel in San Lawrenz has studio and one-bed units available, from €195,000 (£173K) for the former and €230,000 (£204K) for the latter. For rental return, owners can make their property available to hotel guests. But for many people, it's the houses of character that draw them to Gozo and one popular village where you'll find great examples is Gharb.

Move2Gozo is selling a former schoolhouse there for €325,000 (£288K) - it's an 18th-Century property with two/three bedrooms, retaining original features and with roof-top views of the sea and nearby sanctuary of Ta Pinu.

Still in Gharb, Frank Salt is selling a traditional high-ceiling, double-fronted village house (as opposed to a converted farmhouse), with three bedrooms and a study, and packed with features, including a mature walled garden - priced
at €500,000 (£442K).

Whether it's traditional or contemporary, buying your own piece of Malta, or Gozo, is relatively straightforward. Buying costs are five per cent stamp duty plus 1-1.5 per cent in legal fees. And if you need finance, HSBC, Bank of Valletta and Mediterranean Bank typically offer mortgages of 70 LTV to qualifying foreign buyers.

One thing to remember: if you're buying a new property, you'll need to factor in the cost of a new kitchen - in Malta they're usually not included.
Read our guide to buying a property in Malta or search properties for sale in Malta.