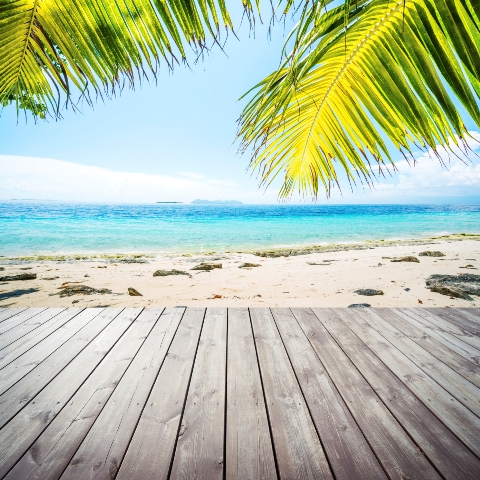 Barbados has its prized West coast, St Lucia its tropical interior and Antigua the most turquoise of sea. But for sheer blinding beauty, there is tiny Nevis – separated by a two-mile strip of sea from its sister island, St Kitts.
Nevis encapsulates Caribbean perfection. Its coastline is still largely untouched, due to strict planning laws, its lush green landscape, dotted with old sugar mills and plantation style villas, rises gently to the 3,200- foot volcanic (but dormant) peak of Mount Nevis in the island's centre. And the pint-sized capital of Charlestown is like a Caribbean take on a quaint Cotswolds village.
Although it might make getting there more awkward, the sense of serenity is enhanced by the lack of direct flights to the island. Nevis's tinhut airport can only take small planes that drop in from Antigua, a 20- minute hop away. Otherwise, you fly to St Kitts and take a 10-minute water taxi across to this discreet island – a sort of more down-to-earth Mustique – which stretches for just seven miles.
Until a few years ago, due to the lack of new-build opportunities, buyers in Nevis would typically build their own house or restore older properties on large hillside plots with pools and panoramic views. That is what Jon and Nessa Reynolds, from Sevenoaks in Kent, chose to do five years ago. Struck by Nevis's beauty, "a far cry from the commercialism of other islands," says Jon, they paid £170,000 for a 15-year old plantation-style house with a wrap-around veranda and spent a further £70,000 adding a pool and refurbishing the interiors.
"Most buyers at that time were building Florida-style houses on plots, but we preferred something quirkier with first-floor living and where the outdoors is as important as indoors," says Jon, who found the buying process was smooth and quick, with searches done by their lawyer and their Alien Land Holding Licence granted by the Government. Now the couple have moved to Nevis full-time, "and life is wonderful out here," says Jon. "Getting your first crop of bananas is an exciting moment and the social life here can be exhausting as the snowbirds come out here for six months in winter and want to party all the time."
When the world's property markets were booming in the mid Noughties, Nevis came up with proposed highend projects that focused on quality rather than quantity. To ensure this, the Government ordered that there could be no more than 2,000 beds on the island, so as not to put a strain on local labour and resources such as water and electricity. Some of those projects have since failed to materialise but demand forproperties has remained steady, according to Suzanne Gordon, who runs Sugar Mill Real Estate, Savills' associate in Nevis, and the lack of over-building on both islands means prices have not been driven down drastically during the economic crisis.
"These islands have always had a very small and very specific real estate market and people buy here because they have visited repeatedly and then finally decide they would like to own," says Gordon, who says the main buyers are people nearing retirement age from the UK, US and Canada, "although we are starting to see younger families relocating. "The great appeal is the sense of intimacy," Gordon adds. "With only 11,000 residents on Nevis, everyone knows everyone. There's a saying on the island that 'you're only a stranger here once'. Even weekly visitors will get to know many expats and locals during a short stay. It's really like living in a small town."
One new development proving popular on Nevis is Seaside at Cliffdwellers, with 14 buildings divided into two-four bedroom apartments and prices from US$795,000 to $1.4 million (£482,000-£848,000) through Sugar Mill Real Estate. There are also some appealing beachfront opportunities at Nelson's Springs – so called as this is where Lord Nelson stopped at the springs to collect fresh water for his ships – on the undeveloped west coast, overlooking St Kitts. Apartments cost from £213,500 through Savills. There is a wider variety of newbuild options on larger St Kitts, an island of 68 square miles with a population of 35,000. The Government's big push to attract upmarket tourism to the island has seen a new wave of upmarket residential developments designed for overseas buyers.
"We are seeing mainly American, Russian, Middle Eastern and British buyers on our project and that's typical of the island as a whole," comments Damian Hamp-Adams at Ocean's Edge, a high-end new residential development in Frigate Bay. The 178 beachfront and hillside apartments start at £216,000 through Savills and villas from US$1.4 million (£848,000). "This area, ten minutes' drive from the capital Basseterre, is the hub of the island, with the flagship Marriott hotel and most of the island's tourism infrastructure including nightlife, golf courses, casinos," says Hamp-Adams.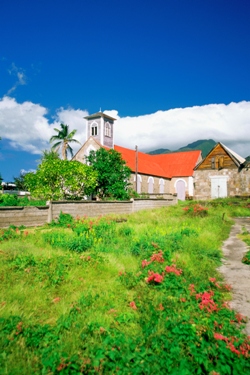 Also around Frigate Bay is Silver Reef, a new development of 62 properties, with one-bedroom apartments from US$300,000 (£182,000) and two-bedroom villas from $570,000 (£345,000), through Jackson Stops & Staff. "The resort is on the edge of the Royal St Kitts Golf Course, and there are the choppy Atlantic waves for surfing, but generally people come to St Kitts to be among nature, enjoy spectacular sea views and enjoy that real Caribbean-ness," comments Jackson Stops & Staff's Derrick Ormonde. The other area for development is the south-east peninsula, where Christophe Harbour – one of the most ambitious new projects in the Caribbean – is taking shape. Set over 2,500 acres 15 minutes from the airport, alongside six beaches, there will be 1,400 properties, with apartments costing from $750,000 (£455,000).
Most foreign buyers opt for properties on new-build developments, "but there are always more niche buyers wanting a fixer upper, or something more commercially enterprising," says Damian Hamp-Adams. One property to suit that type of buyer is The Haven at Brimstone Hill, a typically Kittitian three-bedroom villa in Sandy Point, on sale for $395,000 (£239,000) through St Kitts and Nevis Island Homes, with shaded verandas surrounding the house and an acre of lawns and fruit trees overlooking the Caribbean sea. Or there's an attractive two-bedroom villa in Frigate Bay, with sea views from every room, for $420,000 (£255,000) through the same agent. If you want something characterful on Nevis, at the lower end you could pay £335,000 for a 10-year-old, three-bedroom house near the beach, available through St Kitts and Nevis Island Homes. Or Savills is selling Zetlands Estate, a two-bedroom plantation house with a huge veranda overlooking the Peak and the sea for £424,000.
Besides the small-town appeal and sense of familiarity that comes with buying on these smaller islands, the big benefit to buyers is that property prices are still significantly cheaper than elsewhere in the Caribbean – and the islands are far less developed than Barbados or St Lucia's north coast. Another big sweetener for many foreign investors is the Economic Citizenship programme, which entitles anyone who invests more than US $350,000 (£212,000) to become a St Kitts and Nevis citizen – for a fee of $35,000 (£21,000). "You don't need to live here, but you can still have dual citizenship for life for you and eligible family members and tax-free status on foreign income, capital gains, gift, wealth and inheritance tax, plus the right to work here," explains Walter Zephrin, founder of the Caribbean Marketing Company, which advises domestic companies on reaching new markets."Most of the enquiries we are seeing are from the UK and Russia, particularly about relocating due to the 50 per cent tax threshold in the UK," Zephrin adds. "St Kitts is seeing many new developments and resorts designed for overseas buyers, with villas costing from $500,000 (£303,000) to $3-million (£1.82m).
"The property buying process on St Kitts is relatively simple for foreigners, too, says lawyer Shawna Lake, whose practice is based in Basseterre. "Legal services generally cost from one to two per cent of the purchase price, but transfer taxes are paid by the vendor. In some parts of the island, non-citizens require an alien holding licence to buy property, which costs ten per cent of the purchase price and takes about four months to obtain," says Lake, "but most of the resorts and new developments, including Frigate Bay, are exempt."
Ensure you have a good, reputable lawyer when buying on the islands. One group of investors in a supposedly boutique project by a British developer on St Kitts saw their funds transferred to a lawyer who was subsequently jailed for fraud, leaving the investors with an expensive legal case on their hands – and no properties. Also be prepared for high costs when you come to sell – up to 20 per cent of the sales price, including a Government tax of 12 per cent (or 5 per cent for condominiums), estate agents fees of 6 per cent and legal fees.
When you arrive, though, and breathe in that beauty, selling will be the last thing on your mind.