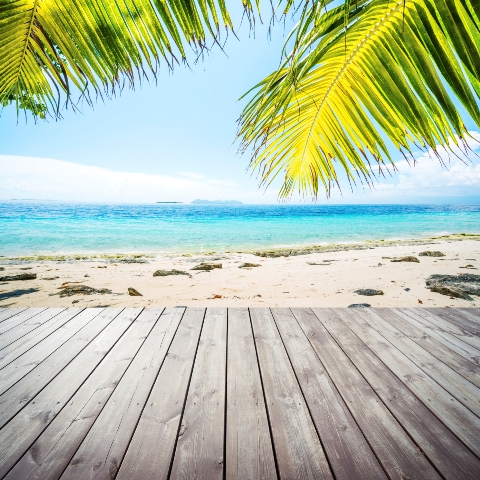 Telling us their rental story this month are Jean and Joe from West Sussex, who let their idyllic Caribbean villa to holidaymakers when they aren't enjoying time there themselves…
We are:
Jean Billige and Joe Hollywood from Pulborough, West Sussex. We own and run care homes for adults with learning disabilities and challenging behavior in the South East.
We own:
Le Jolie Papillon, a beautiful three bedroom, three-bathroom villa with a one bedroom annex, overlooking the Caribbean Sea in the south of St Lucia. The house sits in just under an acre of landscaped gardens with fruit trees, including mango, lime, golden apple, papaya, avocado and the Lucian breadfruit.
It's so close to the sea that you can fall asleep to the sound of the waves lapping on the sandy beach. The house is a traditional "Lucian" style home, with locally quarried granite used both inside for feature walls and outside in the terraced garden. On walking into the lounge you are met with a panoramic 180-degree view of the Caribbean Sea and the large terrace is just perfect for enjoying a cocktail or local Piton beer as you watch the sun go down.
We chose:
St Lucia because of the beautiful climate during the UK's winter months. There is nothing better than knowing that we can escape the cold here to bask in the tropical heat of this wonderful lush island. St Lucia is noted for the Pitons – two conical volcanoes that are a World Heritage Site. You can actually drive into the bubbling volcanoes, if you can stand the smell of sulphur!
There is so much to do as the island is small and accessible, and the driving is on the left. There are many sandy beaches nearby and bays perfect for snorkelling. When you hear the sound of the conch being blown you know that one of the local fishermen is selling his catch in Laborie village, ten minutes' walk from the house. Even when you are lazing in the sea, they will sail by selling their lobsters! The south of the island is peaceful, with small, family run restaurants selling local produce, such as delicious fresh fish and "rotis" (spicy curry wraps). A great spot for a sundowner is Ladera – a beautiful hotel set high up between the Pitons.
Or, if you want a bit more action, Rodney Bay and Castries, the capital, are an hour's drive away through the banana plantations. Here you will find some larger hotels, water sports and you could try your luck in the casino. The island's verdant interior is easy to experience too, thanks to the numerous nature trails and heritage walks, which meander through the rainforest past waterfalls as parrots fly overhead.
We rent out:
Le Jolie Papillon can be rented for £70 per night inclusive. We ask for a 25 per cent deposit and that the balance is paid 60 days before the holiday start date. We have Kathryn and Hilroy who look after our house and will come and meet you at Hewanorra airport – which, since the property is in the south, is only a 15-minute drive away. They can be called on during your stay if you have any queries. They are a mine of information and will help make your stay memorable.
We pay:
Approximately £600 per quarter for management fees (Kathryn and Hilroy). We have a gardener for £400 per quarter and cleaning, repairs and so on are done on an 'as required' basis. Electricity is very expensive so we ask that the air conditioning is not wasted with doors left open!
Call 0845 310 5385 or email [email protected] for more information on renting Le Jolie Papillon or buying it – the property is now on the market for $485,000 (£296K).