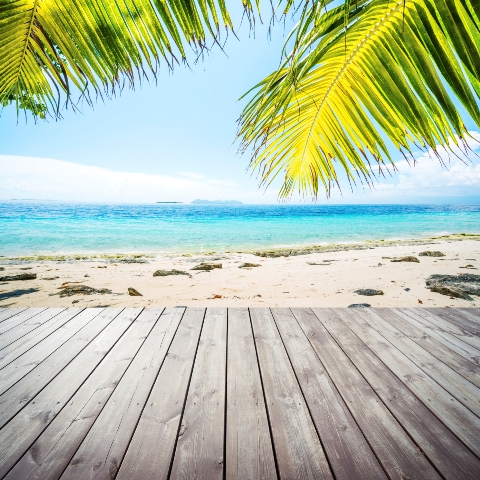 When President Mubarak fled Cairo at the start of February it was rather appropriately to the "City of peace" or Sharm el Sheikh on the Red Sea Riviera that he chose to take refuge.

Like many other Egyptians, the deposed leader has a residence there, because the purpose-built tourist resort is a million miles away from Cairo in every sense.

In fact, apart from a few shortages in supplies and package tours and flights temporarily suspended, it's been business as usual – boosted by Egyptians from Cairo and Alexandria buying investment properties in the "safe havens" of the Red Sea.

"Now Mubarak's reign is over, there's a great sense of optimism amongst the Egyptian people and a feeling that the future will be rosy," says Peter Mitry of Egypt Real. "Since the crisis started on 25th January we've been selling a property a day."

Plus the related fall in the Egyptian Pound against Sterling means it's the best time to buy, currency-wise, in five years. But of course, Sharm, as it is known locally, has weathered the storm before – remember the 2005terrorist attack that killed 86 and the shark attacks just last December.

Tourist figures are still strong. With an average of 77,421 arrivals each month, Sharm is responsible for 60 per cent of the whole of Egypt's tourist numbers – the resort has been growing steadily since the Israelis opened its first hotels in 1967.

Its long natural beaches and diving are amongst the best in the world. Under Egyptian control again from 1982, it continued to grow and development has been carefully planned, with a policy for low-rise (three-storey limit) and low-density (25 per cent of land is built on). Sandwiched between two national parks – Nabq Bay conservation park and Ras Mohamed Conservation area – the resort is limited in size compared with the sprawling Hurghada, covering around 12 kilometres of beachfront rather than 70.

Another big difference is that for political reasons you can't buy freehold property on the Sinai Peninsula so there's a system of 99-year leases. This – along with potential problems with building licences and land ownership – makes it especially important that you seek good legal advice when buying in Sharm, emphasises Mitry.

"Your lawyer must check the terms of the lease. Don't assume that it will always be renewable after 99 years [like most are]; plus, whilst with a new buyer many leases start a fresh 99-year tenure, some developers will sell a property with only the residual term."

That said, the leasehold scenario doesn't put off many people buying property in Sharm, where the British are the most dominant foreign purchasers.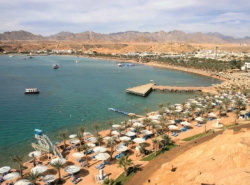 So where and what do you buy?
The most long-established part, Naama Bay, is the most expensive generally, according to Tarek el Saadi, head of Sharm's biggest property agent, Sharm el Sheikh Real Estate .

In this area there's the famous Naama Bay Promenade, and the big brand hotels such as Marriott, Hyatt Regency, Four Seasons and the nightspots: Pacha, Little Buddha and the Hard Rock Café. All the beachfront's long been developed, so you need to look north at the Nabq Bay area for new frontline projects – or for most new projects, full stop.

However El Saadi is selling large one-bed units at the luxury ready-built Sunny Lakes Elite complex in Naama Bay from £54,500. This buys 75 square metres of "great finishing" he says. Or you can get a resale studio apartment for around £30,000 – resale villas are rare.

Although not frontline, there is however Sharm's largest new project, Neama Town, a 40-acre mini city with 5-star hotel and spa that the sales team says will be completed by the end of 2012. Located in front of the Marriott Hotel, the mega resort will be 100 metres above sea level so enjoy commanding views as well as 80 per cent dedicated to green spaces.

Seventeen complexes will contain 245 units in each: studios (42 sq.metres) start from £30,000; one-beds (72 sq. metres) £38,000; two-beds (102 sq. metres) from £73,000; or villas (1,000 sq. metres) at EGP£3.5 million (£365K).

"But from an investment perspective, Nabq Bay is much better as you will be paying more for a property, yet receiving similar rental rates, so yields are around 6-7 per cent a year as opposed to 8-14 per cent in Nabq," says el Saadi.

Fast-developing Nabq is popular also for the fact it is 7 minutes from the airport, 15 minutes from the more congested Naama Bay and its beautiful beaches include the hard-to-beat Zoura. In Nabq, you can buy a one-bed resale apartment (80 sq. metres) in a frontline beach spot for around £85,000, but £40,000 is around the entry level for beachfront – though
you may not get sea views.

Two beds start at around £75,000 but do check sizes – square metres are specified here as a two-bed can typically vary from 80 to 120 sq. metres (Egyptians build bigger for their large families).

Second row back and this will fall to about £55,000 for a two-bed resale. But arguably the best views of all are from an elevated site, not frontline beach, such as the aptly named "The View", which has proved popular for its central location.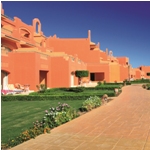 Now largely completed, it's in the north of Nabq Bay, in the hills above the main street, so handy for amenities. Prices start from £32,491 for a 40-sq.-metre studio, £34,898 for a one-bed, and £64,982 for a two-bed from Egypt Real.

In contrast to Sharm's homogenous white architecture, Maraqia, with its terracotta coloured units stands out, says Peter Mitry. Located inland from the resort, it's less central but closer to a new golf course and also City Stars, a "Dubai style" tourist community with the biggest shopping mall in Sharm, two years off completion.

With eight pools, playground and a supermarket amongst its facilities, it's also very family friendly. More affordable than The View, prices start from £21,284. Prices are similar to its less-advanced sister project nearby, Monna, which is offering four years' interest-free credit on off-plan properties. These are entry-level type projects, about 50 per cent more expensive than comparables in Hurghada, according to el Saadi.

You may see even cheaper properties advertised in Hadaba, close to "Old Sharm" or the downtown traditional market areas and souks, but it's a designated residential area for locals. As always, check the track record of a developer, says Jennette Bradbury of Egyptian Experience, who is offering apartments on a complex with a complete management structure already in place.

Resales at the Egyptian Experience complex of 150 units – 700 metres from the sea in the south of Nabq – start from £33,000, with two-beds at £56,000, double their 2005 price tag.

If you fancy a villa, third-line Oasis Villas with private pools start from £132,000 from Sharm el Sheikh Real Estate, or they have a two-bed resale with pool for £99,000.

One area where you can still get a new property on a frontline project is Sharks Bay, an upmarket little pocket that is a little away from the main tourist hub. Experience International (EI) is offering two-bed apartments for £140,000 with 12 per cent returns.

"The rarity of the location is reflected in the price; if you want more choice of frontline beach projects, look at Hurghada," says Shaz Yaqoob of EI. There's also a rare on-the-water five-bed villa for sale for $3million (£1.85m) – one of Sharm's most expensive properties and available through Sharm el Sheikh Real Estate.

If you're planning to relocate, Hurghada is arguably better, being a working town than a purpose-built tourist resort, but as a rule of thumb, long-term rentals are £280-£350 on a one-bed apartment in Sharm.

Pure investors, though, should look out for the Sinai Golf Heights apart-hotel, which has not yet launched but will be backed by the Sabbour Group, one of Egypt's biggest developers. This will be associated with one of three golf courses under construction in Sharm. "Prices of the 3,000 apartments aren't confirmed yet but it will be top-end," says Mitry.