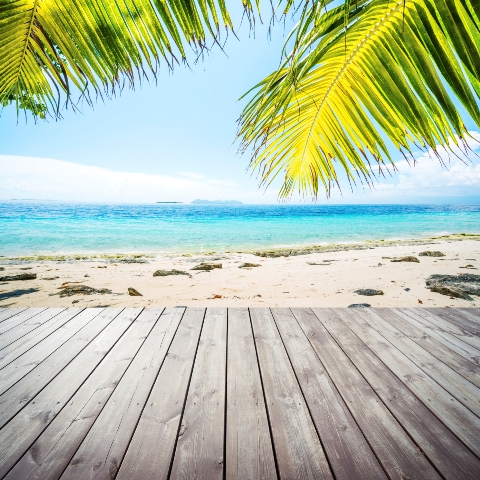 My salon is called Mathparri and situated within the 5-star Puerto Calero marina complex near Arrecife. It provides full hair and beauty treatments, and we have a dedicated training salon for students too. We also offer franchise opportunities across Spain and not only provide franchisees with a fully equipped salon but provide training in salon management too. When I opened Mathparri – the name being a fusion of mine and my daughters' names – it was just an 80-square-metre white box. It took me three months to design and transform the salon into what it is today.

I've been in the hair and beauty industry for 25 years and started out at a well-known chain of salons in Yorkshire. After managing one of their leading salons, I left to open my own. But I always dreamt of running a salon somewhere warmer than Leeds.

I first came to Lanzarote on a friend's recommendation. I had been hospitalised after a traumatic experience and wanted to get away for a couple of weeks with my girls. When we landed back in Manchester after the break, I looked around and thought, "I really don't want to be here". So I gave up my business, sold my cars, locked up my home and said goodbye to my friends, who all thought I'd either gone mad or was very brave going to another country alone not knowing the language. On the 17th April 2003 I touched down in Lanzarote with my three daughters and our suitcases!
One person I knew when we arrived in Lanzarote was Alison, the rep we'd rented from during our two-week holiday. Alison was well-known as she'd starred in a TV series about Lanzarote airport. She managed to find us a one-bedroom apartment to rent and, along with her husband and friends, has been very kind and helpful. They helped me find schools for the girls and sort out all my official paperwork. Luckily, they had all been on the island for years and spoke the language, which is important.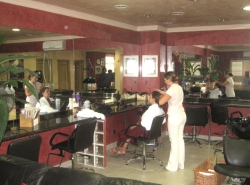 When I opened the salon, my accountant took care of all the red tape that comes with a business, such as social security and tax, and I applied for all the necessary licences. It does take longer to get things done here than in the UK, so you have to learn to slow down and be patient. Luckily, I've also had my partner to help me with legal thing but if you don't have anyone, there
are companies that do this for you for a fee. I also spoke Spanish, which helped.

Both locals and tourists come to the salon but being in a marina means I also get clients from all over the world – Puerto Calero is a main stopover for boats en route to the Caribbean. In our first year of opening our clientele included the Ericsson sailing team, which was based here while they trained for the round-the-world Volvo Ocean Race – which they won.

I believe it is very important to be hands on and my clients come to Mathparri for my personal skill. I also teach my students personally – I believe I had excellent training and feel it is important to pass this on. I work alongside our in-house health and beauty therapist, Josie Drake, who also has 25 years' worth of experience. We give our students the opportunity to work with us in the salon in their free time.

I live with my Galician partner of five years, Pedro, and my youngest daughter, 18-year-old Torri, who will leave school soon and start work in a gym. My eldest daughter, Thea (21), works at the airport for Ryanair and my middle daughter, Paige (19), has followed in my footsteps as a hairdresser. My home is a three-bedroom villa in Matagorda, near the airport at Arrecife and within walking distance of shops, restaurants and, of course, the sea. Winding down for me is walking my dogs along the beach and enjoying the sun with friends and family.

Mathparri offers 8-week training courses, which include 200 hours of tuition. Participants stay in Puerto del Carmen and get time to explore the island. www.mathparri.com