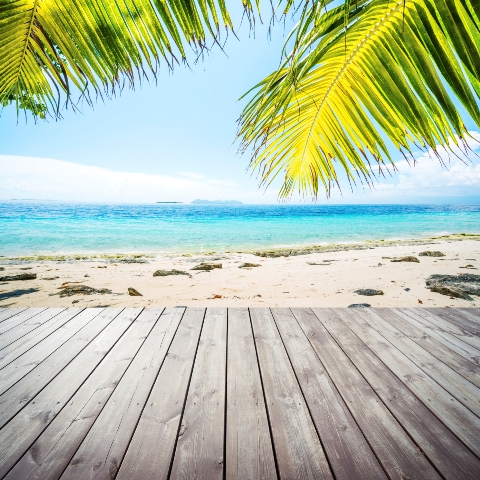 Most buyers tempted by Egypt will be waiting to see how things unfold politically. But others, reassured that the Red Sea resorts have been relatively unaffected, may be looking for a bargain – and for them, here we outline what's available in Hurghada and Sahl Hasheesh
STOP THE PRESS
Of course, anyone reading this will be concerned about the safety of buying in Egypt right now. With Mubarak gone, what evolves during the next six months of military governance is crucial to the country's future. If you're serious about buying in Egypt, it's likely you've put your plans on hold till things unfold. For an idea of what the feeling is in the tourist resorts, we got some feedback from two agents.

Neil Hollingsworth at Rivermead Global:
"Egypt is poised to move forward and become a democratic nation for the first time in its history. This will have a huge effect on the country, its people and of course tourists and investors – Egypt relies on tourists and outside investment. The whole country will want to resume business as usual as soon as possible, and with the Army vowing to go after corrupt parties it will help clean up the real estate markets.

The Red Sea areas of El Gouna, Hurghada and Sahl Hasheesh have been unaffected by the demonstrations, however they have been indirectly affected with a shortage of food, water and fuel but this is almost back to normal. The hotels have been hit hard and several are closed with workers being sent home or going to Cairo to look after their families.

From the property side we have actually been receiving more enquires, whether this is because it is in the news or people see that once the government changes there will be a big push in the tourism sector and the new government will want to get everything back on track. It will also remove an element of corruption, which will be a massive boost to the real estate market. We had people out last weekend buying furniture for their properties, more out this coming weekend and people out viewing properties later in the month. We also have someone looking at buying 5-15 properties as investments, this is a professional who knows where and when to invest.

Abdullah Sobhi at Luxor Luxury Apartments:
Luxor, Sharm el Sheikh and Hurghada did not witness much disturbance throughout the uprising, for two main reasons:
a lack of government offices to demonstrate against, and people in these places knowing that they depend on tourism. Commenting on Luxor in particular, it witnessed some disturbance when the people who got expropriated
as a result of the large open-air museum project, decided to express their anger towards the small compensations they received and not the project itself.

The President stepping down is good news for all of us. For the short term we may find a decrease in tourism and the tourist residential market in Egypt as a result of the current events. That said we are monitoring the traffic to our website and we did not notice any decrease. Also many times a day I receive phone calls from people who are ringing to say that they have their holiday booked and still want to fly. I am advising they avoid Cairo, but Luxor, Sharm and Hurghada are safe to go to.

For the long term I expect tourism to increase and reach its peak, as the international view of Egypt is changing to be
a country of freedom. A new system should guarantee transparency and everyone will benefit, including tourists. This will reflect in the tourist residential market. And perhaps not for a while, but I expect the locals to be able to afford what the tourist are buying now.

My family in Luxor is saying it is safe and sound and there aren't many tourists around. Food and fuel prices increased but started to come down this morning and many tourist companies have given their staff holidays, and half payments. The place is stable and we are continuing to work on our projects to deliver them on time.

Hurghada
Around ten years ago Hurghada was little more than a fishing village yet it has grown rapidly into the Red Sea's biggest seaside resort, a diving mecca to give Sharm el Sheikh a run for its money.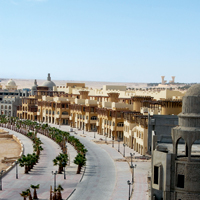 However, unlike Sharm, it offers freehold properties to foreign buyers (rather than 99-year leases), and in their thousands did these buyers arrive, snapping up apartments for little more than the price of a car.

Of the emerging property markets it was amongst the most affordable, offering year-round sun at the end of a five-hour flight, world-class diving and ancient history. By 2006/7 things really began to take off (and easyJet arrived) and with scores of half-built apartment blocks the resort resembled a giant building site.

However Hurghada also experienced the downside of such exponential growth – and the fate of several developments marketed by UK-based World Wide Destinations (WWD) has left a bitter taste in the mouth of thousands of owners – and agents.

One only has to Google any of the buyers' forums to see the fall-out from the collapse of the high-profile company which sold properties in half a dozen large complexes all called Pearl-something without valid contracts – although they weren't the only company who did this. It has certainly made people much more aware of the need to be really selective about what they invest in.

"Eighty per cent of properties have had issues [relating to land ownership, false documents and builders not being paid] and WWD left a big mess," says Neil Hollingsworth of Rivermead Global (www.rivermeadglobal.com).

"But it's a fantastic location with improving air services, so you just need to do your homework and know which companies to use. Read those buyers forums. Beware that anything for £6,000-7,000 will be very small, but £30,000 will get you a great one-bed in a well-located complex. Prices haven't dropped since the boom, so all those studios that were selling for £15,000 are now worth £21,000."

Also, know what you are buying, adds Jennette Bradbury of Egyptian Experience (www.egyptianexperience.co.uk). "Egyptians tend to purchase properties without fitted kitchens and bathrooms. Plus if you are buying to rent choose something with a maintained pool and an ongoing maintenance agreement."

According to HomeAway Holiday-Rentals here's a huge undersupply of rental properties, although enquiries for Hurghada were up 48 per cent in 2010 from 2009.

Location is also especially important, says Martin Copeland of Knight Knox (www.knightknox.com). "Beware that lots of properties are marketed as Hurghada when they are 20 minutes out of town and remember beachfront will always hold its value better," he says. "Don't be driven by price alone. Those £20,000 properties are likely to be two or three rows back from the beach so won't be as popular for rentals".





Copeland is marketing a project that is undoubtedly in one of the best locations in Hurghada, but comes at a price. The Samra Bay Marina & Spa Resort is a 5-star frontline beach project, at the end of Village Road in the "Intercontinental (Hotel) Area."

Offering both an exit strategy (buy-back guarantee) and income (eight-year guaranteed rentals for eight years), this project offers fully-furnished one-bed apartments from €87,000 (£74K) or two-beds for €140,000 (£120k). It's not built yet, but "you know it's going to be built, with the track record of the developer [the Orbit Group]," says Copeland.

For George Sorial of Sun Homes Egypt, however, Hurghada Dreams is the best value in central Hurghada. In the Arabia area near a large public beach, it offers key-ready apartments with five per cent guaranteed income for five years. "Resales are actually better value than new units bought direct from the developer," he says. "New studios cost £31,000, one-beds £33,000 and two-beds £59,000 - but a one-bed resale with sea views costs the same as a new studio".

Another example of mid-range pricing are some fully-furnished two-bed, two-bath resales, in an eight-unit complex with a pool, on the coast 10 minutes out of town – for £68,000 from Egyptian Experience. For entry-level Hurghada, Sorial will only touch one developer – Red Sea Way – and at the Red Sea Palace in the northern Ahyaa area studios cost £6,700, one-beds £11,000 and two beds £19,000 (www.sun-homes.co.uk). "The Ahyaa area is still developing and a little out of town, but most beachfront projects are there."

The first area to be developed with dozens of apartment complexes was the central El Kawser, while Magawish and Al Helal are the residential areas for locals. Most lower-end projects are in Arabia, which adjoins the downtown El Dahar area – very Egyptian with the town's oldest bazaars.

Another entry-level project which comes with the green light is Pyramids Beach Resort (previously WWD's Pearl Vista) in Al Ahyaa (studios from £11,995 from Rivermead Global). Villas are hard to find in town, but The View (perched high in the "new" area one row back from Village Road) has three- and four-bed villas from $275,000 (£235K), also from Rivermead Global.
On the market in Hurghada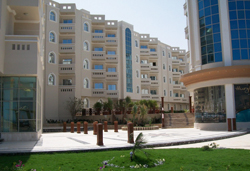 Where: Hurghada Dreams
Price: £32,500
A key-ready one-bedroom
apartment on the third floor
and with sea views.
Sun Homes Egypt: 0114 3600 042; www.sun-homes.co.uk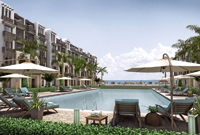 Where: Samra Bay
Price: €91,250 (£78K)
Spacious one-bed apartment in Hurghada's prime location, with guaranteed rentals.
Rivermead Global: 0161 652 5563; www.rivermeadglobal.com





Sahl Hasheesh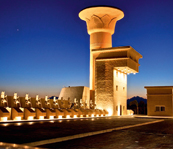 With its rows of giant pharaonic figures, the extravagant gateway to the self-contained resort of Sahl Hasheesh on the Red Sea Riviera promises much. Three years ago it seemed lost in the middle of no man's land, but now the largest resort community on the Red Sea is beginning to resemble its 4,000-hectare masterplan.

The "Green Valley" 20 kilometres south of Hurghada's airport includes 58 parcels of land for separate resorts between meandering lagoons, lush vegetation and five golf courses.

In the middle there's a piazza, an attractive pier curving out over the "sunken city" (created in the past five years but symbolising the area's ancient history – the general theme). In the next couple of years there will be a marina for superyachts at the southern end of the "city", around which will be the high-end Sawari resort, developed by Orascom.

In the final phase of the masterplan, a university, schools, business park and civic centres will be built.

It is a purpose-built, low-density, resort which may not offer the "true" Egypt found in the bazaars of downtown Hurghada but it has been a hit with investors – especially British, Russians, Poles and Germans.

"It is a different budget to nearby Hurghada, but so spectacular that any buyers who see Sahl Hasheesh prefer to buy there if they can afford it," says George Sorial of Sun Homes Egypt (www.sun-homes.co.uk). "£30,000-40,000 is the entry level for a one-bed apartment in Sahl Hasheesh rather than sub-£10,000."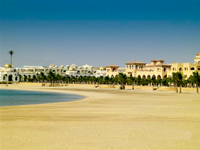 It's like the international resort of El Gouna [on the same coastline but north of Hurghada], but a fraction of the price, according to Neil Hollingsworth of Rivermead Global (www.rivermeadglobal.com), who is selling "prefab" apartments on the Mamma Mia Golf & Spa Resort from €42,000 (£36K). "It's been controlled properly by ERC [the master developer, Egyptian Resorts Company] who've put in the infrastructure first."

So how to choose between those 50-odd resorts? Well, starting with the most firmly established, there is Palm Beach Piazza and El Andalous – both centrally located near the sunken city – and both with on-site facilities and pools. "Look for the best individual deals amongst resales," says George Sorial, who has a two-bedroom at El Andalous with a sea view for £94,000.

Alternatively, the developer/master agent of both projects – Orbit Alliance – has one beds at Palm Beach that sold for £54,000 in 2007 are now going for £105,000 (www.orbitalliance.com).Orbit Alliance is also selling Ocean Breeze, a top-end beach project just north of the south marina that has now been completed, with Phase 2, Sun Gate, ready in six months. Ocean Breeze has apartments from €109,000 (£93K); or semi-detached three-bed villas for €660,000 (£564K).

At Sun Gate – with 400 units including six pools and a 5-star hotel – prices start from €70,000 (£60K). "Ocean Breeze units are designed to be big enough for full-time residents; whilst the lower price point (and size) of Sun Gate are better for short stays and rentals," says Barry Clark of Orbit.

There are very few properties for rent (via the major lettings websites) in Sahl Hasheesh but those that do, rent for £195-£395 a week (sleeping four to six) on www.holidaylettings.co.uk. Pyramisa is another well-reputed developer in the resort – as well as 5-star hotel operator – and its projects include Pyramisa Beach Resort (the first ever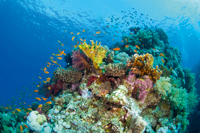 project completed, an aparthotel), Sunset Pearl (turnkey apartments) and Paradise Gardens (completion due Aug 2011).

The aparthotel offering is obviously aimed at the pure investor, but the more lifestyle oriented Sunset Pearl is adjacent to the vast 900-room hotel just north of the sunken city and owners can use the facilities. At Sunset Pearl the costs are studios €59,000 (£50K), one beds €79,000 (£68K) and two beds €90,000 (£77K).

"We offer seven per cent yields for the first ten years, with six weeks personal usage per year, and membership of the Pyramisa Owners [holiday] Club," says their local representative Nagi Azab (www.pyramisaegypt.com).

At the northern tip of Sahl Hasheesh in the "Villa District" is Azzurra, where you can buy plots of land for £250,000 from Rivermead Global.

The elevated land gives properties at the high-end Azzurra great sea views. Spacious apartments graduated up the hill (ready in two months) cost from $110,000 (£68K). "It's a stunning lifestyle project by the architect who designed the marina at El Gouna," says George Sorial.

The grandest properties will probably be in Sawari, the largest project, with the second largest marina on the Red Sea. It seems there's plenty to suit every budget on the Red Sea Riviera.
On the market in Sahl Hasheesh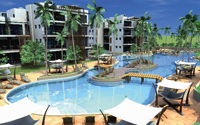 Where: Mamma Mia Resort
Price: €42,000 (£36K)
These high-tech prefab apartments from an Italian developer are near the Wadi Golf Course.
Rivermead Global: 0161 652 5563; www.rivermeadglobal.com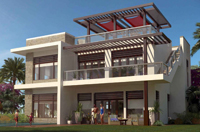 Where: Sawari
Price: $925,000 ($575K)
These luxury four-bedroom
beach villas have double
roof terraces.
Sun Homes Egypt: 0114 3600042; www.sun-homes.co.uk.


Words: Liz Rowlinson