We all love a beach, but with so much focus on the delights of seasides and costas, lakes can sometimes get forgotten. Yet lakes have some advantages over seashores, especially Alpine ones such as Lake Annecy in south-east France, close to the Swiss border. There's the calm, still waters that make boating and water sports safer; there are the picturesque, crystal clear streams tumbling in and out of the lake and the mountains that loom over it. At Annecy, those mountains are not only a joy to look at, but a potential source of capital returns, as the city is in the running to host the Winter Olympics in 2018, to be announced in July this year.

Annecy itself is a picture-perfect French city filled with breathtakingly beautiful medieval buildings and ancient streets filled with market stalls. The waters of the lake cascade into canals and streams through the town centre, along which are stylish cafés and restaurants – earning it the nickname "the Venice of the Alps".

Unlike seaside resorts, lakeside resorts like Annecy are open all year, so able to profit from both summer and winter seasons. Annecy is well-placed for the winter trade, being only 30 minutes by road from top ski resorts like Megève, Flaine, Le Grand Bornand and La Clusaz, each of which would have a role to play in the Winter Olympics if Annecy wins the bid. Geneva is only a short drive or bus ride away too, so year-round budget fl ights are plentiful, or you can travel to Annecy by train from Paris in three hours, easily linking up with Eurostar services from London St Pancras.

For property-owners, Annecy is a year-round treat. As a University City and capital of the Haute-Savoie region, it is always buzzing and much more than just a tourist town. You'll hear occasional British accents, but certainly won't feel inundated by your countrymen. Partly this is because property is not cheap. The property market around Annecy has been inflated by the proximity of Geneva, a world financial centre and home to the United Nations and Red Cross, as well as ultra-tech organizations like CERN. Then again, prices are unlikely to fall far.

Rhône-Alpes Property Services, a British-run agency based in France, is selling a 43-square-metre 1930's apartment in central Annecy for €240,000 (£205K), including agent's fees. At the other end of the scale, Leggett Immobilier is offering a ten-bedroom renovated farmhouse being run as a chamber d'hôte. It has incredible potential either as a tourist business or as a family home, and is available for €1.36million (£1.16million).

For a new or off-plan home, if Annecy beats Munich in Germany or Pyeongchang in South Korea to host the Winter Olympics, investors will be hoping for a gold medal performance in capital growth as the town becomes world famous and massive capital investment goes into the local infrastructure. Simply the fact that the local authorities have the ambition to reach for such a prestigious prize is encouraging.

MGM, a leading French Alpine developer for 50 years, certainly sees great potential and has signed up Olympic downhill gold medallist Antoine Denerriaz as ambassador for the company as well as for Annecy's Olympic bid. Richard Deans, sales consultant in the company's London offi ce told A Place in the Sun: "If Annecy wins the bid to host the Winter Olympics, it is inevitable that the demand for property will soar as planning for the event gets underway, so capital growth and rental incomes can be expected to rocket. Having said that, the scope for good rental returns already is high as this is a university town which regularly hosts international conferences, festivals and sporting events."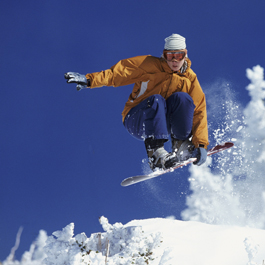 MGM is currently building new luxury apartments at La Reserve in Annecy, which comprises two three storey buildings together containing 17 one- to three-bedroom apartments. They are located in the residential area fronting Annecy's prestigious Avenue d'Albigny dubbed '"the Champs Élysées of Annecy".MGM certainly has confidence in Annecy – this is their fourth development in the area. In the most recently completed – La Villa d'Artagnan – all but one of the 18 homes have been sold, and the last is only being held back as a show apartment to give off-plan buyers an idea of how La Reserve will look.

Says Deans: "All of them will have spacious balconies or terraces, many with views of the lake and mountains." Prices of apartments at La Reserve, which will be ready for occupation by summer 2011, start at €560,000 (£479K) for a two-bedroom apartment of 64 square metres."Investors can expect to achieve a monthly rental income for a two-bedroom apartment in the region of €1,600 to €1,700 (£1,368 to £1,453) during the ski season and summer months," adds Deans.

With double-season returns like that and the promise of capital growth, the prices seem pretty reasonable. Could that shimmer on the Lake be the sparkle of Olympic gold?
Search for a property in France
Read our guide to buying a property in France