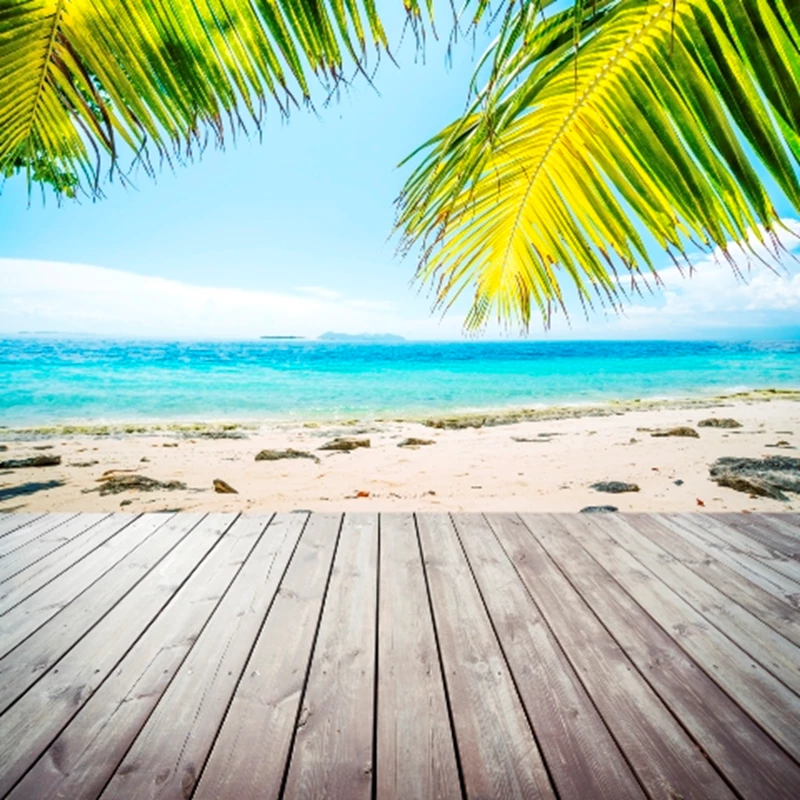 Chania?
Pronounced (and often spelled) Hania,Chania is an ancient city on the northwest coast of Crete. How ancient? Well it was founded by the Minoan civilisation who ruled Crete from around 2,700BC to 1,500BC, and was later an important city in classical Greece. Like most Mediterranean islands its history is of one occupier after another – Greek, Roman, Arab, Byzantine, Venetian, Ottoman and finally Greek again.
Corner of a foreign field...
Before that final Greek takeover, in 1898 the British arrived to run Crete as a protectorate and keep the Greeks and Turks separate, but in 1913 the Greek flag was finally raised again over Chania which was by then the capital. In World War II we returned along with our Commonwealth Allies to help protect Crete from German paratroop invasion in 1941… and came second. Much of the fighting took place around Chania, and 1,500 British and Commonwealth graves are at in Souda Bay War Cemetery.
Chania today
The population of 55,000 is swelled in summer because although no longer the capital, Chania is Crete's most beautiful city, based around a harbour and bay. It has a delightful Old Town from which an attractive modern city extends inland. To the east of the city is a rocky peninsula called Akrotiri– not to be confused with the larger Akrotiri in Cyprus – which includes an international airport. Chania is also a port (although the main ferry terminal is at Souda Bay, seven kilometres away), with a nine-hour crossing to Athens.
What's to love about chania?
The harbour, the old Venetian quarter and the jumble of Byzantine, Italian and Ottoman buildings seem to glow pink at sunrise and sunset. The Old Town is packed with narrow alleys and attractive squares, busy both in summer and winter, but where the Old Town meets the harbour is the best place for people-watching while soaking up the Mediterranean ambience. There are ancient ruins to see, museums including the Archaeological Museum, Nautical Museum and the War Museum. Theindoor market in Chania is one of the best in Europe. Just past the old Venetian walls is Nea Chora beach, well-supplied with fresh fish to its restaurants. The surrounding countryside is gorgeous too; the greenest around Crete, with plains full of olive groves and vineyards, hills and mountains with wonderful trails. The Samaria Gorge, a 16-kilometre-long canyon in the White Mountains national park, is especially popular with hikers.
Where to find work?
Two million people come on holiday to Crete each year, so tourism is your best bet from Easter to October, in restaurants, bars, water sport businesses, climbing companies in the White Mountains, or as a tour guide/rep. Being part of the EU, British people are permitted to work in Crete, though outside of the holiday season work can be scarce. Teaching English is a good option, as is serving those members of the expat community who live abroad but prefer to employ a fellow Brit for home repairs, moving, plumbing, electrical work, healthcare, pet-care and so on. This western end of Crete is highly agricultural, and some British residents have gone into the farming business, especially the organic side, linking into agrotourism where you stay on a farm and learn about traditional Cretan lifestyle, including the very healthy Cretan diet. You can read about one family's experiences at www.livingthegoodlife.co (and maybe put a bid in for the farm too!).
Where to live?
Chania: Within the city, most locals – you won't fi nd many British residents here – live in the modern part, often in rather unattractive apartment blocks built between the 1950s and 70s. However there are also charming areas that recreate the narrow streets and squares of the old Chania. Look out for Halepa, in the east of the city, where the aristocracy used to live, or Koum Kapi, an up-and-coming area with a beach and lots of cool restaurants. In the Old Town, if you can find an apartment in Topanas, the old Christian area, or the Jewish quarter of the Old Town, it will probably bebeautiful but noisy in summer. Akrotiri: There has been a rush to the suburbs, and many British residents live out on Akrotiri, the peninsula that leads off from Chania. It's a rural, wooded area with ancient monastries, fishing villages, and a rocky coast studded with golden bays and beaches, including modern developments at Stavros and Kalathas. Kolimbari: for those who like a quieter lifestyle, yet close enough to the city, Kolimbari is a 30-minute drive further west. It's a traditional fishing village with a pebbly beach and a few restaurants.Village life: While the beach resorts may go into hibernation off-season, opting for a traditional village means the shop, market, bar and generally convivial Cretan lifestyle carries on all year, and you'll always find a fellow Brit, Swede or Dutchman to share a beer with. Alikianos, is only a small village, for example, a few kilometres inland from Chania, yet has four British households. Notable villages also include Douliana, Gavalohori and Stylos.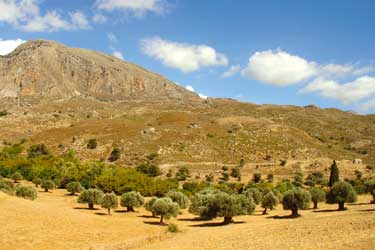 Getting there
Flights are easy in summer, but more problematic in winter, when it may be necessary to change in Athens. EasyJet fl ies Gatwick to Chania, plus Manchester, Bristol into Heraklion (which is 140kilometres away). Aegean Airlines flies from Chania to Manchester, Belfast and several airports in Scotland. There are also charter options with Monarch and Avro.
Climate
May to September is very hot and almost completely dry. Winter temperatures are generally 12ºC to 16ºC, and there are 320 sunny days per year. However the northern coast can get cold winds blowing down from the Balkans, and quite a lot of rain. It also snows up in the White Mountains.
Case study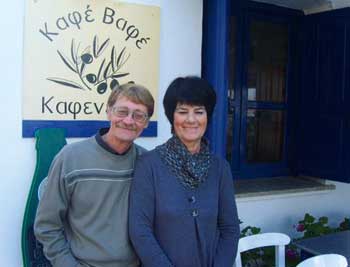 "We'd been looking to relocate from Cornwall for somewhere sunnier, when we came to Crete for two weeks and fell in love with the place. At first, I worked as a scuba instructor while Gloria commuted back to England to work; but then this place came up. We've owned Café Vafe – it's on Vafe Square in Chania – since April and it's already become a real hub for the community. I'm a trained chef so that side of the business has been fine, and I think we've built up a pretty good reputation, especially for our full English breakfasts, and our evening events, such as an "open mike" night we had recently. Where we live in the city there are no British people living nearby, indeed few northern Europeans at all, but there are a lot around Akrotiri, and they all come into Chania. We also get a lot of Greeks, of course, and Swedish people and Germans, especially on market days. My advice for anyone thinking of moving here would be to have savings of at least €12,000 to €15,000 to live on per year, because there really aren't many jobs at the moment, especially during the off-season." John Wood, owns and runs Café Vafe in Chania city.
The property market
Like everywhere, the market has been quiet for a couple of years and there are bargains to be found as sellers whose properties have sat on the market for two years lose patience. There are signs of growth in interest from buyers, and the Euro being back above €1.20 to the £1 can only help. One-bedroom/studios from €90,000, two-bedroom apartments from €110,000, small townhouses from €150,000, family villas with pool from €200,000 and farmhouses/village houses to renovate from €50,000.
On the market in chania
Where: Drapanos, Apokoronase Price: €155,000 (£132K) Two-bed furnished detached house with access to a shared pool and gardens. Less than 10 minutes drive from the beach at Almirida and close to Vamos with its amenities. A Property in Greece www.apropertyingreece.com
Where: Village near Chania Price: €225,000 (£192K) Villa in an elevated position with views. The house has two bedrooms with fitted wardrobes and balconies, central heating, air-con, car port and gardens fitted out with pots and plants. Brian's Greek Property www.briansgreekproperty.co.uk
Where: Near Kolimbari Price: €99,000 (£85K) An amazing price for a villa with private garden and the option of extending. Features solar heating, well-equipped kitchen and double-glazed doors leading out to the courtyard. Snobby Homes www.snobbyhomes.co.uk
Where: Vasilopoulo village Price: €165,000 (£141K) Traditional two-storey, two-bed townhouse fully renovated, with views over green hillsides and the White Mountains. 25 minutes to Chania, 10 minutes to the beach. Minoan Homes www.minoanhomes.com