Luxor
From the air the thin ribbon of green that marks the Nile seems very vulnerable, surrounded by the dry wadis and mountains of the desert, but this river, which is the longest in the world, has sustained life for centuries. Its riverbanks' most famous inhabitants are the Pharaohs, who built their temples and tombs there, but other conquering nations, from Alexander the Great to Napoleon, left their mark there too. The result is that Luxor and its environs now make up one of the world's finest historic sites coupled with picturesque souks and bazaars, riverside walks along the Corniche and coffee shops where you can relax with a bubbling pipe and glasses of mint tea. In a complete contrast, the West Bank of the Nile is rural with small villages, cultivated fields and feathery groves of date palms and in the Qorna Mountains beyond are the famous Valleys of the Kings and Queens.
Being surrounded by so much history is just one of Luxor's attractions. The growing number of expats and second homeowners are also lured by the dry climate, endless sunshine and a cost of living currently at around ten per cent of the UK's. Property values are rising and although tourism does reduce considerably in the summer months, when temperatures rise, increasing visitor numbers suggest that there is potential in the rental market too. With tourism now one of the most important factors in the local and national economy, the Egyptian government, working in partnership with UNESCO, has embarked on a massive scheme to enhance the temple sites and relocate a substantial portion of the city further to the south where a new tourist quarter is being planned complete with the largest open-air museum in the world.
Popular districts close to the city centre are Fayrouz and New Fayrouz which are right at the heart of the tourist area with many of the large hotels, shops and coffee shops close by. Egypt Property Sales have apartments in New Fayrouz, which is the quieter neighbourhood, starting from 250,000EGP (£29,000) for a one-bedroom ground-floor apartment and increasing for higher floors. It will be one of the main new residential districts, within strolling distance of the shops and facilities.
There is also a growing market for villas and land here, although prospective buyers should exercise considerable caution if contemplating a purchase close to the riverbanks. Some of this land is government owned and although a lot has been built on over time it is illegal and there is no proper title to it. Long-time West Bank resident and Egyptologist Jane Akshar, who organises tours and sells her own developments under the Flats in Luxor name, suggests that the only way to be sure is to insist that anyone you deal with can provide references going back a number of years. If they are still in business and have satisfied clients who recommend them then you can deal in confidence.

Hurghada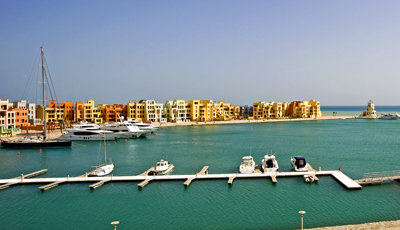 Offering beautiful beaches, world-class diving and an affordable lifestyle, over the last few years the appeal of Hurghada (and Sharm el Sheikh) has been complemented by the Euro's strength holding against the Pound – driving tourists to non-Euro destinations. Unlike its holiday market – but like other resorts around the world – Hurghada's holiday-home market has been blighted by a small number of developers failing to deliver properties, leaving buyers out of pocket. There is good news though with agents such as Rivermead Global Property brokering deals with investors let down by the developer, as well as offering other property in the resort. Samra Bay Marina and Spa resort is another new resort along Hurghada's "Golden Mile" where Experience International is selling apartments. Hurghada airport's catchment area includes two purpose-built resorts – Sahl Hasheesh to the south and El Gouna to the north. In Sahl Hasheesh a realistic guide price for one-bedroom flat in a quality development is £30K. In El Gouna, deemed more upmarket, apartments are available for around £200K.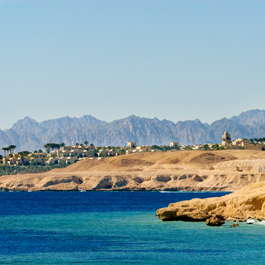 Sharm el Sheikh
Sharm el Sheikh, known fondly as just "Sharm", needs little introduction as the original Red Sea resort. Famous for its great diving and water sports, it has all the tourist amenities you could need, which translates to a strong rental market. Broadly speaking, studio apartments there are currently advertised from £15,000 and one-bedroom flats from £27,000. Hotel rooms with guaranteed rental income (approx. 7%) are advertised from £48,000. There is a lot of choice and new resort areas are constantly growing. In fact, what is referred to as Sharm is really a string of mini-resorts set around bays or beaches.
The hub of Sharm's tourism today is Naama Bay, a sandy bay packed with shops, restaurants, bars and night spots. Transfer time from the airport here is around 20 minutes. A flagship new development in Naama is Neama Town, occupying a 40-acre site in the Rabwat Neama (Arabic for Naama Hill) area, a 15- minute walk from the beachfront. Ambitious plans include shops and restaurants – in a "marina" setting, overlooking an artificial lake – and a five-star hotel and spa. Residential property at Neama Town is available in gated community La Residencia, which includes studios, one- and two-bedroom apartments and duplexes with 24-hour security housekeeping, sports facilities, private parking, a medical centre and a supermarket. Prices start from below £30,000 (www.promosharm.com).
Another development in Naama is Naama Springs, comprising 220 studio, one- and two-bedroom apartments and villas, which is being built and sold by Sinai Management and Development (www.smd-eg.com). Following the coast round takes you to El Montazah, a chic area with plenty of five-star hotels and another development of apartments, called Elmar. Twenty-five minutes' drive from the hustle and bustle of Na'ama, and ten minutes drive from the airport is Nabq Bay, now equally as popular as Na'ama for holiday homes. There are stunning views of Tiran island and the Sinai mountains and a main strip with plenty of restaurants and bars. There are one- and two-bedroom apartments on the second phase of the Sharm Heights development here. Another option in Nabq Bay is the Monna Sharm development, where Experience International is selling studio apartments from £23,400.
"After a holiday in Luxor I bought an apartment block there!"
Retired police officer Allan Costello first visited Luxor on holiday with friends. He loved the location and enjoyed the mix of history, spectacular scenery and local culture. Having always been interested in property, he was struck by the affordability of what was available. After careful research he bought an uncompleted apartment block in the Al Awamia area that he has finished himself. It is common for Egyptian builders to buy the land, start construction with concrete posts and beams, and brick infill, but leave a new owner to finish it all off.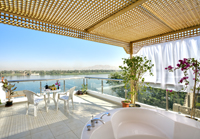 Allan had a clear idea of what he wanted to build and once he'd found a team of local builders the project went very smoothly. He praises the abilities and quality of local workers but does emphasise the importance of keeping a regular watch on the work and having a good local project manager.
As well as finishing the lower floors Allan also added a further floor and roof-top terrace with an extra bedroom and shower room giving him an outstanding view of the Nile and mountains, and for a final touch of luxury he added a Jacuzzi.
The Al Awamia district is 15 minutes' walk from Luxor temple and the city centre and will be at the heart of the redevelopment zone. The Governor of Luxor has just built a new palace less than 200 metres away and the infrastructure of the area is being rapidly improved. To contact Allan Costello call (UK) 07501 809112 or email [email protected].
"I love the year-round sunshine"
Georgina Cole, 51, from Guildford, lives in El Gouna where she works as a barmaid at the Smugglers English Pub and a freelance writer for El Gouna magazine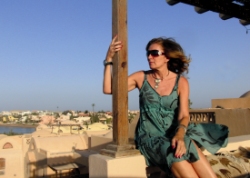 "I own a one-bedroom Nubian style apartment with a dome and vaulted ceilings in the Rihana compound, between the Rihana and Italian lagoons. On the second floor, there's a lounge balcony and roof terrace with a 360-degree view over El Gouna and out towards the mountains, desert, sea and down to Hurghada.
I bought my property for $42,000 in 2003, through a private resale. On my first ever visit to El Gouna I viewed the property. During my trip I agreed a price with the owner and returned two weeks later for three days to sign the contracts and transfer the money. I wish buying all property was that easy.
The apartment came furnished in an Egyptian style with Bedouin rugs, a copper table and handcrafted light fittings as the owner had been renting it out. I love the style so much that I have continued to buy furnishings that are in-keeping with its design.
Originally my plan was to rent out my property for holiday rentals so I created a website to advertise it. But it drove me crazy living in England knowing that I had a property in El Gouna, so I decided to give up my 16-year-old business of providing buffet lunches for offices in Surrey and I moved to El Gouna permanently and now rent out my UK house.
I love living in a place that has year-round sunshine which enables me to embrace the social outdoor lifestyle. I am a keen diver so being by the Red Sea was a 'must have' when deciding on location and I enjoy walking, so living in a town where a car is not a necessity was also a big attraction."
Words: Bruce Hemming/Richard Way
This feature was taken from A Place in the Sun magazine, the UK's leading overseas property magazine. To subscribe and get three issues for £5, visit aplaceinthesun.com
A Place in the Sun Live takes place at NEC Birmingham on 30th September – 2nd October 2011. There are hundreds of agents showcasing thousands of properties from all around the world and there's a packed timetable of free-to-attend seminar sessions covering everything you need to know to buy a property abroad safely. For free tickets, visit www.aplaceinthesun.com/monarch