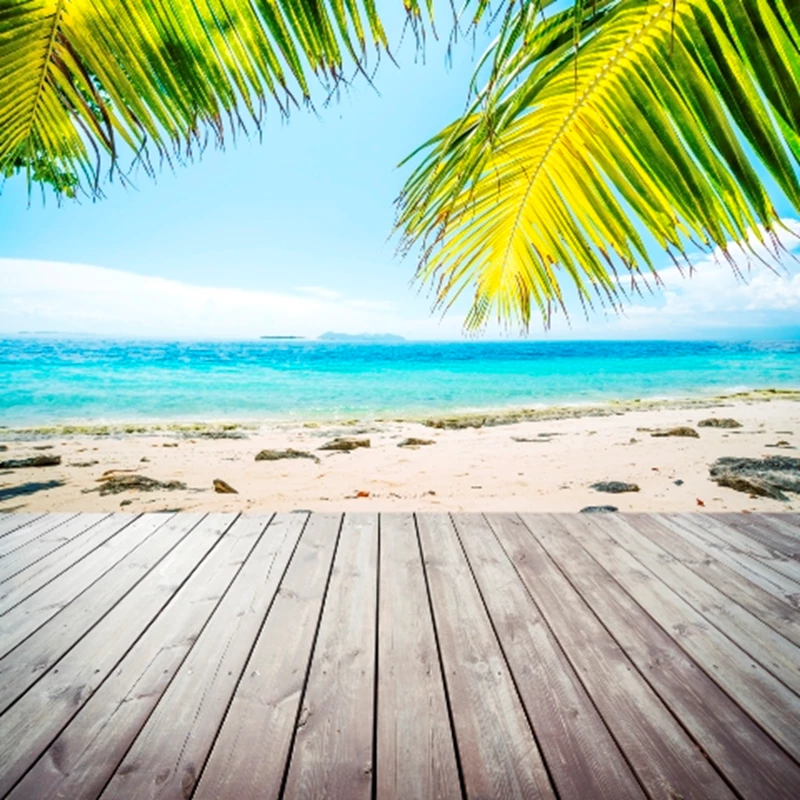 In 1820, 4,000 British settlers arrived in the Cape of Good Hope "encouraged" by their government to help the Cape consolidate and defend the eastern frontier. Today, nearly 200 years later, an interest in the Cape has been re-ignited, largely thanks to South Africa's hosting of the 2010 Soccer World Cup.
Anyone arriving to holiday or settle in Cape Town can't fail to notice legacies of years under British rule (until 1910). The two countries have, amongst other things, similar banking systems, parliaments, property laws, and of course a passion for cricket, rugby and, of course, football. And when you touch down after a 12-hour overnight flight you will find you have no jet lag, can speak the native tongue and are able to drive on the left.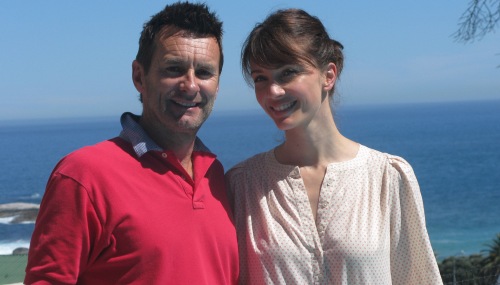 But there's one big difference for anyone whose buying power is
Sterling based - day-to-day living costs. In South Africa, cigarettes are £2.30 a pack, you can enjoy a pint for around 80p and award-winning wines for as little as £5. Of course, the other significant difference is the brighter days and warm weather. South Africa enjoys 8.5 hours of sunshine in an average day, compared to the UK's 3.8.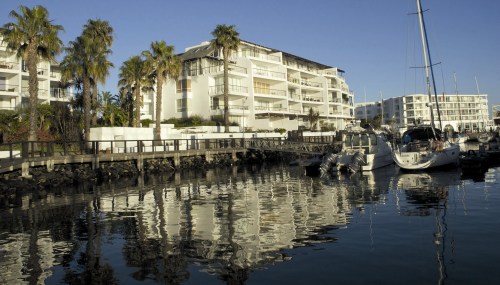 What is it that has contributed to this surge of interest in Cape Town and the Atlantic Seaboard in particular? Audrey Matthews, director at Ronnie Matthews Estates, an agent based in Cape Town, says: "There have been a number of factors creating impetus for the growth in the property market. Most notably post 1994, when the world of property ownership opened up the local market and attracted global investors. Added to this are investors recovering from the recession who are looking to invest in new destinations. Afro-pessimism has been replaced by a general feeling of goodwill and optimism."
The Sage Property Report of September, 2010 stated that" confidence in the South African property market is returning". This is confirmed by the 8.3 per cent year-on year growth rate in the median prices in August and 7.3 per cent in July, and given rise to the prediction that the average nominal growth will be around 6 per cent for the year.
So why the Atlantic Seaboard?
Often described as Cape Town's "Riviera", the Atlantic Seaboard is a chic stretch of coastline around Cape Town. It stretches from the Victoria & Alfred Waterfront on the north shore of Table Mountain round the west side of the Cape Peninsula to Hout Bay. It not only offers excellent investment opportunities but also an aspirational lifestyle.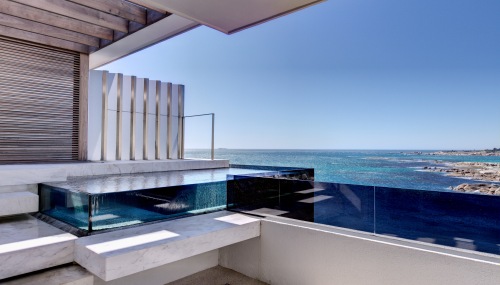 This is prime real estate territory, typified by boutique marina developments and where prices typically start at £500K-plus. That said, shop around and you will find more affordable options close to the famous V&A Waterfront: two bedroom, two-bathroom apartments in Mouille Point are available for around £198K, and at Green Point, two bedroom, one bathroom apartments are currently priced at £154K. Another option in Mouille Point is South Sea, which offers two-bedroom, two bathroom apartments with mountain and city views from £495,000.
And still within walking distance of the V&A is the luxurious Water Club, in Granger Bay - it has a private boutique marina, said to be one of the cleanest in the world, and is next to the only golf course on the Atlantic Seaboard, the Metropolitan Golf Club. Three-bedroom, two-bathroom apartments here start from £612 000. Further round the peninula takes you to Bantry Bay, where apartments on the ocean's edge have views of the famous Lion's head as well as the ocean. At Bantry Place, two- bedroom pads with a walk on to the beach and to the shops start at £675,000.
Then there is Clifton where property is as scarce as hen's teeth - a world famous string of four beaches sprinkled with bungalows - many with private paths to the shore. Camps Bay is next, with its tree lined beach and a cosmopolitan mix of cafés, restaurants and bars. Ebb Tide is an ultra-modern new development there and offers north-facing apartments with two bedrooms and two bathrooms, as well as a duplex unit with three bedrooms and three bathrooms. Prices start at £900,000 for two-bedroom versions and £1.59million for a duplex, and rental guarantees are available.
So, if you're looking for an English-speaking destination with a Mediterranean climate, stunning scenery and affordable way of life, Cape Town's Atlantic Seaboard could be the answer.
It all started in Skegness...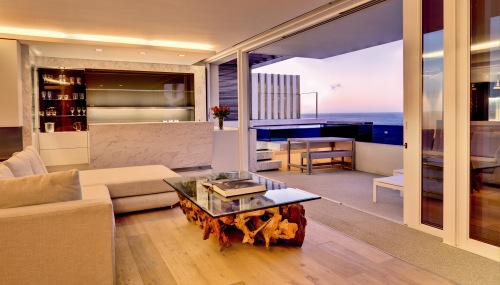 At the age of three, David Higginson sat on the beach during a family holiday in Skegness, with the sand trickling through his toes. It was then that his fantasies began about living near a beach. Fantasy turned into reality many years later when David and his wife Lauren moved into their house in Camps Bay on the Atlantic Seaboard. It's not surprising that it's a mere 112 steps from his pool deck to the beach - steps that David, his two and a half year old son, Oliver, and his two dogs descend religiously every morning, as soon as possible after sunrise.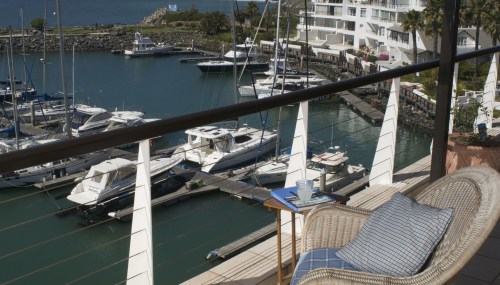 David was on a business trip to South Africa in 1990 when he hired a car and drove along the famous Victoria Road in Camps Bay. He was, he recalls, "smitten." "It was," he says, "the cosmopolitan mix of people and the vibey café society juxtaposed with the natural beauty of the ocean, beach and mountains that did it. In 1998 he sold his business moved to Camps Bay and the rest, as they say, is history. Since then he has developed 12 boutique self-catering apartments and has put his money where his mouth is - on the most beautiful stretch of coastline in South Africa, and some believe in the world.
"However, the best part of the investment is actually spending time in the Cape and Camps Bay. Living here is 'like paying for economy and flying first class'," he says.
Key points for buying in South Africa
•
There are no restrictions on foreign ownership (unless you have any kind of criminal record).
•
Use a legal conveyancer who specialises in foreign property transactions.
•
Raising finance: Non-residents are restricted to 50 per cent of the value of their purchase. If you have no banking or financial history in South Africa you need to prove you can afford repayments by supplying documentary proof of your earnings overseas. Transfer and mortgage documents can be signed overseas at a South African embassy or at the offices of a notary public.
•
VAT is only applicable if the seller is a VAT vendor, otherwise transfer duty is applicable. Bear in mind that sellers need to pay agent's fees which are generally subject to VAT.