At the crossroads of the Middle East, Europe and Asia, Turkey is a stunning country steeped in history. There are beautiful beaches, wonderful food and some prime real estate on offer at great value prices. We take you on a tour of the most popular regions with British buyers
The Bodrum Peninsula
Starting in the north-west corner on the popular Bodrum Peninsula, Bodrum town is famed for its yachting scene and known as the St Tropez of Turkey. It's where the high-rollers from Ankara and Istanbul own some of the most expensive holiday homes on the whole coast.
Bodrum region is known for its world-class marinas, fashionable boutique hotels, ancient monuments and traditional fishing villages – all which offer the perfect setting to a wide variety of resorts and properties, many within 45 minutes to an hour of the region's airport.
Gulluk, a traditional fishing village famous for its sea-faring barges, is ten minutes' drive from the airport and with a range of amenities, including some fantastic golf courses, is an ideal choice for a holiday home. Prices here are still very reasonable and you can find a fully furnished one-bedroom penthouse apartment for around £55,000. There's an excellent rental market and opportunity for good capital growth with long-term investment.
Moving around the peninsula to the west are the more pricey areas of Turkbuku and Golturkbuku where the prices of trophy homes have been fuelled by Turkish owners. A three-bed villa with sea views will set you back £500,000.
Yalikavak is a real hot spot for both British and Turkish people. A large town with a busy marina and an authentic old quarter, two-bed apartments range from £55,000 to £120,000, depending on the views, with three-bed, detached villas costing from £130,000. Prices remain stable as there's strong demand for properties within walking distance of beach and town centre.
The equally popular Gumusluk, a pretty waterfront fishing community, a high concentration of new-build properties, despite the two-storey height restriction. There is a surplus, so you could snap up a bargain apartment for £50,000-£60,000 or a three-bed villa for £120,000-£130,000.
The southern section of the Bodrum Peninsula, opposite the Greek Islands, is subject to a military zoning system, which broadly means that sea-facing parts of the town cannot be bought by foreigners.
Gumbet, on the outskirts of Bodrum town, is the poor relation of the Bodrum area – and has an anglicised feel. In comparison, Bodrum town is an expensive place with high demand. With its party reputation, it especially appeals to the young and sociable. Around 85 per cent of property transactions are resales, with houses more common than villas in central areas; a three-bedroom villa will cost more than £100,000.

To see properties for sale in the Bodrum area, click here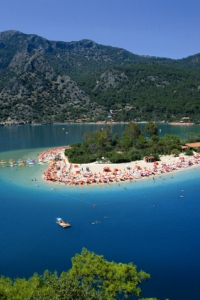 Dalaman region
At the point where the Aegean Sea meets the Mediterranean is the popular area of Fethiye, served by the newly expanded Dalaman airport, making the neighbouring resorts of Ölüdeniz, Dalyan, Hisarönü and Göcek accessible for holiday home-owners.
Property prices are very competitive here and it's a great place to own a lettable holiday home or live permanently. There's a distinctly British feel to the atmosphere, with Hisarönü being packed full of tourist bars, shops and restaurants. Here good value four-bedroom, five-bathroom villas go for £139,900 and two-bed apartments generally start at £60,000.
For permanent relocation, though, the town of Fethiye itself is by far the best bet. A popular area is Calis (pronounced Challish) beach, a low-key but heavily developed resort area behind a long, sheltered bay and a pedestrianised boulevard, five kilometres west of Fethiye. There's a mix of new and old(ish) properties available, off-plan three-bed villas from around £150,000, resales from £90,000-plus, and apartments from £45,000. The most prestigious residential areas are either overlooking the marina where apartments start at £100,000-£125,000, or on Sovalye Island, the closest island to the harbour.
Being only 15 minutes from Dalaman airport, the exclusive playground of Göcek is perfect for weekenders, but expect to pay a premium for the location. Choice (and privacy) is relatively limited, meaning townhouses sell for £500,000 and apartments start at £150,000.
Dalaman and Dalyan are not big markets in property terms – yet. Dalyan is a farming and tourism-oriented area, centred around the protected river delta and Turtle Beach – famous as a breeding ground for loggerhead turtles. The availability of property is relatively small, however land is available and some choose to self-build here. The town of Dalaman is very Turkish and you can get cheap full-time housing but you are close to an international airport. A few years back the Dalaman Delta was designated a "new tourism zone" with big plans for golf courses, hotels, a marina and infrastructure.
Meanwhile Sarigerme is tipped as becoming a high-end property spot thanks to the arrival of a five-star Hilton Worldwide Resort & Spa, with an 18-hole golf course well under way and a 1,200-berth marina also planned.
To see properties for sale in the Dalaman area, click here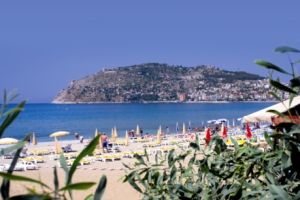 Antalya region
The Turquoise Coast (The Turkish Riveria) is served by Antayla airport, with a string of very different resorts such as the modern Belek, ancient Side and bustling high-rise Alanya. The British expat community is constantly growing with property purchasers more increasingly buying for permanent residence.
The city of Antalya itself tends to attract "hands off" investors seeking a long-term investment with strong rental demand from professionals working in the area. Some permanent expat homebuyers also buy property in the city, but mainly for investment reasons.
Belek is a newly developed man-made area boasting 13 beautiful championship standard golf courses facing the sea and there is also a new beach park. Investors have purchased many of the homes within Belek, targeting the golfing fraternity for rentals. Apartments start at around £60,000 and villas from around £180,000 and those with a private pool from £240,000.
A 45-minute drive east of the airport is Side (pronounced seeday), a small ancient town with a close and strong community. Side is a friendly place, which started as a fishing village on a small peninsula that extends north-south into the sea. There's a varied choice of property here and in the surrounding area with restrictions on high-rise development due to the ancient heritage listing. Modern quality apartments start from £50,000, duplexes from around £90,000 and villas from £150,000.
Further up the coast, around a 90-minute drive from the airport, lies Alanya, a modern and cosmopolitan city that has grown considerably over the past ten years or so. It's a popular holiday destination with no building height restrictions and varied price ranges. Property prices here are generally about 15 per cent lower than those in Side, with modern quality apartments starting at about £40,000 and villas from £130,000.
To see properties for sale in the Antayla area, click here

"We enjoy family holidays at our apartment"
David and Angela Shackleton, both 40, bought two-bed apartment overlooking the Aegean Sea in Yalikavak on the Bodrum peninsular for £64,000 in 2007, after considering Altinkum and Kusadasi. They visit four times a year with their boys aged 11 and 14.
"We are located 15-20 minutes from Bodrum Town so feel we have the best of both worlds," says David, "If we want the nightlife, it's near enough, but equally we can escape it easily enough."
"Turkey is such great value for money – as a family of four we can eat out for £40 and Yalikavik itself is great because it doesn't feel like a man-made resort and we spend a lot of time on our complex which has a pool and isn't too windy. "Purchasing in Bodrum was one of the best things we've ever done."