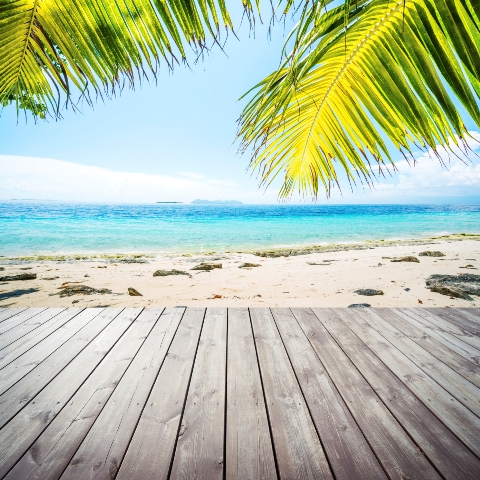 We talk to A Place in the Sun: Home or Away? presenters Jasmine Harman and Jonnie Irwin about being on the TV and house-hunting with Cheryl Baker...
How did you become a TV presenter, and what did you do before that?


I worked in Portugal for three-and-a-half years at a spa resort in the Algarve but also had my own show on a local radio station. But I decided it was time for a fresh challenge, so I made a tape and sent it to the makers of A Place in the Sun. I was selected from 150 applicants – I was in the right place at the right time!


I was working as a surveyor for a property firm when I received an e-mail – via a friend – from a TV company looking for presenters with a property background. So I went around a local shopping centre, approaching strangers and asking them random questions, with a mate filming me on my mum's camcorder. I sent the tape down and a week later, was asked to do a series of screen tests and was then offered the job.
Do you get recognised in the street?


I get recognised much more when I'm in a touristy resort abroad than I do when I'm at home in London. Generally, people are too polite to approach me when I'm on the Underground or doing my shopping, but when Jonnie and I go anywhere together, we do get lots of people coming up to us. People say how much they enjoy watching the show, which is great.

I do get recognised on the street now and again, but it's not something I'm really bothered about. Occasionally, I get complete strangers coming up to me and saying hello – they think they recognise me but don't know from where. I reckon they think I'm their old neighbour. I turned up to a friend's party once and the lady that answered the door wanted to give me the money for the window cleaning – unfortunately, someone put her right before I got my hands on the dosh!

What do you like about being on TV?


I love travelling to so many amazing locations. Then there are the fantastic people I work with. We spend so much time together that we're almost like a big family. Another perk is the clothes I'm given to wear on camera for each programme. Sometimes I get to keep them, which is nice.

I love the variety that comes with the job. Each week I meet new people from completely different walks of life. One week I might be helping a couple of pensioners and listening to their stories about the war, the next I'm searching for properties for Cheryl Baker and her husband and listening to them sing along to the radio in the back of my car. It can be quite glamorous, too. For example, once when the show was nominated for an award, the ceremony was at Grovesnor House Hotel on Park Lane, London, hosted by the actor Brian Blessed, who was one of my childhood heroes. When we won, I got to go on the same stage as him and then got a kiss and a hug from GMTV's Kate Garraway. So that wasn't a bad day at the office!

Are there any downsides?


For me, it's being away from home for long periods – I really miss my family and friends. While I was away filming one series, 11 of my friends gave birth, so it took some time to get round to visiting all the new arrivals. We normally spend between nine and 11 months of the year filming on location. I'm lucky as my husband Jon is the cameraman on the show and we've worked together a lot over the past few years. Otherwise I'm sure he wouldn't have coped with me being away all the time!

It's the same for me. I don't get to see my family and friends as much as I would like. When we are filming throughout the summer it's so busy – I don't get to play my favourite sport, cricket, very often. Mind you, judging by my batting average last year, that is probably a godsend for my local club.
Jasmine, tell us about your trip to Cape Verde with Cheryl Baker...


Cheryl and her husband Steve were absolutely lovely, very down to earth. In the programme, they had to decide between a £200,000 renovation opportunity in Kent or an or an off-plan property in Cape Verde. We were able to help them – but if you've seen the episode of the show, you'll know it didn't all go smoothly!!
There was one embarrassing moment when my phone rang during filming and I have that Bucks Fizz song Making your mind up as my ring tone! I had to explain that I'd had it for years as it was the fist single I'd ever bought. Cheryl thought it was hilarious and Steve started trying to pull her skirt off like they did in the famous dance routine.
What are you favourite foreign destinations?


I like different places for different reasons. I love Sydney for the lifestyle, Austria for the mountains and the Algarve for its familiarity. But I think, on balance, my favourite place is Umbria in Italy – for the food, the people, the language, the scenery and the style. The men aren't too shabby to look at, either – but don't let my husband hear that!

I've had wanderlust for as long as I can remember – in fact, I visited Sydney before I'd even gone as far as Scotland. But over the past decade I have been repeatedly drawn to Asia. I've visited India several times and have been blown away by the beauty of what I saw. It's so vast that you can spend a month there and only scratch the surface. Its property market is very exciting at the moment with so many Western companies relocating there, and it has the fastest-growing middle class in the world, so it might not be a bad place to look for investing in a holiday home. Cambodia is a favourite of mine. The people went through terrible times under the Khmer Rouge in the 1970s and 1980s, but I was bowled over by their kindness and warmth. The country is far less touched by tourism than neighbouring Thailand but still has amazing places to visit like Angkor Wat and the city of Phnom Penh, as well as some beautiful beaches in the south.
For weekend trips, I'm a big fan of Marrakech. I'm always surprised on returning from a visit there how, after a few hours on the plane, the landscape and culture could be so different from neighbouring Europe. Unsurprisingly, prices have risen over the past few years, but with half a dozen airlines using its soon-to-be completed airport, visitor numbers will increase, which should be good news for anybody looking to rent out their holiday home.
What was the reaction of your friends and family when you first appeared in TV?


My parents were proud and told anyone who would listen about my new job. But my friends were terrible and never saw me on TV because it was on during the day at first. Since the show has moved to a prime-time slot, most of them have finally got around to watching it. My eleven-year old brother, Cameron, is my biggest fan – the first time I picked him up from school he kept telling people walking down the street that I was 'off the telly' which was very embarrassing.

My family were chuffed to bits and my mum and sisters have given me a tremendous amount of support. Obviously, I get quite a bit of stick from my mates – sometimes on Fridays I forget that the programme is on TV until I get a text taking the mickey out of a cardigan or something that I'm wearing or something I've said on camera, but it's all good fun.
How many people go with you on a shoot – and how long does it take to film an episode?


There are five of us working on a shoot: a producer/director (who accompanies the house-hunters for both the 'Home' and 'Away'shoots) an associate producer (who usually speaks the local lingo); a camera operator, a sound recordist (in my case, my husband Jon) and me. It's quite a small team. And I have a great girl who does my hair, make-up nails, and styling – her name is Jasmine too! Each show takes two weeks to film – a week at home and a week away – but there's also what we call the pre-production (in other words, finding house-hunters researching areas and property markets.) Then there is the post-production (editing, voiceovers and so on). In total it takes at least a couple of months to do it all.
Do you own any property here or abroad – and if so where?


I own a couple of properties in the UK and bought a new home with my husband in 2008 in southwest London for £370,000. Because I view so many properties for my job, I always know instantly if I'd buy a place or not the second I walk through the door. I have been on the look-out for a place abroad for a little while. I'm torn between Portugal (because I have friends there and I speak the language) and Cyprus (because I have family there and I think it may be a better investment).

At the moment I've got a buy-to-let property in Birmingham, where I come from, and I am currently on the hunt for a home in London. When it comes to buying abroad, I've been tempted on a number of occasions but there's a lot more of the world I want to see before I commit to buying and regularly visiting the same place. When I do, I'm pretty sure it will be in a winter sports location – somewhere like France or Canada, high enough for reliable snow for boarding and where the lifts stay open for mountain biking in the summer.

Finally, if someone was to make a film of your life, who would play you?


I'd like to choose a fantastic, young, up-and-coming British actress but I'm so out of touch I can't think of any. Failing that, I guess Diane Kruger would be nice, and maybe Sharon Stone could play the older me? I can't imagine it would be a very interesting movie, though. Could I get Brad Pitt to co-star as Jonnie? Now that might make it a bit more interesting!

It would have to be me – I'm always looking for extra work!