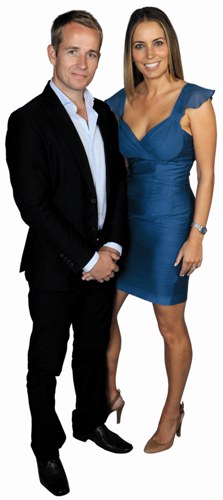 This month we ask A Place in the Sun 's overseas property presenter Jasmine Harman where her idyllic home in the UK would be, and her co-presenter Jonnie Irwin where he would most like to own an overseas property...
JASMINE
I was born and brought up in London, so my dream location in the UK wouldn't be too far from my roots. It is very important for me to be within easy access of my family and friends and I need to be able to get into Central London easily, so good transport links are a must.
However, like most of our house-hunters, I want to have my cake and eat it. The best of both worlds for me would be somewhere cosmopolitan but with a nice villagey feel (yes I know, a contradiction in terms), lots of green space and with a tube station around the corner!
I grew up in Hackney and have always gravitated towards North London. I lived in Highgate for a while, and of all the places I've ever lived that - with the exception of the Algarve! - is my favourite. It has the perfect combination of all of the above.
Since meeting my husband Jon though, I've defected and gone south of the river. We currently live in South-west London, in sunny Streatham. There is a lot that I like about it - it's bustling, there are loads of restaurants, we have wonderful neighbours and the common, and getting into town is easy. Not to mention that property here is excellent value for money. SW16 is a dream location for prices!
However, if money were no object, I might be tempted to move down the road to Wimbledon. It's only six minutes away by train, but has quite a different feel to it. I love Wimbledon Village and my dream would be a house looking on to Wimbledon Common.
There are lots of places in Surrey, just on the edge of London that I also love, such as Richmond. There you've got the amazing park, lovely pubs along the river and great access to London.
My dream home would be on a quiet road with no through traffic, have very grand gates, a big garage and a much larger garden than we have now. The outside is more important to me than the inside as you can always change the décor. And it would have to be detached as I have a habit of vacuuming in the middle of the night!
I like both contemporary and period styles - it just depends on how the space is arranged. I am a big fan of open-plan living but have discovered that it works best in an adult-only environment - with a big puppy and lots of nieces and nephews I'd want an informal family room with a separate area that I could escape to.
Of course, dream homes come with big price tags, so I'll have to keep dreaming a little while longer while I save up a few million quid!
JONNIE
I think one of the hardest decisions in the whole process of buying abroad is in fact choosing a destination.
Through work and play, I've been lucky enough to travel to some amazing places around the world, but as I often say, a fantastic holiday destination doesn't always make an ideal place to live - there's no substitute for spending time in your chosen location.
About eight years ago I visited some friends in Sydney, Australia. I was really taken with the place; so many beaches, amazing weather, a smallish city and everywhere you looked, there was sport being played. Over the next year or so I visited twice more. Because my friends lived there, I was able to get a genuine insight into what life was like to live and work there.
They had, and still do have, a wonderful lifestyle. We'd go running barefoot on Bondi Beach at sunrise before work and after office hours there would be some sort of activity, always outside. Admittedly, the television over in Oz is pretty dreadful but that's because there's so much else to do that it seems people don't waste their days and evenings watching the box.
Sydney is also a very social city with a fantastic range of bars and restaurants and a real mixture of areas from upmarket Paddington to more, shall we say, bohemian Kings Cross next door. After my last visit I came home and started to plan a move out there and to look for jobs. While looking I ended up coming across the opportunity to present A Place in the Sun in the UK and the rest, as they say, is history.
One of my long-term goals is to have a second home to move out to when I retire. I love travelling and as soon as I finish filming a series I pack up my rucksack and head off. The place that I find myself going back to and that sits in top place for me at the moment is Goa in India.
Of course, like most places there are tourist hot spots but there are still relatively unspoilt places that I could see myself spending English winters in.
I'm not going to tell you where specifically - not just because I don't want to see them become too popular but also because discovering places for yourself is half of the fun, especially in India. I recommend anybody who hasn't been, to at least visit the place. Apart from having the finest cuisine in the world, the people you meet are wonderful and will be one of the most rewarding trips you will ever make.