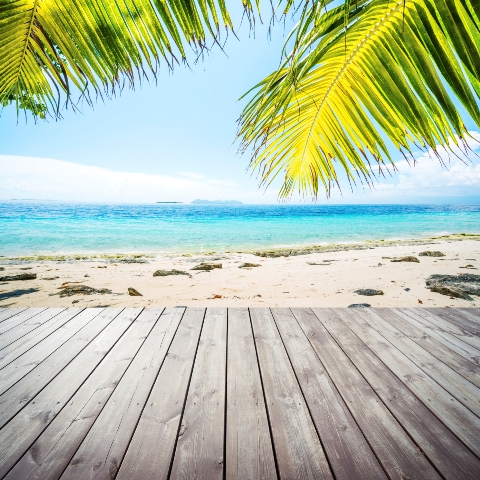 Where do you have homes around the world?
Currently at Sandy Lane in Barbados, Aspen in Colorado, Loch Lomond in Scotland, Oxshott in Surrey and Lotus Gardens in Phuket, Thailand. I've just sold Palm Springs in California.
Could you describe each of them – location, style, surroundings?
Landfall at Sandy Lane is a family favourite, with direct access to the best beach in Barbados. I bought the house after I floated my clubs in 1994 on the recommendation of my major shareholders. Landfall is the first private house walking along the beach from the famous Sandy Lane Hotel. Prices were reasonable when I purchased it and although I spent money on extending and re-designing the property, Barbados has really moved on over the last ten years so it was well worth it.
Loch Lomond was the last plot on the Loch to be given planning permission for a private house. The house is of contemporary design, making use of plenty of natural materials to blend in with the incredible views across the water to Ben Lomond. It also has a deck with spa bath and a private jetty for direct access into the Loch. The house is unique as further building around the Loch is all but impossible to achieve. As for the value, it's impossible to say such is the unique location, I would be very reluctant to lose one of the most scenic views in Britain.
Colorado is my favourite place to ski and my house there gives me a great base for getting to the great slopes at Aspen. The house itself is modern with a mix of traditional materials with log fires and plenty of light and space to enjoy the incredible views. Aspen is a really desirable location for Americans and foreigners so has also been a great investment as well as an extremely enjoyable vacation home.
My home in Oxshott. I completely refurbished a beautiful traditional Surrey cottage to include modern facilities, however the house retains the character and feel of a period property. The grounds contain a fairy tale tree-house above a woodland pond which makes a fantastic summer entertainment area. The gardens also have two essential features I can't do without -– a swimming pool for my morning exercise and a large garage complex for my cars.
How do you divide your time between your homes?
Certain dates are fixed each year. I love Wimbledon and always have a big garden party on the middle Sunday, which is the first Sunday in July. Then of course there's winter sun to enjoy and these days it's a toss-up between Barbados and Phuket. Sandy Lane in the New Year is a really special place, but Phuket is also a fantastic place to be during its peak season.
I also love the kick-off to the spring golf and tennis season in the USA. I normally go to the Indian Wells Masters tennis tournament in Palm Springs in early March, which also gives me time to play one of my favourite golf courses, Big Horn, which winds around the desert and mountain terrain. I sold my house that backed on to the course last year and as I get ready for my annual visit there this year, I must say, I really regret it. The climate at Palm Springs is near perfect for outdoor sport – warm but with a very low humidity. My brother John, who lives in Pacific Palisades, normally comes down to join a crowd of friends to play golf and enjoy the first big tennis tournament in the US calendar. From there it's a quick hop over to Colorado for the tail end of the ski season – a week is enough for me these days as my knees really feel their age from so much tennis.
How do you fill your time when you are at your homes abroad?
A lot of my travel these days surrounds the various development projects I have on the go. I have been spending a lot of time in Phuket on my Cape Sawan project. I always find time to enjoy my favourite pastime, golf, and fortunately some of the best courses in the world are near to my properties - Royal Westmoreland in Barbados, Loch Lomond in Scotland and Queenwood in Surrey.
You must have entertained other celebrities at your homes?
Yes. Cliff Richard, Michael Flatley, Michael Owen, David Platt and Mike Oldfield have all been to my home in Sandy Lane. Cliff Richard later bought the signature home I built as part of my Sugar Hill development.
Your name is synonymous with health and fitness clubs but now you're offering overseas property to the UK public too. Tell us about David Lloyd Resorts and its products?
David Lloyd Resorts has developed two products surrounding high quality worldwide vacation property to meet the more challenging conditions required to own abroad. One is a lifestyle purchase, where people share ownership in a particular property with a number of like-minded individuals over a ten-year period.
The outlay is not as encumbering as purchasing outright, but of course the share of equity at resale is divided between all owners. All maintenance costs are shared too and owners have an equal amount of time set aside each year to use the property. We are also using some of our resort property to construct investment funds which can be used within pension or savings plans as an alternative investment.
This investment product sacrifices any usage entitlement for a secured annual return on investment, plus capital growth potential over the period of the fund life – it's a more unemotional purchase based on a sound return on investment.
Along with these two products which we will also be operating, we will be marketing our resort property for vacation rentals.
How did you become interested in overseas property?
Since my playing career I have always invested in property as opposed to other forms of investment. Over the years I think my property investments have performed extremely well and given me fantastic vacation bases for family and friends. I now don't invest other than in property I can see will appreciate over a ten-year period.
Has your sports background influenced the resorts you promote and the lifestyle you aim to offer owners there?
Certainly. When I go on holiday I want more than just a great location. I like to have a really comfortable base with plenty of leisure facilities and services on hand – I have them at home, why not when I go on holiday?
What do you think most British people want from an overseas home?
Security first of all. Owning abroad is a challenge – it's tough finding the right development at the right price and tough negotiating your way through the legal process.
This is all made worthwhile if the property returns a healthy profit when you come to sell, but as we have witnessed recently, timing is crucial and it can be very risky if the property is mortgaged, subject to currency exchanges or funded through rental income. Potential owners need to adjust the way they think about owning abroad. Mortgage money to buy abroad has more or less disappeared and planning the purchase based on rental income is extremely risky too.
Many people also don't allow for maintenance costs and regular taxes which can accrue. Spiralling maintenance costs are also causing many timeshare owners problems funding the vacation time. Both of these scenarios are largely mitigated through Shared Ownership, with low maintenance fees and a much lower entry price reduces these risks.
What was your most memorable moment on court?
Davis Cup ties definitely, both playing and captaining. They were real "hair up the back of the neck" stuff' and sorted the men from the boys!
You're obviously a keen golfer. What's your handicap? Where did you play your most memorable round of golf?
My handicap is officially ten and improving! Unfortunately, my most memorable round happens to be my worst one – I don't want to give you good scores in case this causes a handicap review!
I played in the Pro-Am event at the British Masters at a fantastic course called Fulford in York. I was playing with Greg Norman, who I admire intensely. On the first tee, with an announcer and expectant crowd, I managed to dribble my tee-shot off the tee and back through my legs! Greg thought it was a one-off and that my sportsman's instinct would see me return to form in later holes.
Unfortunately my form did not even hint at a return as I continued to hit the ball left and right all the way to the 18th green. I have not and will not forget that round, ever!
Do you believe Andy Murray is capable of winning a Grand Slam?
Certainly. He has the game and mind to win a big one and with one title under his belt he will win many. Unfortunately he still has to overcome the best player of the modern era, the great Roger Federer.