Grant Rawlings, 36, lives with his Moroccan wife, Meriem, in the medina in Marrakech, where he founded his own property consultancy firm for English-speaking buyers who want to buy a riad
I have had a long love affair with Morocco. Ever since I first backpacked here as a teenager when
it was on the hippy trail, I kept being drawn back. Now, 15 years on, the country is one of the hippest travel destinations, and Marrakech is my adopted home. I am pleased to contribute to the city by lovingly restoring riads into modern, chic homes. My background is in property I graduated in Estate Management, then trained in property development until I became a surveyor.
After working in a design and build agency, I took a sabbatical to write a novel based on my experiences of the forbidden love affair I had with my wife in Morocco during the Iraqi crisis. Then I quit London altogether to settle in Marrakech.
Armed with my wifes knowledge of the property market and local contacts, I set about finding a riad
to renovate then sell on. Months of house-hunting followed, trawling the medina until I eventually found a dilapidated riad that ticked all the right boxes as a sellable second home.
Morocco offers so much as a destination and is a discovery in every sense of the word. Its diversity of culture and dramatic African setting, coupled with year-round sun, three-hour flight time from the UK and low cost of living make it an attractive proposition; especially when it provides riads for every single budget, which are all unique and they can easily be transformed into beautiful holiday homes. My first renovation property was a mere 37,500 but I didnt have the money. Banks werent prepared to lend against it as it had an antiquated title, so I auctioned a desk I had inherited and used the proceeds to buy the house. The build project was a steep learning curve, but it was extremely rewarding watching artisans realise my designs and recreate a traditional town house in a modern, chic form.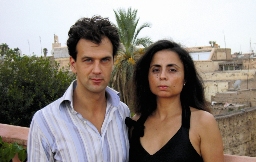 Building materials were lugged into the thin alleys of the medina by donkey and cart, and demolition began on precarious scaffolding that would cause apoplexy to any health and safety inspector in the UK. It was an extraordinary throwback to a different century. A sheep was sacrificed to celebrate completion of the house, and there was a ceremony to ward off spirits that could have come to inhabit it while it was being rebuilt.
After spending an additional 45,000 on building work that lasted six months, I sold the riad for a reasonable profit. I immediately took on a larger project in an exclusive part of the medina. Despite having my wife on board to assist me again, I still wasnt immune to making mistakes the second time round. I found most of my problems stemmed from information not being readily available.
The market wasnt and isnt geared towards the English. There werent even any resources on the Internet to help people negotiate the complex processes of the Moroccan property marketplace, which arent made any easier by the French and Moroccan language barriers. In response to this problem, I began a blog: Find, buy and renovate a riad in Marrakech (see
www.grantstonerrawlings.blogspot. com), to try to make the medina more accessible to the English-speaking market, along with offering advice on renovation and design.
I saw a gap in the market and set up the first practice here to offer a onestop-shop service solely for English and English-speaking clients. For instance, I link prospective buyers to local agents so they can identify properties with un-inflated local prices, then I help them make informed decisions on buying property. With the bespoke, personal package I offer, (which has work schedules and budgets written up in contracts), I hope to remove any stress from the equation and let clients enjoy the adventure of buying and restoring a piece of history which is what a riad is.