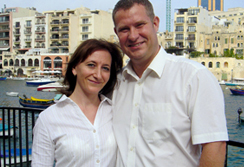 Nic and Lorna Ashby, 40 and 38 respectively, live in Malta where they work for a property company. Nic tells us why they decided to leave the UK to start a new life in the sunny Mediterranean...
We started going to Malta for holidays after we met in 2003. Lornas father was Maltese and when he died in 2000, Lorna rediscovered the island after visiting to sort out his estate. She bought her first holiday flat in Sliema in 2001. For us, the idea of leaving the Isle of Man for sunnier climes was always appealing!
We both worked in finance but felt there must be more to life than working in an office nine to five and waiting to retire. So in 2006, I started to look for job opportunities abroad and after joining a property company, worked in Portugal, Cape Verde, Spain and Morocco. In August 2007, while on holiday in Malta, we started to look for a permanent home on the island. Within a few days, we had found a 300-year-old character property that was perfect. It needed renovating, which was ideal as we wanted to put our own stamp on our new home.
Our new house is in the old part of Malta, called The Three Cities. Part of the house is over 300 years old, but as it was bombed during the Second World War the upper floors had to be rebuilt. It is situated on a town square with great views over the sea towards the capital Valletta. The renovation will be done in a way that retains the propertys old character but also gives it a modern twist. We cant wait until it is finished in the summer (2009) then we can move in and have barbecues on the roof! At the moment we are having to rent in St Julians, a pretty town on the east coast near Valletta.
We both work as property consultants for an estate agency called Propertyline International. No day is the same as the next, which is part of the excitement of the job. Key to our work is prospecting, which entails finding good property to market and sell. We also help clients find property on the island and match what we have available to what they want. The most exciting part is when you are out with a client and they walk into their dream property. It is true that people fall in love with a property within one minute of seeing it!
In our spare time, we like to go for walks with our two brown labradors, especially along the beautiful seafront where we tend to bump into friends and end up stopping for a coffee. At the weekend we enjoy heading off to a good restaurant. Maltese cuisine is Mediterranean and includes plenty of fish. Rabbit is also one of our favourite dishes here. We also like catching a film at the cinema, or just reading a good book in the sun.
Going to the local markets, which are dotted around the island, is a fun way to shop here. Our favourite is the one in Marsaxlock, which is an authentic fishing village in the south. Another favourite day trip of ours is to take the short ferry crossing over to Gozo, where time really has stood still. We especially like going there on a Sunday for dinner.
Our long-term plans? We are definitely staying here for the foreseeable future. We have no plans to leave here in a hurry. We have found our dream spot in the world.