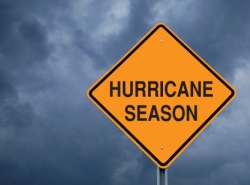 Florida is hit by more hurricanes than any other state in America. In 2010 twelve hurricanes hit the southern and eastern coast of the US, the most since the fifteen that hit in 2005 and with the hurricane season lasting half the year – from 1st June to 30th November, they are a fact of life in this part of the world and the only way to stay on top of the game is to plan ahead and never get caught off-guard.
There are several damage-preventing measures you can take but if your home or your property is damaged during a hurricane, you'll want to know that you are insured.
Most homeowner insurance in Florida comes with some hurricane coverage but it will usually only protect against wind damage or falling objects as a result of wind, not against flooding. Even storm-surge from a hurricane is considered flood damage so it's essential that you ensure you are covered for flood insurance as well.
The cost of flood insurance can range from $200 to $3,000+ annually and depends on many different factors, including the location and elevation of your home relative to the base flood elevation, design and age of the home amongst other things. It can be very expensive and difficult to obtain flood insurance if you live in a high-risk area such as Florida but if you know your rights, you can obtain insurance and keep costs low.
For example, you can always obtain insurance through the Citizens Property Insurance Corporation, a government body which insures people who are unable to obtain coverage in the private sector and people who live in high risk areas. In addition, there are now laws in Florida that mandate insurers must offer to pay at least 50% of the cost for a home that requires rebuilding – plus Florida policy holders also benefit from laws requiring insurers to pay the cost of repairs upfront.
There are also several things you can do to reduce your insurance premium such as paying a higher deductible (excess). Most deductibles start at $250.00 but raising that to $500.00 can help you save up to 12% and raising it to $1,000 can save you up to 24%. You can then set some money aside in an interest bearing account to defray the cost of the deductible. In addition, some flood insurance policies will reimburse you for damage-preventing measures you take. Such measures include buying hurricane shutters for your windows, purchasing a hurricane reinforced door for your garage and installing hurricane straps on your roof and reinforcing the end gables of your home.
It's important that you meet with an insurance representative and find out exactly what your policy covers before your purchase it.
If you're caught off-guard by a hurricane, you will at least want to know what to expect from your insurance company.