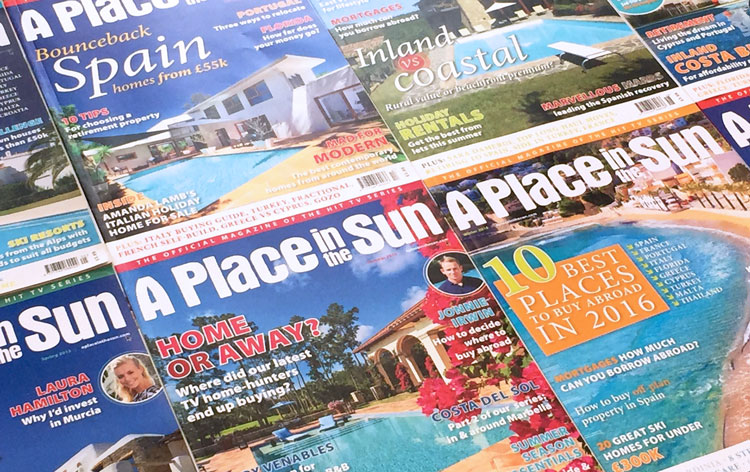 A Place in the Sun is a famous and highly visible name in the UK – to the British public it simply means 'overseas property'. A Place in the Sun started life as a TV programme first broadcast in 2000, since then the programme and its presenters have become part of popular TV culture. A Place in the Sun and its highly successful spin-off series A Place in the Sun: Home or Away?, A Place in the Sun: Summer Sun and A Place in the Sun: Winter Sun are all about buying property abroad and opening up a world of opportunity to the British public.
A Place in the Sun magazine launched in 2004 and is the UK's only title dedicated to buying property abroad.
Its recent redesign has seen it become a quarterly publication with issues coming out in the spring, summer, autumn and winter, reflecting the overseas property buying habits of the British public.
Its editorial style informs and educates the reader while actively promoting the concept of buying property abroad. The editorial is written by top international property journalists resulting in high quality content presented through clean, accessible design.
Every issue features an extended guide to buying property in a particular market along with a wide range of features, news and advice on where and how to buy.
There's a section dedicated to the best properties available for sale from around the world plus a property hunt involving a search for the perfect property for a couple from the UK. We hear from readers who've already bought abroad – a fantastic opportunity for success stories - and we help readers work out what they really want to buy – and can afford to buy.
Covering at least ten different countries in every issue, A Place in the Sun magazine offers strong marketing opportunities for agents, developers and service providers to target our readers. Our audience has indicated their interest in overseas property when buying the magazine – you now have the opportunity to present your products and services to them in the right environment.
What agents say...
"Special mention must also be made of the Double Page we have in your APITS Brochure, it has paid for itself many times over, its staggering how many direct calls we get from your readers who do not have access to IT and the web.
We have just confirmed our advertising in your Brochure for the next 12 months, it definitely works for us." - Bob Shepherd (Spanish Legal Homes)
---