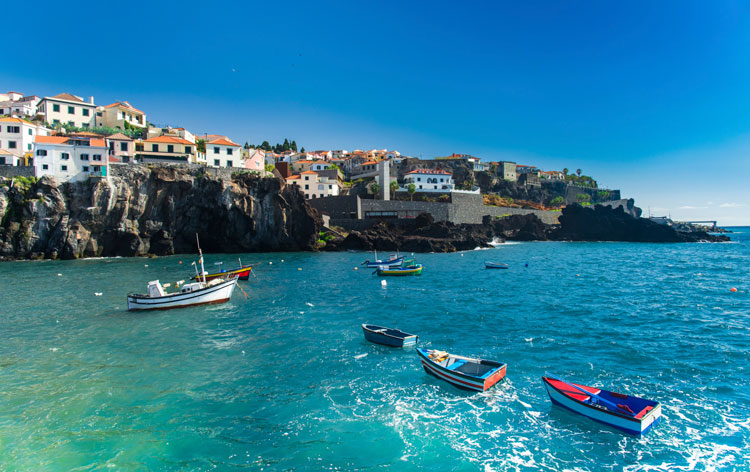 Updated in February 2016
The laid-back Portuguese lifestyle has long drawn British home hunters and the Algarve offers a less-developed alternative to the Spanish Costa del Sol. New construction along its beautifully varied coastlines was tightly controlled, the country's property market never boomed like Spain's, but is in far better health as a result, and prices are now rising again after the downturn.
The economy has bounced back and the Portuguese government been savvy about attracting overseas buyers back to kick-start the property market with a couple of successful incentives – its own "golden visa" scheme which has had great take-up from non-EU investors spending €500,000 or over. Plus the Non-Habitual Tax Residency scheme (NHR) has attracted European expats for its low or zero income tax rates. With increased lending options it's a great time to buy a Portuguese home.
Where to Buy Property in Portugal 
Most UK buyers head the Algarve for its Mediterranean climate, beautiful beaches and world-class golf resorts. Faro airport is well-supplied with flights and is an easy half-hour drive from popular spots on the central Algarve. The "Golden Triangle" area – around the five-star resorts of Quinta do Lago and Vale do Lobo and the town of Almancil – certainly draws many buyers but you'll pay a premium for buying there. You can buy a three-bedroom apartment at Quinta do Lago for €500,000, but villas tend to top €1 million.
Your money goes further if you head inland – you might get a lovely four-bed villa in the hills near Loule for €600,000; or west to the popular resorts of Vilamoura (two-bed apartments for €100,000) or Albufeira, similarly priced and also a holiday rentals hotspot popular with the northern European "snowbirds" who winter on the Algarve. There are big plans to expand the facilities at Vilamoura marina from 2016 onwards.
If you find the stretch between Faro and Albufeira is a little too developed – or pricey – you can head west or east. 
West around the attractive fishing town of Lagos – home to stunning sandy beaches - has been very popular in recent years – in fact it is now the hot spot for agents in 2016. Prices fell by a good 30 per cent, but have now gone back up again – and more. You'll get a villa for €220,000-300,000. The resort of Praia da Luz is also popular – you'll easily get a three-bed villa for €250,000 or a quaint little fisherman's house for €120,000.
The Eastern Algarve around Tavira is also worth checking out, a lovely little stretch of little harbour towns, sand bars and beaches (and even its own classy golf resort, Monte Rei) from which Spain is easily reached. You'll fine plenty of choice with a budget of €200,000, and the nearby little village of Cabanas is even more affordable. The French love it in the east so prices are beginning to rise. Or go inland, where in the vibrant little village of Sao Bras de Alportel you can get a choice of two-bed properties for €90,000.
Lisbon is a fabulous city being rejuvenated by overseas buyers – especially Chinese investors – and the popular suburbs of Cascais and Estoril appeal to expats and retirees for whom the Algarve is too sleepy or seasonal.
South of Lisbon is the rural Alentejo region that attracts discerning travelers but fewer home hunters than the Silver Coast – north past Lisbon. Here, where the rolling hills and vineyards meet the Atlantic in hundreds of kilometres of sandy beaches there are some striking contemporary villas, especially around Obidos. Apartments (and smaller townhouses) start at €100,000 to €150,000, villas from €250,000. Other hotspots are the charming town of Leiria and the Praia D'el Rey resort.
How to Buy Property in Portugal 
There are two stages to the buying process. The first is the promissory contract (contrato de promessa de compra e venda) between buyer and seller, on the condition of the property.
A deposit is normally paid at this time, usually from 10-25 per cent of the purchase price.
Following this, the lawyer does searches and checks for encumbrances or mortgages on the property.
The second part of the transaction is the escritura de compra e venda, or final deed, and this is the point at which the property ownership is transferred to the buyer. As with the promissory contract, it is signed in front of the notary (notario). The final contract is then sent to the Land Registry.
More advice about buying in portugal
Buying Costs 
The biggest cost is property transfer tax (IMT), paid on properties over €92,407 on a sliding scale from 2-8 per cent.
There is a Stamp Duty that is a fixed rate of 0.8 per cent. Notary, admin and registration fees are 1.5-2.5 per cent, and legal fees 1-2 per cent, of the purchase price. The seller pays the estate agency fees.