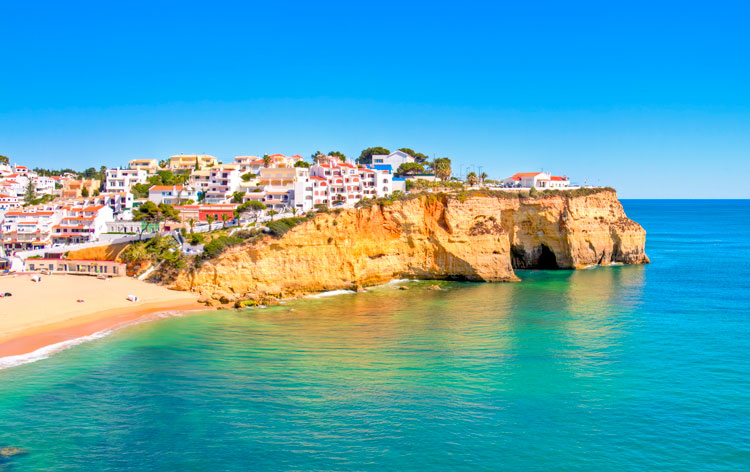 Updated in February 2016
The Algarve remains the major draw for British buyers in Portugal by some stretch. Not only does it offer the fantastic Mediterranean climate, but it's one of Europe's top golfing destinations, along with boasting fabulous beaches along its 120km length.
A two-hour flight from the UK, it's also an accessible weekend destination, with a good supply of flights into Faro airport. Whether you want high-class restaurants, five-star holiday resorts, dramatic beaches, traditional fishing villages or authentic inland villages, it's got it all.
It attracts fewer tourists than the Costa del Sol in Spain, and is much less developed as a result and property prices have already begun to recover after the crash. Agents report that a good proportion of buyers are motivated by the income tax incentives that come with staying in Portugal for 183 days a year or more (NHR).
Where to Buy Property in the Algarve
The Algarve divides naturally into three sections: Eastern Algarve, Central Algarve and Western Algarve and prices vary, along with the landscape.
East Algarve
This section, between Faro and Spain, is the least developed of the three tranches of coastline. Characterised by the sandbars and lagoons of the Ria Formosa Natural Park, this area's principal hotspot is the former fishing of Tavira that has evolved into a cosmopolitan river side town.
Increasingly sophisticated fish restaurants line the river banks of this attractive town with atmospheric Moorish style buildings and from here you get the boat out to the sandbanks.
In Tavira you should expect to pay from around €100,000 for a one-bed apartment, or €150k plus for a villa - or another option is Cabanas de Tavira, a riverside resort facing the Ria Formosa, 7km east of the town.  It's still great value there, with one-bed apartments from around €75,000, two-beds from €90,000.
Other hotspots include Vila Real de San Antonio(good marina, great for yachties); and Castro Marim for those who want to be close to the Spanish border.  The latter is a small village with a lot of history and you can buy a three-bed golf villa on Castro Marim Golfe resort for under €500k.
Central Algarve
The central Algarve region around Vilamoura is especially popular with buyers, and this, the most developed and highly populated section, offers many possibilities. 
Vilamoura itself, a purpose-built resort with a 1,000-berth marina and golf course at its heart, is home to luxury hotels, a casino, sports facilities and beach clubs. It's close to the airport and you can pick up a large modern villa with frontline golf views for €600,000. Watch out for new developments being launched in 2016 and the new marina.
Nearby Albufeira is a handy 30-minute transfer from Faro airport: there's an old town of pretty cobbled streets lined with restaurants, bars, cafes and shops; an attractive marina with and sandy beaches.
It offers something for everyone, budget-wise, and is a holiday rentals hotspots (according to HomeAway.co.uk) because it attracts both snowbirds in winter and families in summer. You can buy a one-bed apartment from around €120,000, two-beds from around €140,000-150,000, or nearer €500,000 for a quality three-bedder with sea views in the Old Town.
Inland, Loule is rather a popular town to be near. There two-bed apartments cost around €150,000, or a small detached villa for €200,000. The nearby busy town of Almancil is handy for both Faro airport (15 mins) but also the two big-name resorts: Quinta do Lago and Vale do Lobo. Properties in Almancil don't come with the premium of being on a world-class resort: you can buy a three-bed townhouse for €250,000-€300,000.
At the upmarket golf resort of Quinta do Lago entry level is around €165,000 for an apartment, €500k for a villa (up to €14 million), although you can get some great individual price reductions. At Vale do Lobo, there are some striking contemporary style villas (typically €5m-12m) and entry level is a little higher: around €250,000.
West Algarve
Generally viewed as a bit less developed than the central Algarve, especially as you head to the Atlantic seaboard, this area is one of lovely fishing villages and wide, sweeping beaches. Since the highway made it faster to reach from Faro it just kept growing in popularity.
Lagos (pronounced Lar-gosh) is the stand-out hotspot – an attractive year-round town with great fish restaurants, lively night-life, great town beach and a reasonable sized ex-pat community. Prices rose faster during the boom (from a lower base) than in the Central Algarve and fell faster, but again they seem to be outpacing elsewhere for growth.
You can buy a one-bed apartment for around €100,000 or a villa from around €250,000. Nearby Praia da Luz is a very popular resort, with similar pricing, and great for families.
If secluded fishing villages are you thing, check out the laid-back little town of Salema where the beach is its focal point (three bed townhouses from around €250,000); or Burgau and Sagres.
Or those seeking a rural retreat might check out Monchique, an engaging market town of cobbled streets and a ruined monastery in the Serra de Monchique. It's so far north that prices drop quite considerably: a two-bed villa costs from around €120,000 and there are typical Algarvean townhouses with white-washed walls and bands of colour around the windows.