Mar de Pulpi Mediterranean Village
Mar de Pulpi, San Juan de Los Terreros, Almeria, Spain from €113,000
ENQUIRE NOW
By completing this enquiry form you agree to your details being made available to this company.
Turn your dream of living front line to the sea into a reality, San Juan de Los Terreros, Almeria. 
Located in a unique setting at the end of the village of San Juan de Los Terreros, Pulpi, Almeria. Spain. Facing the beach, the only thing that divides it from the sea is the promenade with lush gardens, walkways, and water features. With its beautiful design in white, reminiscent of an Andalusian village, has a selection of restaurants, shops, beauty salon, bank, supermarket and sports centre with a gym and athletics tracks.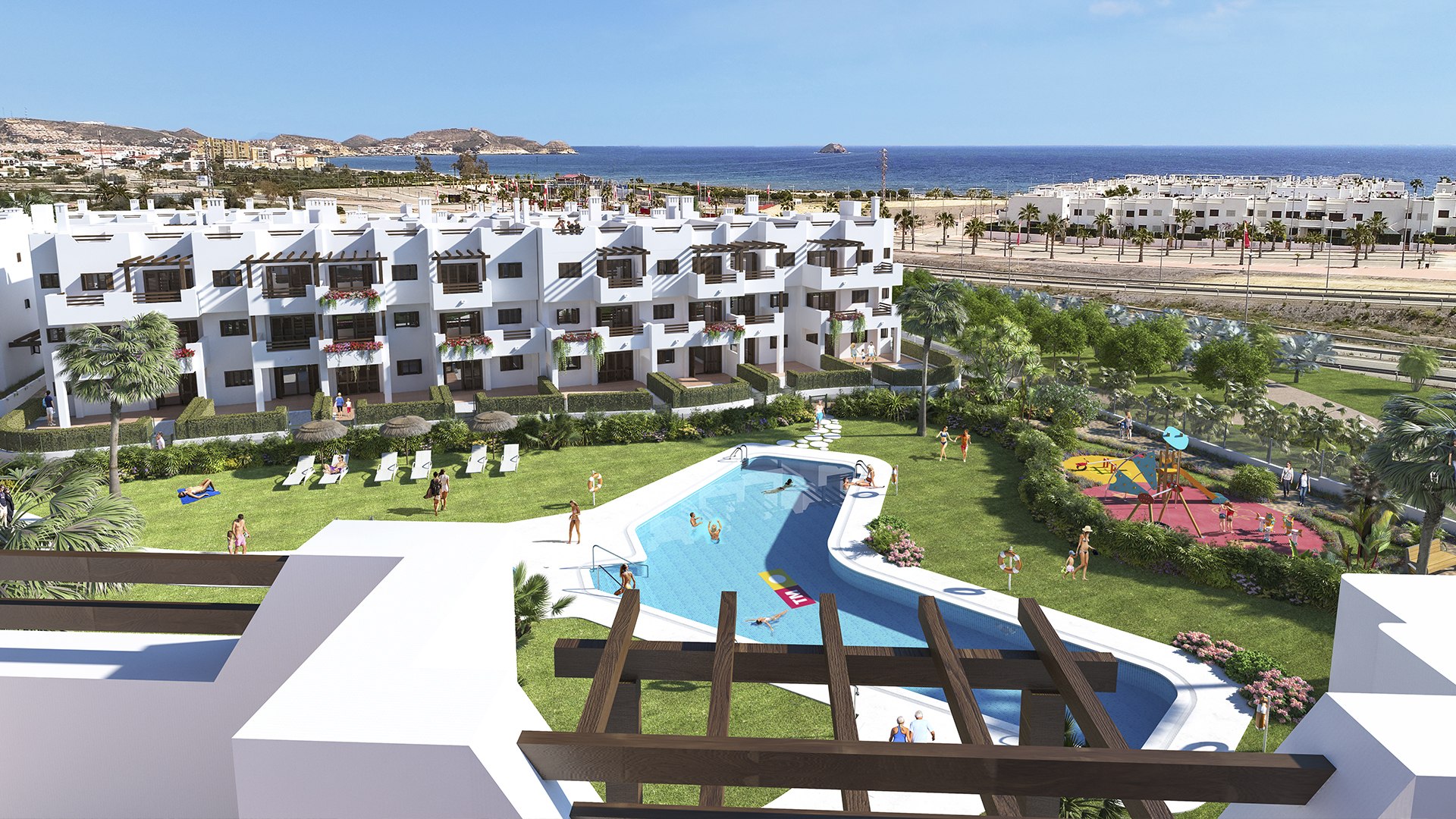 Properties of all sizes are built here. Apartments of 1,2 or 3 bedrooms, villas and houses of 2 or 3 bedroom.
A development that has life all year round. The first residents starting living here in 2010, people of mixed nationalities live here in Harmony enjoying the inside and the outdoors. The development continues to grow, with the help of Grupo Platinum Estates based on hand in the village, We speak your language always and give hands-on assistance not just before the purchase, during and forever afterwards, giving double the service, the same price as the builder.
To give the buildings charm and individual character, it has been built in a series of small Phases, each one always being in harmony with the surroundings, offering charm and colour to an otherwise empty seafront. It is built to the highest quality, each with something different to offer. A sought after location with sold-out Phases, here we have Second-hand properties available with us as the agents who are located here in the resort.  
About development 
An exclusive residence located on the beachfront in San Juan de Los Terreros, Almeria, right on the border with Murcia.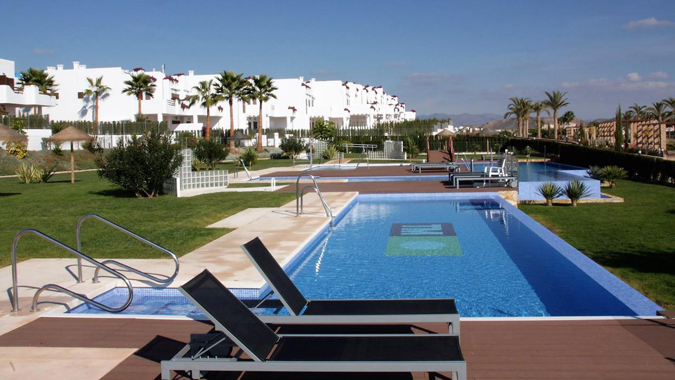 Split into individual phases, each is designed a little differently making them individual, has its own communal services, Heated infinity swimming pools for all year round use, jacuzzis, childrens swimming pool, play areas and green areas.
Open all year round, the village of San Juan de Los Terreros has incredible beaches and facilities covering all the basic daily needs, schools, medical center, bars, shops and restaurants, town hall.
Numerous bars and beachfront bars/chiringuitos, a commercial center offering, bars, restaurants, shops, supermarket, and gym facilities, classes of pilate, body fitness, running club and more. A sought after area for sports people from all countries who come to train here and live the outdoor life.  
Location 
Well located on the border of Almeria and Murcia, close to all good road networks and a rail network, offering a train ride to any destination you wish, including larger towns of Pulpi, Aguilas, Murcia and beyond, with their diverse commercial centers and range of services associated with much larger towns, just a short car journey away.
Airports, within 55 minutes decide between, Corvera Region of Murcia, Almeria or an hour and a half, Alicante. The Beaches - you will find a whole host of beaches, blue flag beaches, as well as coves safe for the whole family and disabled people. Incredible snorkeling and Diving all year round. Golf courses, you are never far from golf along this coastline, Aguilón Golf is just 3km away from the town center, whilst Desert Springs, Marina de la Torre and Valle de Este Golf can all be found not too far away.
Finally, this town is home to the largest Geoda in Europe, crystals under the ground in a cave, which is now visitable, the largest in Europe and the only Geoda possible to visit. San Juan de Los Terreros, A real gem of an area already enjoyed all year round by a very multinational community and still very Spanish, paradise, not to be missed. Nestled between the beautiful Mediterranean sea, and the magnificent backdrop of the Sierra Aguilon mountains behind, offering beautiful views and a unique microclimate, sheltered from the cold of Europe, and enjoying 360 days of sunshine.
The whole vision of this build and its location is of one family, to build a luxury dwelling place with a great selection of quality homes in a range of different styles and sizes, providing an opportunity for all of us, to live so close to the sea.
Location
This development is an advertisement supplied by Grupo Platinum and does not constitute property particulars. While aplaceinthesun.com (APITS Ltd.) requests all advertisers to supply correct details, it does not carry out checks on the information supplied and cannot be held responsible for any inaccuracies. Aplaceinthesun.com recommends seeking independent legal advice prior to any overseas property purchase.
A Place in the Sun will send the above details on your behalf to Grupo Platinum. By submitting this form, you confirm that you agree to our website Terms of Use, Privacy Policy and consent to cookies being stored on your computer.