Download our Buying Guide to France for 2019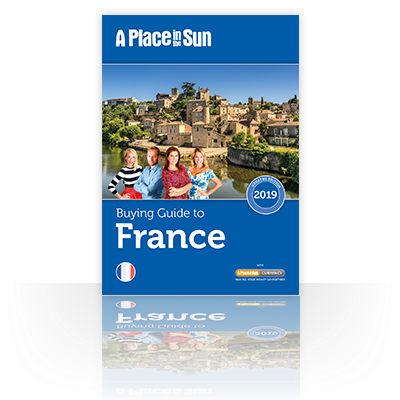 A Place in the Sun produces a series of free guides on buying property abroad to help you make your dream become a reality, safely.
So if you're thinking of buying a property in France, then download our free detailed guide.
What's in the France Property Guide?
You'll find all the information you need to help you with your purchase.
Brexit and your holiday home – so far, nothing has changed and Brits will always be able to buy and enjoy property in France, some of the detail may change and we will have more when it is known.


Living permanently in France – if you're thinking of living in France permanently then now is a good time to make the move and acquire residency rights.


There's a rundown of the popular areas to buy a property in France, including Alsace, Aquitaine, Auverge, Brittany, Burgundy, Centre-Val-de-Loie, Champagne Ardenne, Franche Comte, Languedoc Rousillon, Limousin, Lorraine, Midi Pyrenees, Nord Pas de Calais, Normandy, Paris, Pays de la Loire, Picary, Poitou Charantes and Rhone Alps.


You'll also receive a helpful legal briefing on the main points to consider during the process of purchasing your property and what costs you can expect to pay and when.

We hope our buying guide to France will inform, enlighten and set you on your way!
Download Guide here
---
If you want to know more about how we store, secure and use your personal data, including website cookies, please take a look at our Privacy Policy.
Thank you for downloading the Buying Guide to
We've sent you an email with a link to your guide so that you can read it anytime, or please click here to get your guide now which you can print or save to your computer.