Exhibit at A Place in the Sun Live Manchester
The 2023 event is over. 2024 floor plans will be available later this year. If you are interested in exhibiting, please complete the enquiry form below.
Manchester is our first exhibition of the year and offers a unique opportunity to meet potential buyers of second homes overseas before they plan their viewing trips over Easter and the summer period. Our most recent Manchester event in March 2022 attracted 5,164 motivated visitors who all bought a ticket to attend to find out how to go about buying overseas and to meet the companies who could help them make it happen.
Manchester is a vibrant city in the wealthy north-west of the UK with excellent transport connections and as our only exhibition north of Birmingham, attracts a lot of potential overseas buyers from northern England up to and including Scotland. In keeping with the wealthy demographic, almost 60% of our visitors are cash-buyers when buying their property.
Manchester Exhibition
As with all A Place in the Sun Live exhibitions, we offer visitors the opportunity to meet with agents and professional service providers but also the chance to learn from property experts via our daily seminar schedules. These sessions are designed to inform and inspire visitors to  move forward with their buying plans and engage with our unique range of exhibitors.
Main Hub – Daily seminars with stars from the TV show and a range of property experts with the content mainly generic or Spanish, our most popular country.
French Village – Bespoke French exhibition area within the main hall including a daily seminar programme on buying and living in France.
Seminar Theatre – Daily seminars on a range of countries.
Visitor Profile - Manchester 2023
Our 2023 visitor research shows:
Spain was the most popular destination for visitors with Costa del Sol and Costa Blanca closely matched, followed by Almeria and Costa Brava, with the Balearic Islands and the Canary Islands also popular.
Manchester attracted visitors looking to buy in France, Portugal, Cyprus, Greece and Turkey. Budgets were also strong for all of these destinations.
Manchester is the fourth most popular city for enquiries on aplaceinthesun.com
89% of visitors said the exhibition was either excellent or very good
50% of visitors were looking for a permanent residence and 40% a holiday home
93% of attendees were over 45
40% of attendees travelled more than 50 miles to get to the exhibition
What you get as an exhibitor
Stands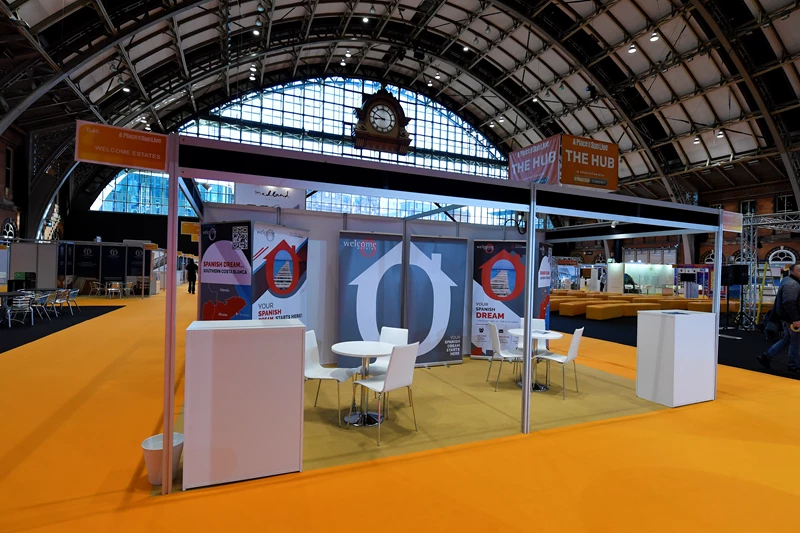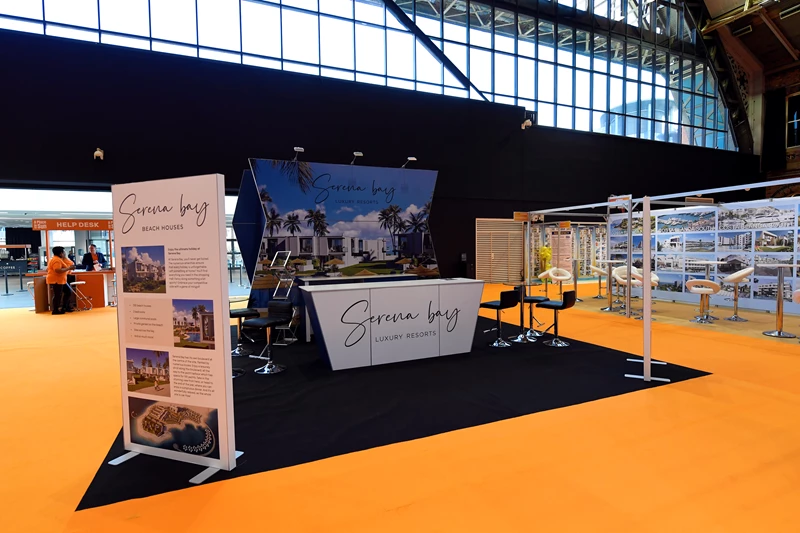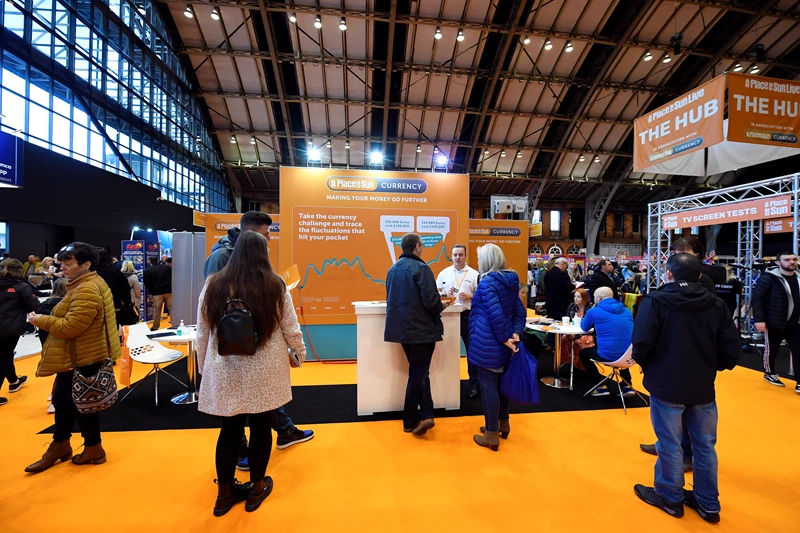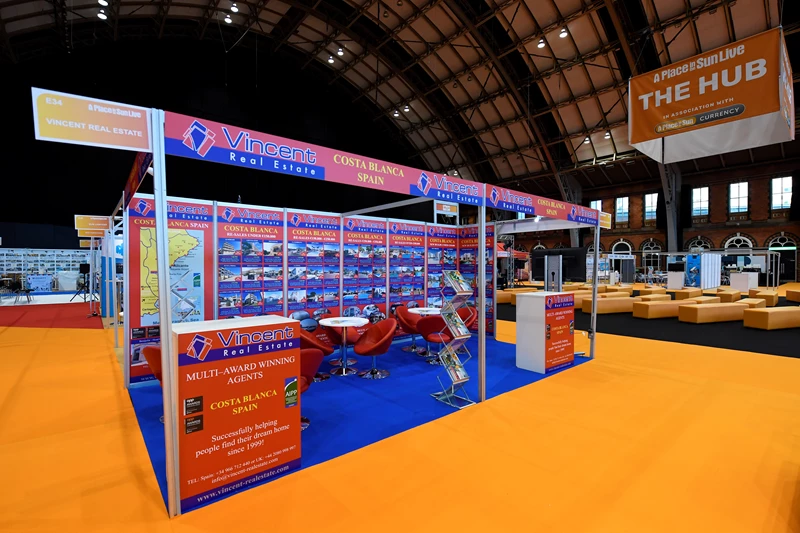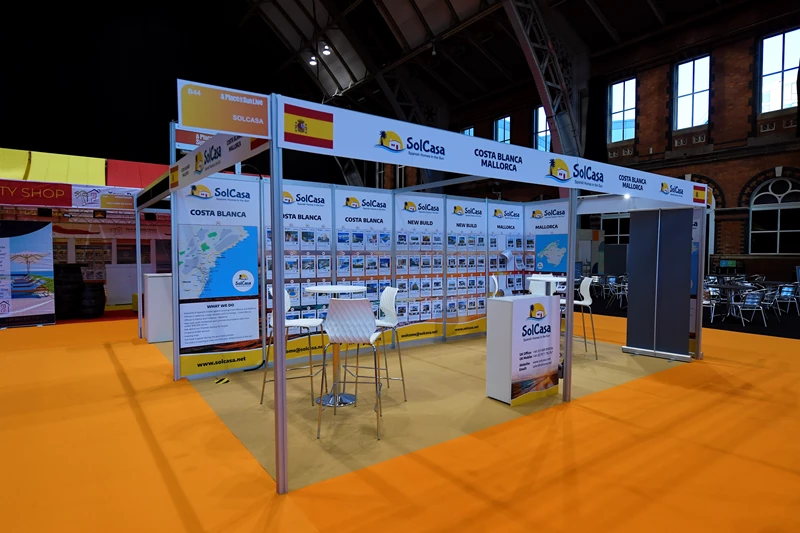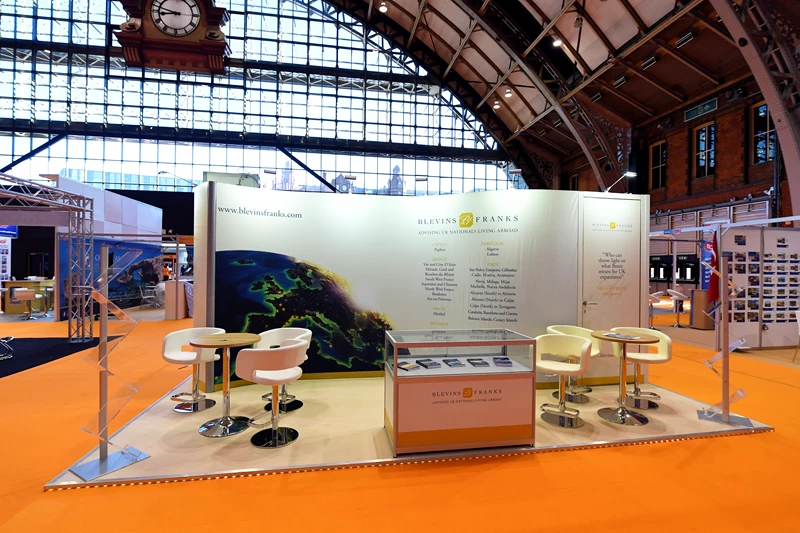 Your exhibition stand is a contemporary shell scheme structure and the price of your stand includes the walls, carpet, fascia and nameboard, listing in the Show Guide and on the event website. Optional extras include furniture and spotlights.
Digital

Included in your stand price is a digital profile for your business with an enquiry form on our website, this will be marketed after the exhibition to those who didn't attend. The post-show campaign includes email promotion to over 120,000 subscribers plus wider exposure across aplaceinthesun.com
Show Guide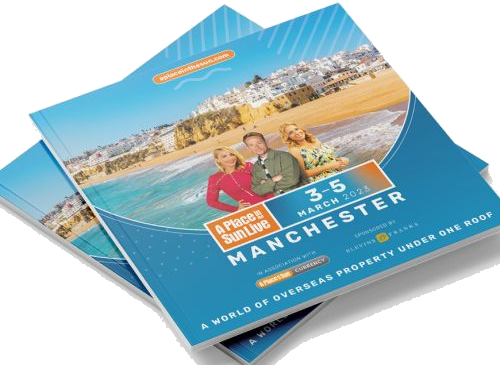 We launched our new magazine-style Show Guide in 2022, a high-quality 100+ page publication given free to all visitors at the exhibition and then made available in digital format to our worldwide digital audience after the event. Your stand booking includes a listing in the Show Guide and for an additional fee, you can promote your business further with a half or full page advert.
Manchester 2023 Exhibitor Feedback
Exhibitors at our 2023 Manchester exhibition rated us 8.2 out of 10 for overall satisfaction with the event
Testimonials
"Another successful show from the team at A Place in the Sun. We were very pleased with the number and quality of visitors and look forward to selling a lot of property as a result. See you in London!"
"We were delighted with the quality and quantity of people attending the show and sharing with them useful information about buying a property in Spain and achieving their overseas lifestyle dream."
"A very busy and well organised event!"
Attracting visitors to Manchester
National & regional press advertising
National & regional PR campaign
TV & Radio advertising
Online and email marketing campaign
Google PPC campaign
Social Media marketing
TV talent promotion
2023 Rates & Features
The earlier you book, the more choice you will have on the location of your stand within the exhibition hall.
Stand prices start from £1,800
Stand price includes:
• Your stand - walls, carpet, fascia and nameboard
• Promotional material to use on your website
• Company description & logo listing in the Show Guide
• Inclusion in the digital version of the event (promoted to over 120,000 email subscribers)
• Inclusion in pre-show event emails and newsletters
Contact Us
For more information and to see our latest floorplans, complete the form below and we'll contact you. Alternatively give us a call on +44 (0)20 3207 2927 or email [email protected]