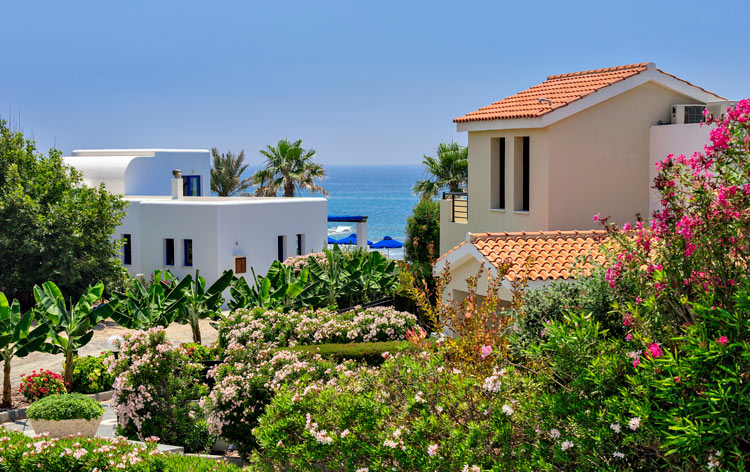 Updated in February 2016
To outsiders it might seem as if Cyprus had a rocky time over the past five years, but the bailout has now finished and the country didn't even need it all in the end! But with plenty of sun and regular flights, international buyers have not been deterred in the meantime. British buyers are attracted to the Med's largest island for the fantastic climate with benign winters, ancient history, a long-established tourism infrastructure and reassuringly British practices. English is widely spoken and familiarity of the legal system are two big pluses.
Decades of British rule have also left an instantly recognisable legacy: the scarlet post boxes, driving on the left, and a great warmth towards UK visitors. Around 65,000 British people live there permanently, whilst non EU investors are drawn by Cyprus's "golden visa" scheme offering residency permits with new property purchases of €300,000 or more. Figures for 2015 showed property sales to foreigners increasing by 9 per cent.
Where to Buy in Cyprus
The biggest hotspot among British buyers is the area around Paphos, an attractive harbour, resort and Unesco World Heritage site on the south-western coast. It is home to many of the island's cultural highlights – including a medieval fortress, frescoed tombs and mosaics – along with amenities for every need, such as its own airport with year-round easyJet flights to the UK. It's also gaining a new marina, improved roads and generally a good old face-lift as it gears up to be European City of Culture in 2017.
Popular neighbourhoods include central Kato Paphos – around the medieval port, apartments from around £70,000; the authentic Cypriot villages of Peyia and Tala just outside the town; and the five-star Aphrodite Hills resort nearby. In Peyia there's a big choice of affordable properties – from apartments for £40,000, to three-bed townhouses for a little over £100,000 to five-bed villas for £250,000.
In the tranquil village of Tala your money doesn't go quite as far – and there are fewer homes for sale – but you can still get a one-bed apartment for £60k or a three-bed villa for £250,000. Coral Bay with its Blue Flag beaches is another popular resort area – with three-bed villas from around £230,000 to £300,000. 
Or there's Polis - a small, picturesque town on the north-western coast at Chrysochous Bay, bordering the Akamas peninsula, an exceptionally beautiful nature reserve. Polis has some of the best beaches on the island, in secluded bays with crystal-clear waters, and a wonderful café culture, especially at Latchi, the attractive harbour of Polis with its recently extended marina. It's a little cheaper than Paphos, with apartments from €60,000 and villas from €250,000.
In the Aphrodite Hills golf and equestrian resort resale apartments start at just over £100,000; but frontline golf villas will cost around £700,000 plus. 
Limassol is the second largest town on Cyprus. A lively metropolis and business hub, with top-class shopping and cosmopolitan restaurants in its world-class integrated marina, it's very popular with the Russian market. This demand tends to keep prices a little higher than around Paphos – apartments start at £90,000, villas from over £300,000. Properties in Limassol Marina start at around £340,000 up to over a million. 
How to Buy in Cyprus
Purchase Process
Purchasing a property in Cyprus is based on English law. When a buyer finds the right property, they should put down a Reservation Fee of between €1,000 and €5,000 (depending on the value of the property), it is best to reserve it this way as many resale properties are offered by more than one agency. Contracts are then drawn up, outlining the conditions of the sale, and this Reservation Fee is made up to 10 per cent (within two to three weeks) for a resale property and usually 20-30 per cent for a new-build. 
Once the Contract of Sale is signed by the buyer, their lawyer files it with Land Registry within 60 days as this secures the property in the buyer's name(s). Buyers need to present bank and character references with the application.The balance of the money is generally paid by the completion date agreed with both parties on resales and in stages agreed by the developer for new-Builds.
More advice about buying in cyprus
Buying Costs
The main costs are: Stamp Duty of 0.15 per cent for properties under €170,860 and 0.2 per cent over that (this is for the Legal Stamping of the contract). Property Transfer Fees (or Stamp Duty as we know it in England) are 3 per cent for the first  €85,430,of the value of the property, 5 per cent between that and €170,860, and 8 per cent above that.
These figures are doubled if there are two names on the contract i.e. the first €170,860 is at 3 per cent and so on. The lawyers usually charge 1-2 per cent for legal fees and agents' fees of 3-6 per cent.
Title issues
Historically there have been two main issues in Cyprus, both involving title. The first relates to the ownership of properties in northern Cyprus – held by Turkey since 1974. Prices are cheaper there, but the former Greek Cypriot owners still claim much of the property and any purchase there is risky – whatever agents tell you. 
The second issue is with the slow issuance of title deeds in southern Cyprus, combined with some dubious dealings by developers there in recent years, which makes proving clean title essential. Although the authorities have expedited the whole process – and are making big efforts to make the buying process far more transparent in every respect - some buyers are, rightly, very reluctant to buy without title deeds.