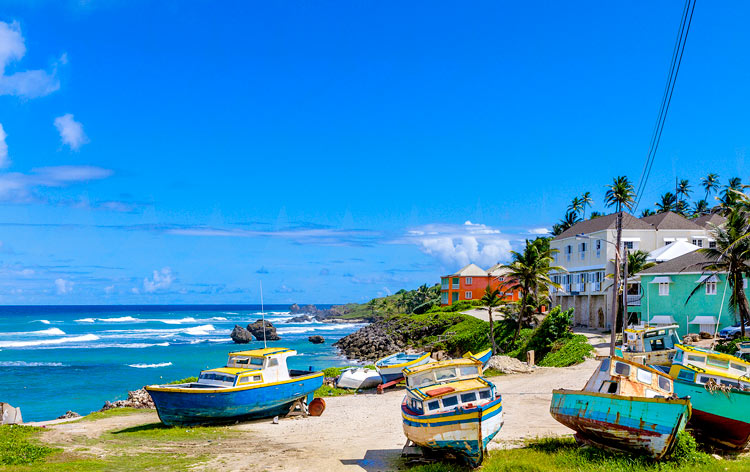 Barbados is one place that's always in fashion, beloved by celebs with a penchant for the Caribbean good life. This year is the 50th anniversary of independence from British rule so a momentous year for the island that was for 340 years under colonial rule.
Many long-haul destinations have fallen off the radar for British property-hunters, but not Barbados. This 21-mile long island with white-sand beaches and world-class hospitality continues to see packed planeloads of British decamp there in winter.
Planes fly there direct every day of the week, unlike many other Caribbean islands and "Little England" is where the wealthy retired set who have been going there for decades head, or the self-made thirty and forty-somethings jetting off for a quick dose of sun and golf, and young families wanting to go no further than the beach.
Whilst some beachfront homes there have telephone-number price tags, prices did fall after the 2008 downturn and apartments, especially, remain 15 to 20 per cent below their peak. These days there are plenty of options for people with less than £500,000 to spend.
Where to Buy Property in Barbados
The Platinum coast
Most property buyers in Barbados want to be on, or near, the west or "Platinum" coast. It's here that you find the quintessentially white-sand Caribbean beaches, lined with palms and pines and dotted with the curious combination of multi-million pound houses and the small brightly coloured wooden "chattel houses" and rum shacks. The fact that the glitzy and the rustic seem to reside cheek-by-jowl quite happily is part of the enduring appeal of this part of the West Indies. 
The west coast is also home to the island's main towns (after the capital Bridgetown), so you are never far from shops, bars or restaurants and the famous Sandy Lane golf course and the island's best-known hotel, where you can now buy your own uber-luxury property. 
But slightly more modest managed residential estates are where many people want to be, and the best known of these are the Royal Westmoreland, Apes Hill Club and Sugar Hill. The former is the most popular, and having undergone a few swings of fortune since its creation 20 years ago, and today Royal Westmoreland offers 200 completed homes on 750 acres and has big ambitions for further growth.
The beautiful championship golf course with views towards the Caribbean Sea a mile away, its beach club at Mullins Bay, superb tennis courts, spa and sporting facilities are surrounded by colonial-style homes, some apartments costing $400,000, or two-bed villas for $595,000. Gary Lineker, Wayne Rooney and various former England cricketers own homes there.
There are several popular developments in and around the parish of St James, especially close to the popular hub of Holetown, with Weston St James and Heron's Court in Porters, and Porters Court being successful in recent years, but recent projects to look out for include Mullins Grove (near the popular Mullins Beach and next-door Gibbes Beach) and Battaleys Mews with prices from around $399,000 and $595,000, respectively.
Meanwhile, outside gated complexes and resorts, you can pick up traditional houses for a lot less, grand plantation estates for far more, or the odd fractional ownership offering – there really is a diverse choice. 
North-west coast
Head north a bit and you hit a popular yachting spot with property offerings – the successful Port St Charles residential marina; St Peter's Bay (beachfront apartments) and Port Ferdinand – a resort with a marina near the fast-evolving area of Speightstown. "North of St Peter" is currently the area to watch according to industry experts. 
You can get a three-bed villa for around $850,000 or a smaller house on a development such as Heywoods Estate, for around $575,000.  It's also where one of the most palatial new properties ever built on Barbados was constructed over the past five years – Palazzate – a 20-bedroom mansion that was originally marketed for $125 million.
South coast
The south coast has a very different feel, and has also been historically more affordable than the west. If the west's so-called "Platinum Coast" is where the old money and celebrities are, where property owners are more likely to spend their evenings dining in the five-star beachfront restaurants such as Fish Pot or Lone Star, the south coast is for the young, fun, party crowd.
Here, you will find lively bars, windsurf shops and a procession of 'reggae' buses heading to Oistins on Friday night for the fish fry, where the town is taken over by stalls selling fried fish to the crowds, accompanied by pounding live reggae.
As property in the south is cheaper than in the west, but rental demand is still high, your return on investment is potentially higher too – particularly in the Christ Church parish, the most popular parish on the south side with overseas visitors, expats and some returning nationals. You can find detached three-bedroom houses with a pool and garden in Christ Church for around $650,000.
The gated Crane resort has been arguably the most strongly marketed project in the south in recent years – a beachfront hotel with a shared ownership programme that is now selling full-ownership homes from around $500,000; two-bed villas from $725,000.
East coast
Last but not least, the wild, protected east coast, with its crashing Atlantic waves and long, empty beaches more akin to Cornwall or New Zealand, has offered little in the way of property for holiday homebuyers. However it is definitely one to watch. Bathsheba in the parish of St Joseph has become a very fashionable surfing area and possibly the next up-and-coming area.
You can buy a four-bedroom home for around $600,000 but look out for some high-end developments in the southeast and the refurbishment of at least two hotels on the east coast. 
How to Buy Property in Barbados

It is worth finding a Barbadian lawyer before you start searching for property. As a non-resident you must apply for permission from the Central Bank of Barbados to purchase property in Barbados, and a lawyer can do this on your behalf.
Once you have found the right property, your lawyer will receive an Agreement for Sale from the seller's attorney. If this is in order, you'll pay a 10 per cent deposit into an escrow account and sign a binding contract. After your lawyer has conducted all necessary searches, generally taking around three months, title is transferred by the Conveyance, the balance of the money is paid and the property is yours.
Buying costs are around 1.5-2 per cent of your legal fees. When you come to sell, costs amount to around 10 per cent of the sales price, including a 5 per cent estate agent's commission, transfer tax of 2.5 per cent, 1 per cent stamp duty and 1.5 per cent legal fees.