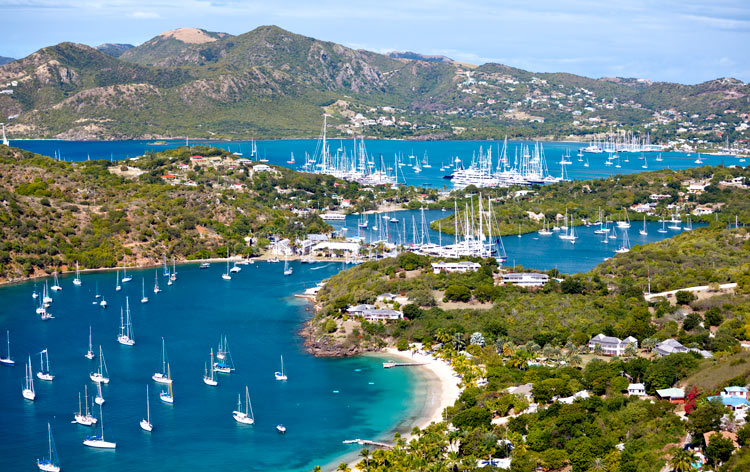 One look at the spectacular sea – several mesmerising shades of blue, even by Caribbean standards – and you'll be hooked. From the tranquil Caribbean on the west coast to the choppier east coast Atlantic waves, Antigua and its sister island of Barbuda have an excess of views to sigh for.
Their appeal lies firmly in its turquoise sea and white-sand beaches, 365 of them according to local lore. Yachties love its sheltered bays - half the world's yachting fraternity pitch up there for the annual regatta at English Harbour and Falmouth.
It's an easy place for British home buyers, with direct flights from the UK, a British history, which means everyone, speaks English and a familiar legal system. It's less developed than Barbados and generally cheaper, though no less beautiful.
It's had its challenges in recent years, with the financial failings of Texan billionaire Allen Stanford who owned half the island - now years of inactivity are over and off-plan residential projects around the craggy coastline are coming to market.
Where to Buy Property in Antigua and Barbuda
One of the busiest hubs is around Jolly Harbour on the west coast - a popular residential choice with the eastern Caribbean's largest manmade marina. 
It's been a haven for families or yachties with three and a half miles of waterfront homes - with their own jetties and moorings - amazing beaches, shops and restaurants and a golf course. It's been down at heel over the past few years but now under new ownership, badly needed investment is sprucing it up. Properties range from two-bedroom waterfront and golf homes from around $200,000 to multi-million pound beachfront villas with harbour-side moorings.
In contrast, nearby Pearns Point is a peninsula of high-end new homes from around $2 m that should provide uplift to the area. There will be serviced hotel suites, managed by the Setai Hotel Group as well as beach clubs and dining options on various tiny islands off the promontory. Construction is due to start in 2016.
Along with neighbouring Falmouth Harbour, English Harbour is the picturesque centre of Antigua's sailing industry, dominated by Nelson's Dockyard, the world's only surviving Georgian dockyard. Substantial villas, with correspondingly large price tags, perch on green hillsides.
One of the popular resorts is Tamarind Hills is a picture-perfect 14 acres between two of the island's finest southwest beaches, with excellent views across to Montserrat's still smouldering volcano. A complex of modern apartments, townhouses and villas featuring Asian-style design with prices starting from around $500,000, although villas are around $1.3m and up.
The wilder, less developed east coast is up to 40 minutes drive from the capital city of St John's in the north and is home to Nonsuch Bay Resort, where the large majority of buyers are from the UK. It attracts those that have considered buying in Barbados but found comparable build quality and better value here where prices are 25 to 40 per cent lower. The resort aims to encourage a sailing crowd to enjoy the trade winds and the sheltered bay. 
Apartments, townhouses and villa plots are available from around $500,000 with an on-site restaurant and well-equipped sailing centre. The resort has plans to expand again now, with a second phase of development - including one-bed hotel suites with prices from $400,000 each, a helipad and tennis centre.
Galley Bay is one of the very best addresses in Antigua – along with the incredibly expensive private island of Jumby Bay – Galley Bay is on the north-west coast and is (one) home for Giorgio Armani. There are elegant villas set on the hillside with sea views and the best sunsets. Either side are exquisite bays, including Deep Bay, home to Antigua's only shipwreck. It's handy for the capital, St John's, and it's a popular holiday home area for the deep of pocket.
Look at for new developments at Rendezvous Bay (south coast), a new Chinese owned free trade zone at Guiana and Crump Islands, and a redevelopment of the K-Club on Barbuda by Robert de Niro and James Packer.
How to Buy Property in Antigua and Barbuda
The buying process is fairly straightforward and once you have completed on your property, your lawyer must register the transfer at the local land office.
Here's the rundown on what you pay as a buyer: an Alien Landholding License (5 per cent of the purchase price), legal fees (1 per cent), stamp duty (2.5 per cent), so budget for about 9 per cent of the purchase price for your buying costs.
When you sell, you'll need to add about 14.5 per cent of the sales price to cover costs
Before buying in Antigua, you should do an independent structural and land survey on the property to ensure the structural integrity of the property and ensure the property boundary lines are correct.