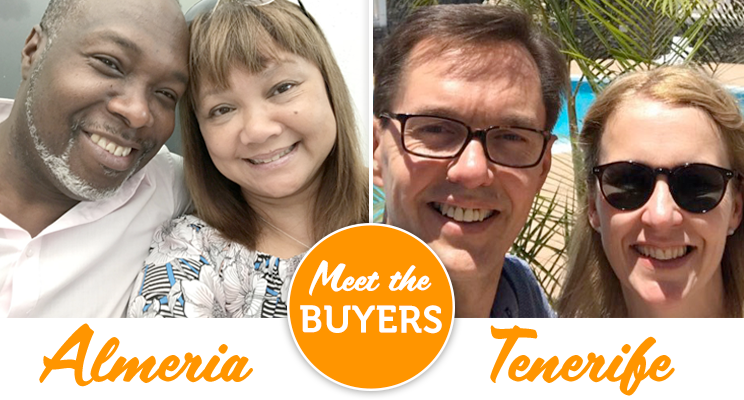 It's not long now until A Place in the Sun Live visits Olympia London between 11th-13th May, where we have many useful seminars, Q&As and interviews to help kickstart your overseas property search. The exhibition will also give you the opportunity to meet real-life individuals who've bought properties in Spain, a country that remains number one on Brits' list to buy abroad.
'Meet the Buyers' will be taking place at our London exhibition for the first time since its successful debut at Manchester Central in March. It's designed to give hopeful homeowners insights into the buying process of overseas property, from those who've done it themselves. This will be chaired by our compere Ryan Philpott and magazine editor Liz Rowlinson, and questions from the floor will be taken.
'Meet the Buyers' proved to be a popular seminar at A Place in the Sun Live in Manchester. We welcomed Ian and Sarah Powell to join us on The Hub to discuss the purchase of their holiday home in La Cala Mijas, on the Costa del Sol. They shared their top tips and gave our audience added peace of mind on buying a property in Spain, a process that only took them six weeks to complete!
Due to popular demand, we'll now be hosting two 'Meet the Buyers' Q&As at our London exhibition. Lennox and Georgina (pictured left above) from West Norwood, South London appeared on the TV show with our very own Jonnie Irwin and purchased a two-bedroom apartment in Almeria. They also attended our London exhibition last year for some much-needed research and took a screen test audition too. They'll be on stage on Saturday afternoon.
Roger and Jane Pangbourne (pictured right above) from Market Harborough will be taking to the stage on Sunday afternoon to talk us through their experience of buying their townhouse in Tenerife. They've been visiting the area since 2008 and have gradually fallen in love with the island and its relaxed way of life. The couple kindly invited us into their new Tenerife home for a tour which you can watch by clicking here. 
In addition to meeting buyers, you'll also be able to speak with professionals who can facilitate your move abroad safely and efficiently, including estate agents, legal, tax, currency and finance specialists, plus more.
To view the complete timetable for the weekend, click here. 
Join us at Olympia London between 11th-13th May.