With its year-round sun, endless superb beaches, fabulous golf courses and great amenities, Florida ticks many boxes for property-hunters who are prepared to make a seven-hour flight to their second home.
It's also the fastest growing state in America, with an ever-expanding population of retirees fleeing the freezing winters of the northern US, or countries of Northern Europe.
But whilst many home hunters are actually drawn to Central Orlando - for the sheer volume of theme parks (including the biggest name of all, yes, Disneyland), shopping malls and family-friendly entertainment generally, the coasts lure those for whom beaches, barrier islands or vibrant cities hold greater appeal.
And just like Pacific and Atlantic coasts of the USA are two very different beasts, the west and east coasts of Florida are very different propositions - generally.
"The east coast has the advantage that it is easily accessible from Orlando [it is about an hour's drive from the "Space Coast" east of Daytona Beach] and the public transport is much more extensive on the west coast," says Patricia Tan, a British-born realtor who now sells on both sides of Florida.
"But the downside is that the south-east cities can be congested and stressful places to drive."
So let's get started!
The East Coast of Florida
Starting at the top of the state and working the coast in a clockwise direction, first up is Jacksonville, Florida's largest city and an affluent and cosmopolitan one at that.
Whilst featuring on UK property hunters' radar historically, this fast-growing region is a thriving, year-round city that is tempting investors and lifestyle buyers because it is more affordable than the Disney catchment area two hours away.
"The north-east coast of Florida is relatively undiscovered by international buyers - a hidden gem," says Karen Zander of 97park.com. "The pace of life is slower than the southeast coast/ Miami, without the nightclubs that draw party goers south. Roads are less congested, with many historic streets and byways and few multi-lane motorways."
Whilst central Jacksonville might not appeal to holiday-home buyers, the nearby areas of Ponte Vedra, St Augustine and Amelia Island certainly do.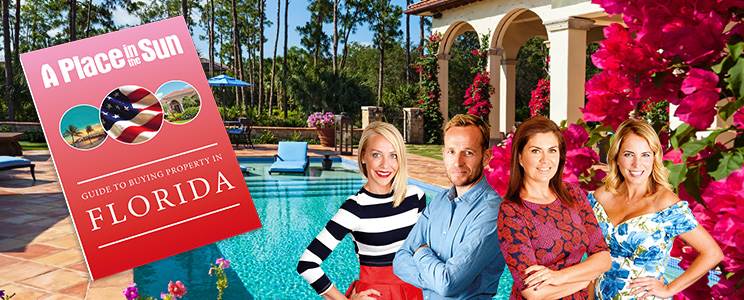 download our free guide to buying a property in Florida
Amelia Island, Ponte Vedra and St Augustine
The barrier island of Amelia Island is also worth checking out if you like the idea of a historic beach resort with a smalltown feel.
There's an annual shrimp festival, six golf courses, an historic quarter, or new communities - something for everyone. Even celebrities such as bestselling author John Grisham and talk-show host Oprah Winfrey who are regulars.
You can buy a traditional clapperboard three-bed home for $200,000 or a two-bed, two-bath condo with sea views for around $390,000 - check out britishjulie.com for a good range of ideas.
Neptune, Atlantic and Ponte Vedra are all other great beach communities with restaurants, boutiques and affordably priced homes, and there is the uniquely historic town of St Augustine close by too - growing in popularity with international buyers.
"Many people from all over the world fall in love with the area's charm. The area also has a strong holiday rental property market along its 42 miles of beaches, so property owners can expect income if they choose to purchase a property for rental income," she says.
"Property prices are lower than in many other coastal cities in Florida, owing to the low tax rates, low cost of living, and lack of overcrowding. Unlike most of Florida's coast, there are no high-rise condominium towers blocking ocean views in St Augustine Beach as building heights are capped at 35 feet.
"Oceanfront or ocean-view condominium properties boasting two bedrooms and two bathrooms cost from $172,000 up to $550,000."
St Augustine has an historic, European charm. It's a walkable city centre filled with independent shops, eateries with cuisines from across the globe, art galleries, festivals, symphonies, horse-drawn carriage rides along cobblestone streets, and many historic sites.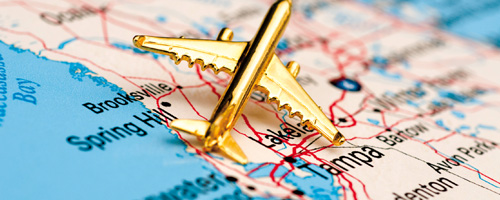 Daytona Beach area
Some might say that Daytona Beach is (too) heavily developed, but as one of the world's most famous beaches, it does offer an awful lot to do - and is well-connected to the rest of Florida, says Jack Dunn of jackdunn.biz, this part of Florida.
"Travel wise, the cheapest and quickest flights from anywhere in the UK go to Orlando Sanford International, and from there to Daytona is 30 minutes," he says.
"Daytona has its own international airport - one of the only airports in the US without queues! It connects with Atlanta and Charlotte."
The excellent road system is another advantage, with the I-95 taking you south to Miami, north to New York; and the I-4 traverses Florida, via the theme parks, to Tampa.
Then there are the attractions. 23-mile Daytona Beach - famed for being a centre for motorsports such as NASCAR (stock-car racing) and Daytona International Speedway - it also offers a choice of golf courses, great shopping malls such as Volusia Mall, the intracoastal waterway with its boating, fishing and watersports.
Another point is the climate. "Daytona is statistically much safer from weather extremes such as hurricanes [compared to the west coast where they cause the most damage]; and the Atlantic breeze helps to keep the area warmer in winter and refreshingly cooler in summer," adds Dunn.
But what can you buy? You will have a fair few options for homes under $100,000, but location, as always, is key, and for an oceanfront condo with sea views expect to pay $189,000 for a one-bedroom unit (for further examples across price ranges, check jackdunn.biz). You can even pay $3.6m for a luxury triplex four-bed penthouse in an oceanfront tower if you have the means, but generally, Daytona IS relatively affordable.
Flagler Beach - is 15 minutes away from Daytona and another one of the "Best Small Towns of America". Like nearby Smyrna Beach, it is 10-15 per cent more expensive than Daytona Beach.

David and Shelley Warner, moved from the UK to Flagler Beach (north of Daytona) in 2013 and bought a four-bed detached home for £238,000. "Many of the famed areas on the west homes - a bit like Frinton, Essex. Great for anyone over 70 but not so great for others," says David, 50, from Essex.
"The east - particularly the Daytona area - has a real community feel about it. Most, if not all, of Daytona's population love the British. Virtually every time we visit anywhere we will get a 'I love your accent'.
As a Brit there is something quite romantic and reassuring about standing on the beach, looking out across the Atlantic and knowing that there is nothing between me and the southwest tip of England."

The Space Coast (Brevard County)
Moving south an hour's drive along the east coast, we hit the Space Coast - the 72-mile stretch around the Kennedy Space Centre (KSC) and Cape Canaveral Space Station in Brevard County that also includes Cocoa Beach and Melbourne.
Cocoa Beach is a six-mile barrier island an hour east of the central-east coast - it is surfing capital of the east, a nature-lovers' paradise and home to an actively-retired community, as well as a popular holiday area - it's the biggest single hotspot of the Space Coast. Its 800-foot-long pier is a big attraction for fishing, dining and pop concerts.
"Just 35 miles east of Orlando, Brevard County offers the closest beach to the theme parks, as well as some of the most pristine highlights natural habitats of Florida, with the Indian River Lagoon," says Susan Senechek, a realtor at RE/MAX Elite.
"Other highlights of this area include the beautiful Sebastian Inlet - a premier saltwater fishing spot; Brevard Zoo, 13 tennis clubs, 27 golf clubs - all with a fantastic sub-tropical climate with average high of 70 degrees," she says.
She says the median house price is below the statewide norm - at just over $165,000. A two-bed, two-bath direct oceanfront condo on Cocoa Beach will cost around $399k, a three-bedder in a premium spot $499k, but a one-bed condo further inland starts from $94k.
"A bit further south, the other islands of Melbourne, Satellite, Indialantic and Indian Harbour are a bit more expensive than Cocoa Beach," she adds. Alternatively you can head away from prime coastal areas and get a lovely detached five-bed home on a golf course for $450k in the wider Brevard area.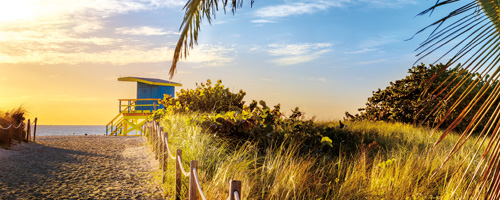 Miami, Boca Raton and Fort Lauderdale
Although Vero Beach is a popular spot on the Treasure Coast stretch that one passes next going south, our next focus is actually Boca Raton/Fort Lauderdale - just north of Miami on the south-east coast.
Currently home to over 5.6 million people, the Miami area encompassing West Palm Beach, Boca Raton, Fort Lauderdale and other cities, is a broad and diverse region stretching along Florida's south Atlantic coastline.
"There's so much choice of lifestyle on the east you can be in small quiet towns, large elegant cities, fun resorts and the diversity of the people this side makes it interesting," says Sue Frost of Coldwell Banker Boca Raton.
"The choice of three major airports makes it appealing for ease of travel, then there's beautiful natural beaches, the intracoastal waterway - good for boating jet skiing - and golf courses galore.
"Being close to a major city [Miami] and all the culture, art, shopping and world-class restaurants is brilliant. The area is exciting vibrant and varied. The west coast is much quieter and more rural with a slower pace as a whole."
Property-wise, buyers will find the grand mansions of celebrities along with golf course and tennis communities popular with second-home buyers or those looking for a permanent home.
Oceanfront properties can run well into the multi-million dollar price ranges, but affordable single family homes or condos within a 30-45 minute drive to the beaches are also available, says Karen Zander of 97park.com.
"Current properties available in Miami Beach start at approximately $300,000 to above $5,000,000 for a two-bed oceanfront condo," she says.
"The South Florida coastal market is very diverse. Buyers need to understand, for example, the broad differences between Miami, Boca Raton, Aventura, and the Florida Keys. They are each very distinct markets with their own price points, selling points, drawbacks and cost of living.
"In general you'll find south Florida to be a higher cost of living area than other parts of the state, especially with regard to insurance rates. The annual threat of a hurricane and its impact on properties remains an issue for south Florida.
"However, Miami and its surrounding communities are home to people from all over the world, creating a vibrant, cosmopolitan lifestyle complete with luxury shopping and those famed nightclubs."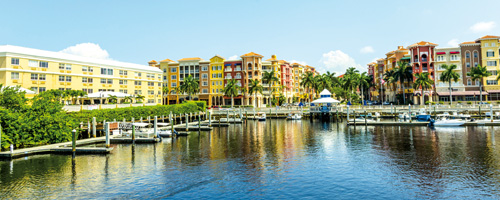 The West Coast of Florida
The west, or Gulf, coast has fewer large towns and holiday resorts than the east, and with relatively little British-buying activity around the north-west or so-called Panhandle, we are looking at the stretch between Naples and Tampa.
Naples Area
The farthest south on the west coast before you walk into the Everglades, Naples (pop: 21,000) is four hours south of Orlando and one of the wealthiest cities in the US.
With the 6th highest per capita income in America, and the second highest population of millionaires, it is discreetly affluent with plenty of upmarket gated communities. There's a saying in south-west Florida that if you take the glitz out of Miami, you get Naples.
Property prices reflect this. Apparently there has just been a record-breaking sale there for $43 million, although you can get more for your money in neighbouring Fort Myers, Cape Coral and Bonita Springs.
"Naples is below the frostline so we enjoy outdoor activity all year long," says Jessica Bibbee of the Rose Mary Everett Team. "One difference between the beaches of Naples and the beaches of, say Fort Lauderdale on the east coast, is that here you'll only find a backdrop of nature preserves, condos, or private homes.
"People can enjoy the beach by our Naples Pier looking behind them to see private mansions and lush landscaping."
Naples has also recently been voted the fifth best golf destination in the US by USA Today (you can play golf there all year round), although it proclaims itself to be the "Golf Capital of the World" with over 70 courses.
A property on one of its many golfing communities will cost from $62,000 - for a condo - and there's plenty of choice with a budget of $100k, according to Ms Bibbee, but you'll need to pay $500k plus for a three-bed villa in an upscale community.
Sarasota
Arty and bohemian Sarasota (pop: 385,000) is a very popular spot on the Gulf Coast these days - the cultural capital of Florida to rival Miami. Fans rave about the wonderful outdoor restaurants, its opera, theatre and symphony orchestra - or 40-odd golf courses.
"If you had to suggest an East Coast comparable it would be Fort Lauderdale," suggests Pat Tan, who says that Sarasota has a younger demographic than some other Florida towns due to the great schools.
As such it suits full-time movers and holiday home owners alike, says Christine Green of Coldwell Banker in Siesta Key, Sarasota.
"It's got culture but is also a low-rise beach resort great for the sailing and golfing lifestyle. People come here to relax on its five miles of pure white beaches. The Huffington Post just voted Siesta Key Beach and its neighbour, Anna Maria, two of the most underrated beaches in America."
In Sarasota it's key to choose one of the many lifestyle communities, amongst which are Lakewood Ranch, Palmer Ranch and Downtown Sarasota. The area has recovered from the downturn and expect to pay from $80k for a one-bed condo in one of the above, or $250k for a three-bed home.
"Your money will go further in nearby Bradenton and Ellenton, where good communities include GreyHawk Landing, Tara Golf & Country Club and Forest Creek," adds Patricia Tan.
Tampa/Clearwater
Just 1.5 hours south-west of Orlando, Tampa is the business hub of the Gulf Coast. "With 347,000 residents it's a third larger than Orlando and there are 1.3 million commuters in the wider county area," says Christine Green.
"So it offers an exciting urban lifestyle, plenty of skyscrapers, it's great for year-round business rentals, and home to many luxury cruise liners leaving from Tampa Bay docks. Easily reached through Tampa International Airport."
She adds that is has an excellent rival for Disney with its own Busch Gardens theme park and water resort, but Tampa does not really attract families as Orlando does. "Instead head to Clearwater, a suburb of Tampa, from here you can commute to work, and still enjoy a holiday lifestyle."
USA Today voted Clearwater "Best Beach Town" of 2013, a result surely helped by the $30 million the city has just spent on its large winding beach promenade along the Gulf.
You can buy a spacious, elegant four-bed detached home in the gated community of Grand Hampton, Tampa, for around $400k; or a five-bed waterfront one at Apollo Beach for $425,000. Or you can get a two-bed condo at Clearwater Beach for around $250k.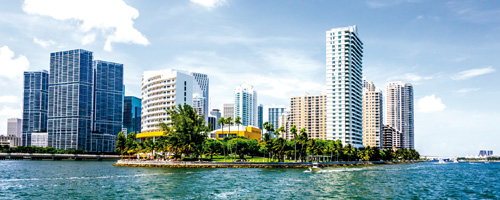 What is the EB5 visa?
Keen on moving to Florida? One way of getting a green card is by investing in the US. The EB5 visa was created by the US government in 1994 as a way for foreigners to gain permanent residency through investment in approved projects that create full time employment for US citizens.
However, all invested funds are deemed "at risk" so investors need to minimize their risk and address key questions.
One: how stable is the industry in which the investment is being made?
Two: is there a specified exit strategy for investor funds?
Three: how are the funds invested in the project and what is the collateral offered? Green cards are issued with conditions that are removed after two years if job creation is proven.