Ten years ago, Paul and Chris eschewed their daily commute around the M25 for a new life in Normandy. They swapped their Sussex cottage for a rather lovely 19th century maison de maître between Vimoutiers and Gacé.
With Paul's background in tourism and marketing, and Chris's 18 years' experience in the airline industry, they were ideally qualified to run a B&B and gîte business, after some careful renovation.
Now they feel it's time for a new adventure and decided to put their property on the market and move to Sicily.
"Sicily just feels right," says Paul. "The weather is gorgeous, the architecture is stunning and we can fulfill our dream of living by the sea. Chris and I first met on a flight to Catania 20 years ago, so in fact, it feels like we've come full circle."
For anyone tempted to follow in their footsteps, Paul and Chris have ten tips for running a successful B&B and gîte business in France.
1. Choose your location carefully
If you're planning to buy in France, it's unlikely that you've made such a life-changing decision on the basis of a single visit so stick to an area you love and perhaps have visited at different times of the year.
Remember, France is huge and the choice of properties is bewildering, so narrow your search area and stick to a region you know you will enjoy living in.
2. Only buy what you can manage
It's easy to be seduced by a huge property with countless bedrooms and endless hectares of land but remember maintenance is both time-consuming and horribly expensive so don't be tempted to bite off more than you can chew.
We chose a manageable sized property (six beds) plus grounds of under four acres. That way, we've been able to run the business without any outside help and never have any horrible surprises when the utility bills drop onto the mat!
3. Shop around for workmen
If you choose a "project" always ask for at least three quotes for building and renovation work and make sure you have a written devis (estimate) before work is started.
Never be tempted to pay workmen cash in hand; not only is it illegal but you'll find that a guarantee is much more reassuring in the longer term. Opt for local artisans, who understand local planning laws and traditions, and note the three price bands: one for locals, one for the English and the highest for Parisians!
4. Learn the language
Speaking French isn't essential but having at least some grasp of the local language gives you an important sense of control, particularly when dealing with health and financial matters.
A partner always taking the lead in French discourse can lead to the other feeling overly dependent. Take lessons; don't try and teach the other: here lies the second step on the road to divorce!
5. Have tradesmen on standby
Make sure you have an excellent relationship with plumbers and electricians as you can guarantee that a tap will drip, a pipe will burst or the lights will fuse on changeover day!
Have their numbers close to hand and always offer them a bottle of the local wine/cider once the work is done - it'll help move you to the top of the list next time you need them in an emergency! We even served a chimney sweep Calvados at 10am.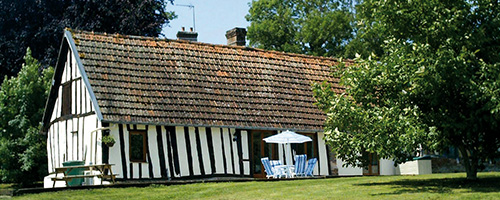 6. Expect the unexpected
We could write a book about our Fawlty Towers tales of our lovely guests; our favourites being the couple who, having taken part in a moto-cross event on a horribly wet day, were worried about coming into the house in their muddy clothes and knocked on the door in their underpants!
7. Research the competition
Is the B&B market already saturated in your chosen area? How much can you expect to charge? What will make you stand out from the crowd?
We chose Normandy because our research showed steady demand for accommodation throughout the year, unlike in other popular areas such as the Dordogne, where the season is shorter.
Its central position in Normandy means our property is superbly placed for doing day trips to the landing beaches, Monet's garden and Mont St Michel, but we are remote enough to appeal to those who just want to chill out by the pool.
8. Get in with the local mayor
Your first stop in France should be at the local Mairie. The mayor is highly respected, the font of all knowledge and wields considerable power locally so it pays to get him/her on side.
We bought a little-used public footpath adjoining our property from our local council, a potentially controversial purchase requiring a public enquiry. Knowing one of our near neighbours, a rather unpleasant and very unpopular Parisian (now fortunately moved on) would object, our kindly mayor chose to hold the enquiry when he knew he would be away, meaning the deal went through without a hitch!
9. Have a slush fund
Make sure your budget includes a healthy contingency fund and don't believe the stories you hear that you can renovate an entire house on a shoestring, unless of course you're pretty handy and can do a lot of the work yourself. We've found that complete renovation will set you back roughly the price you paid for the property again.
10. Invest in marketing
Identify your target markets and make sure your product and your promotion are suited to them. We designed our cottage and our marketing messages to attract families during the summer months and couples and their friends in the shoulder periods.
A decent website and online marketing are essential and more than 95 per cent of our bookings come through the internet. And don't forget Facebook and Twitter, great for keeping in touch with loyal customers and for developing new ones.