Dominic Meacock and Helena Oyo-Meacock from London moved to the Dominican Republic for a change of lifestyle. They live with their two young children on a property which they call "Jurassic Park", where they let out bungalows, reports Dominic.
Why did you decide to relocate to the Dominican Republic?
Six years ago, I was an accountant in Staines, Middlesex, and hitting 40 I thought it was now or never to make the move abroad.
We wanted a change in lifestyle and had been thinking about it for a while. We'd been saving up and investing in property in London, and I had been learning how to do up houses from the tradesmen we had been using. This was going to provide essential skills to tackle a project when relocating abroad.
We'd been visiting the Dominican Republic for holidays for more than a decade and always travelled away from the tourist spots, such as Cabarete. The rural areas, like the Samana peninsula on the north coast, give you a different perspective. Samana is wonderfully lush and green, a bit trickier to reach from the airport, but a place for real travellers. I didn't want to live in a gated enclave for tourists or expats.
By buying a B&B, we wanted to attract like-minded individuals to paradise. When we found the property, near the town of Las Terrenas, we had to hack through a wall of green vegetation to get to it - hence the "Jurassic Park" moniker. It had been abandoned for six years. It was a large property, with 12,000m2 of land and six bungalows, waterfalls and natural springs heated by the sun. We fell in love with it.
The cost and legal issues of buying property overseas
It cost £200,000, which was more than we were going to spend, so we swapped it for our two one-bed flats in Staines. This was not complicated for our lawyer to arrange, and we got handed the title of the property after the lawyer drew up the contract of sale. He then transferred the deeds for our two flats to the Dutch owner of "Jurassic Park".
You should always use a lawyer to represent your interests in a purchase. The biggest mistake that other foreign buyers can make is assuming the system works the same as it does at home. We help advise other buyers, now that we have been though the process. We received lots of valuable help setting up home and our business from Toni Green of the local agency Dreams2Realty.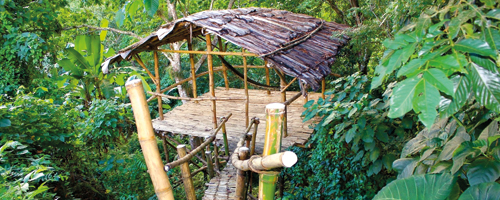 What the future holds
We offer self-catering bungalows to independent travellers who can book breakfast if they wish. We charge $45 (£30.50) a night per couple. We have a broad mix of nationalities, and creative people like film producers and writers from the US, Canada and Europe. December to Easter is our busiest time. We are building "Hobbit houses" for more accommodation, and an African village.
The Dominicans are a simple, happy race of people who live in the now. It's something to do with being closer to nature - they don't dwell on the past (or remember how they fixed a fence a month ago) or plan for the future. It's very liberating in a way. Our children go to one of several international schools here, the Fundación Mahatma Gandhi, and learn in both the native Spanish and English.
We haven't been back to the UK in six years. I imagine we'll stay here forever. The only thing I miss is curry!

If you want to find out more about buying property in the Caribbean read our guide here >>
Liz Rowlinson
(Originally published in the A Place in the Sun magazine - Issue 122)