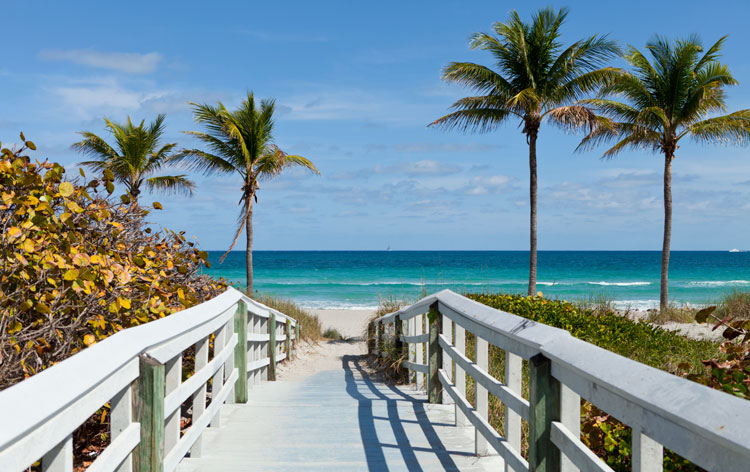 Updated in February 2016
For many, buying a holiday home in Florida is a no-brainer given it's only eight hours away, with a blissfully warm Caribbean climate, first-world economy and infrastructure. It's not just about Disney or theme parks, or even golf, but also boating, fabulous beach towns, cultural cities (yes, really) and great sporting facilities. The quality of life is hard to beat.
Florida attracted a record 105 million tourists in 2015 meaning there are great opportunities to rent the property out to holiday-makers, whether New Yorkers, Canadian snowbirds or northern Europeans. Many buyers like the mix of holiday home and investment, using their overseas purchase for vacations, and renting it out the rest of the time to cover running costs.
Just beware of optimistic rental yield promises when it comes to short-term rentals in the Disney area – breaking even might be a realistic goal rather than a regular income.
Where to Buy Property in Florida
Orlando, Disney and the Surrounding Area 
Most British buyers flock to central Florida near Orlando, close to the theme parks of Walt Disney World, SeaWorld Orlando, Disney-MGM and Universal Studios, and the Epcot Centre. Few people actually buy in the city of Orlando itself, preferring to live in one of the housing estates outside Orlando that make up one of the world's largest holiday communities.
Popular areas include the gate communities that make up Kissimmee, Windermere and Davenport where four bedroom, three bathroom townhouses start from around $200,000 and a detached villa with a pool from around $250,000.
Champions Gate is a popular, high-quality development where you can still get a choice of three-bedroom properties from around $350,000.
Waterways run across the state, between the east and west coasts. A waterfront location will bump up the price you will pay and whilst you may like the idea of being waterfront, if you're planning to rent the property out, it's worth remembering that you may not get a higher rental rate to help cover this additional expenditure.
On the East coast, Ormond Beach, Daytona area and Flagler Beach are worth a look.
Miami
Florida's playground, the stylish city of Miami, offers a wide range of property options from seafront condominiums to high-rise luxury apartments. Prices have been increasing at a rate that some suggest (again) is unstainable, and you will may several millions for the new prime apartment developments on key locations such as Miami Beach.
The gateway to the Everglades and the Florida Keys of Key Largo and Key West, the city sprawls across the south east corner of Florida and encompasses the cities of Fort Lauderdale and Homestead at its outer reaches.
The Gulf Coast – Naples, Tampa and Sarasota 
Naples, with its sun-drenched white sandy beaches on the Gulf of Mexico, great shopping, restaurants and golf courses, is popular with retirees and families.
Once a small fishing village, Naples boasts the calmest seas and best 'sandboxes' (beaches) in these parts, and comes with good shops, restaurants, golf courses, boating and fishing. It's also close to the untamed wilderness of the Everglades, which is ideal for days out to spot alligators and manatee (native aquatic sea cows). Naples' specialty is homes in golf communities where homes start at about $300,000.
We have the Scots to thank for the Gulf town of Sarasota, 50 miles south of Tampa. Scottish families set sail in the mid-1800s to this once sleepy fishing village in search of fresh air, citrus groves and affordable housing. Today, Britons still head out to art-meets-nature Sarasota County, (population 374,000) with the US' number one beach, Siesta Key. The education system is also one of the best in the US. 
A decent one-bedroom condominium starts from around $100,000 and you'll get two-bedrooms for $150,000. A new, three-bedroom 'single family' (detached) home is about $250,000 with another on top for a pool. Nearby areas of St Augustine and Bradenton are also popular with buyers.
Around the big metropolis of Tampa, Palm Harbour, Dunedin, Clearwater and St Petersburg are popular areas.
How to Buy Property in Florida
Before seriously looking at individual Floridian properties, you must ensure that you have a conveyancing lawyer, a building surveyor, a NIE (identity) number, a bank, a specialist currency firm, and any financing you need in place (at least in principle).
Doing your homework before you buy applies to the USA, like anywhere else.
Find a state approved well-qualified and licensed real estate buyers agent (realtor).
Find the property you wish to buy
Once you have found a property, the buyer and seller will both sign a contract that sets out the conditions of the sale. This should include property title checks and inspections.
Remember, that typically a house survey in America isn't as rigorous as one carried out by a chartered surveyor in Britain.
You might have little recourse if a boiler breaks down, for instance, which you believe the surveyor should have informed you about. In some instances, it might be worth paying extra for a more detailed survey.
A 10 per cent deposit is paid when contracts are signed and at this point the property is sold as seen. If you as the buy back out at this stage, you will lose the deposit.
In the US, the closing date is established when both parties sign the contract, usually 30 days from the signing of the contract.
The buyer and seller appoint a settlement company to complete the transaction. The buyer pays the balance owing and both parties sign all the final documents.
The transfer of ownership is registered with the local authority after completion. Generally, the local authority assesses property taxes on your purchase.
This property tax (about 1-1.5 per cent of the purchase price annually) is included in the closing costs. If you are buying on a development, add in homeowner association dues.
More advice about buying in florida
Buying Costs
Foreign purchasers, just like US citizens, will be subject to various state and county taxes at the time of purchase, annual taxes based on the value of the property, and on any value gains made when the property's sold. Budget 2 to 5 per cent of the sales price for total closing (or buying) costs on a property. If you don't get a mortgage it will be at the lower end.
Buyers Need to Know
When hunting for a home in Florida, keep in mind that guaranteed rentals might not be what they seem. What happens if there's a drop in visitors going to a particular location that would scupper the supposed guarantee from the developer?
Also, Americans are good at decking out show houses in a glamorous fashion. Ask what comes as standard and how much extras cost. You could end up paying another 30 per cent for goodies that aren't included in the basic price.
Also, be careful you don't buy a home you hope to let out in an area that is not zoned for short-term rentals. An unscrupulous or lax realtor might not point out this important fact, so make sure your solicitor carries out a rigorous check.
Homeowner Association fees are payable by the owners on condominiums. Get your lawyer to check how well these are being collected, managed and spent, before you buy.