Stylish apartments
Desert Springs Resort & Golf Club, Almeria, Spain from €119,000
ENQUIRE NOW
By completing this enquiry form you agree to your details being made available to this company.
3 and 4 bedroom villas on
Desert Gold at Desert Springs Resort & Golf Club (Almeria)
Introduction
Pueblo Villas available for purchase
– 3 Beds from only €250,000 – 4 Beds from only €265,000
The Pueblo Villas are based on the precise shapes of the old individual field houses, the traditional 'Casas del campo' of The Almanzora Valley, reflecting the heritage of tradition.
There was a tremendous growth of these in the 19th-century countryside to house the enormous increase in field workers, working to feed the new mining communities. Sadly, many of these homes have now disappeared back into rubble and soil from which they were built, but if you look carefully you can see their ruins everywhere in the local landscape.
They started with simple rectangular construction, with thick walls, buttressed corners, and a flat roof. As the family grew, a mono-pitch roofed bedroom was added above, where it was cooler, and, if the money continued to come in, then another room was added above, with a roof 'a cuatro Aguas'.
Our modern Pueblo Villas are of course built with all mod cons, with large terraces and pergolas in their own private gardens, but in clusters sharing beautiful individually landscaped gardens and swimming pools in semi-closed communities, with all the cost benefits implied. They are very tranquil and private.
About Units
Specification for 3 bedroom Villa 
3 Bedrooms
2 Bathrooms, 1 en-suite
Living/dining room with covered veranda
Private roof solarium
Pre Installation Air conditioning
Underground parking space
Private & Communal Gardens
Community Swimming pool
Gated community with security
Plot 380m2
Floor area 111m2
Terrace area 76m2
Specification for 4 bedroom Villa 
4 Bedrooms
3 Bathrooms, 2 en-suite
Living/dining room with covered veranda
Private roof solariumPre Installation Air conditioning
Underground parking space
Private & Communal Gardens
Community Swimming pool
Gated community with security
Plot 425m2
Floor area 135m2
Terrace area 62m2
Floor plans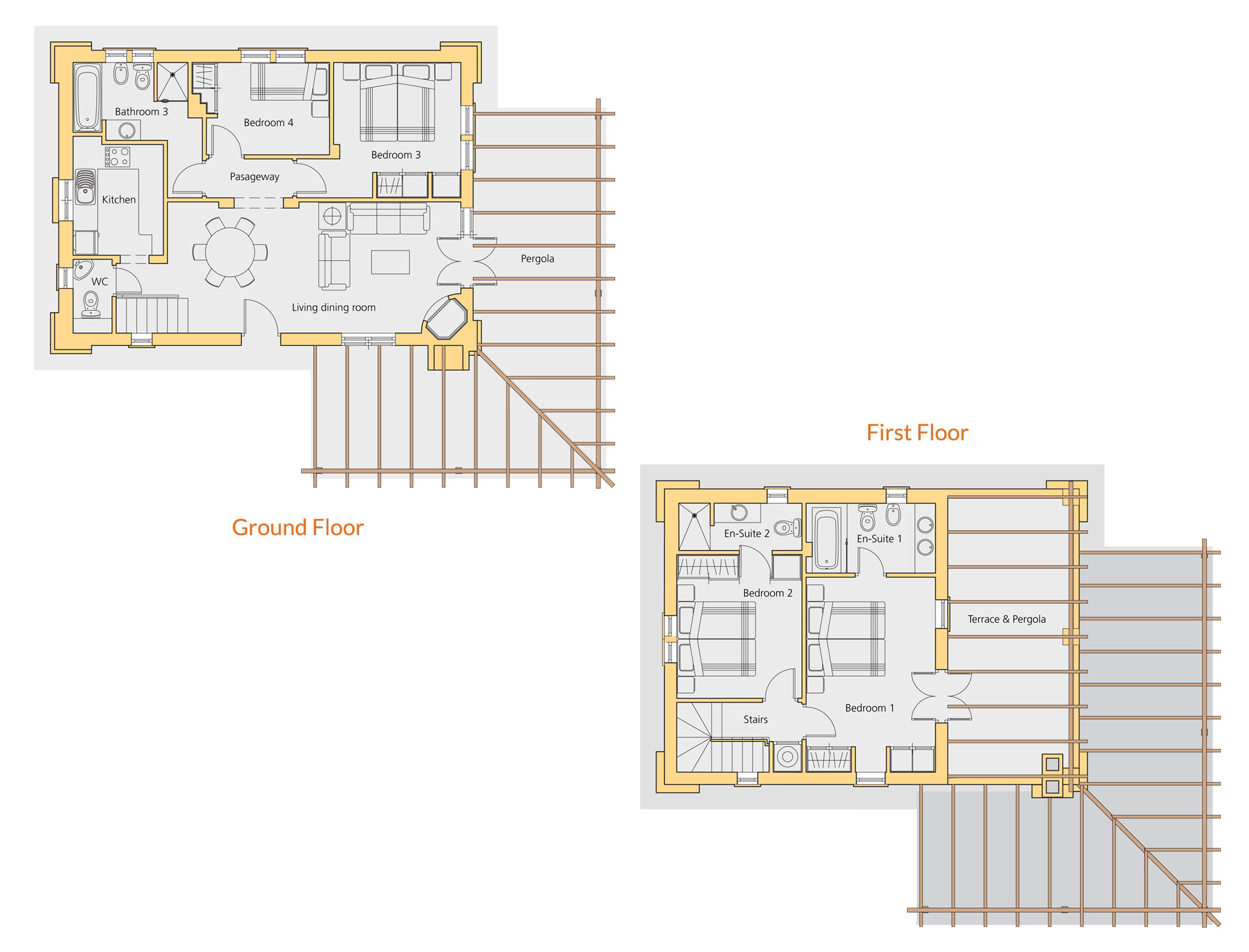 Membership of Desert Springs Golf Club
Membership fees for non-resident Resort members are included in the price of new properties purchased from Almanzora Bay.
Resort Facilities at Desert Springs Resort
Modelled on the world's leading luxury hideaways, the thatched Crocodile Club is the heart of the Resort, with its bars, restaurant, terraces, sun lawns, pools and children's facilities, all complemented by the breakfast, dining and leisure facilities of El Torrente, the elegant lounge, gallery and deck of the Golf Clubhouse, the exclusive Private Reserve with its Day Spa, Billiards and Film Screening Room and the sports facilities of the Sierra Club. Breakfast and lunch are served in the colonial-style El Torrente Restaurant and dinner are at either El Torrente Restaurant or the exotic Croc Club Restaurant depending on the season.
The Sierra Sports & Fitness Club Click Here
El Torrente Restaurant  Click Here
The Deck at The Clubhouse Click Here
The Crocodile Club Restaurant Click Here
El Chiringuito Pool Bar Click Here
The Cave Bar Click Here
The Local Area Click Here
Sandy Beaches Click Here
Things To Do – Land Click Here
Things To Do – Sea Click Here
Tabernas Wild West Click Here
Local Markets Click Here
Medical Click Here
Travel Click Here
Sierra Sports and Fitness Club
The Sierra Sports and Fitness Club provides a wide range of quality indoor and open-air sports and fitness facilities. 
Mentored by double Olympic decathlon champion, Daley Thompson, it is aimed at general fitness and well being.
With its warm winter conditions, which are unique to this part of Europe, it is particularly suited to pre-season general fitness, team bonding and re-habilitation after sports injuries.
Available facilities include:
An Aerobics Gymnasium, with state of the art equipment
External Exercise Steps and Boxing Bob Punch Bags
Contra Current in Main Pool
Trim Trail with Equipped Exercise Stations
Jogging Tracks
Two Cushion Life Tennis Courts
Two Cushion Life Padel Tennis Courts
Beach Volley Ball Court
5-A-Side Football Pitch
Mountain Bikes
Resort Map 
Click here to view the full resort map
Location
Desert Springs Resort is located in the Almanzora region of Almeria, Andalucía in south-east Spain. 
Almería International Airport is the fast growing local airport for the Almanzora and Desert Springs Resort. An easy 40 minute drive along the E15, a new and virtually empty section of the Autopista de la Mediterrania motorway, which skirts the the Cabo de Gata National Park and the majestic Cabrera Mountains, brings you to the Almanzora and to Desert Springs Resort.
The region is also served by two other international airports, Murcia and Alicante. Both are less than two hours away by car, again all but directly via the E15, making the area easily accessible using both chartered and scheduled 2 1⁄2 hour flights from all parts of the UK and Europe.
This development is an advertisement supplied by Spanish Property Expert and does not constitute property particulars. While aplaceinthesun.com (APITS Ltd.) requests all advertisers to supply correct details, it does not carry out checks on the information supplied and cannot be held responsible for any inaccuracies. Aplaceinthesun.com recommends seeking independent legal advice prior to any overseas property purchase.
A Place in the Sun will send the above details on your behalf to Spanish Property Expert. By submitting this form, you confirm that you agree to our website Terms of Use, Privacy Policy and consent to cookies being stored on your computer.