Strategically placed overlooking the sea, the estate is comprised of over 5 bespoke pool villas
LDR Group - Santi Pura, Bophut, Koh Samui, Thailand from £236,000
ENQUIRE NOW
By completing this enquiry form you agree to your details being made available to this company.
Introduction to Santi Pura Villas
Santi Pura Villas - Designed by the award-winning architect Khun Bodin Sritrakul in the evocative Moon Shadow styling. This intentional marvel of engineering assures that each building's exterior architecture complements its natural surroundings, keeping the views perfectly seamless.
Strategically placed overlooking the sea, the estate is comprised of over 5 bespoke pool villas, ranging from 3-bedroom residences of 222 sqm to 3-bedroom residences of 287 sqm. Santi Pura Villas architects' vision of an open space comfortable living area and a humble home design with a modern look as well as luxurious touch was the goal. The resulting creation is homes that give the ultimate serenity and tranquillity with a luxury desired sense and super comfortable living spaces.
Property Details
Villa TYPE A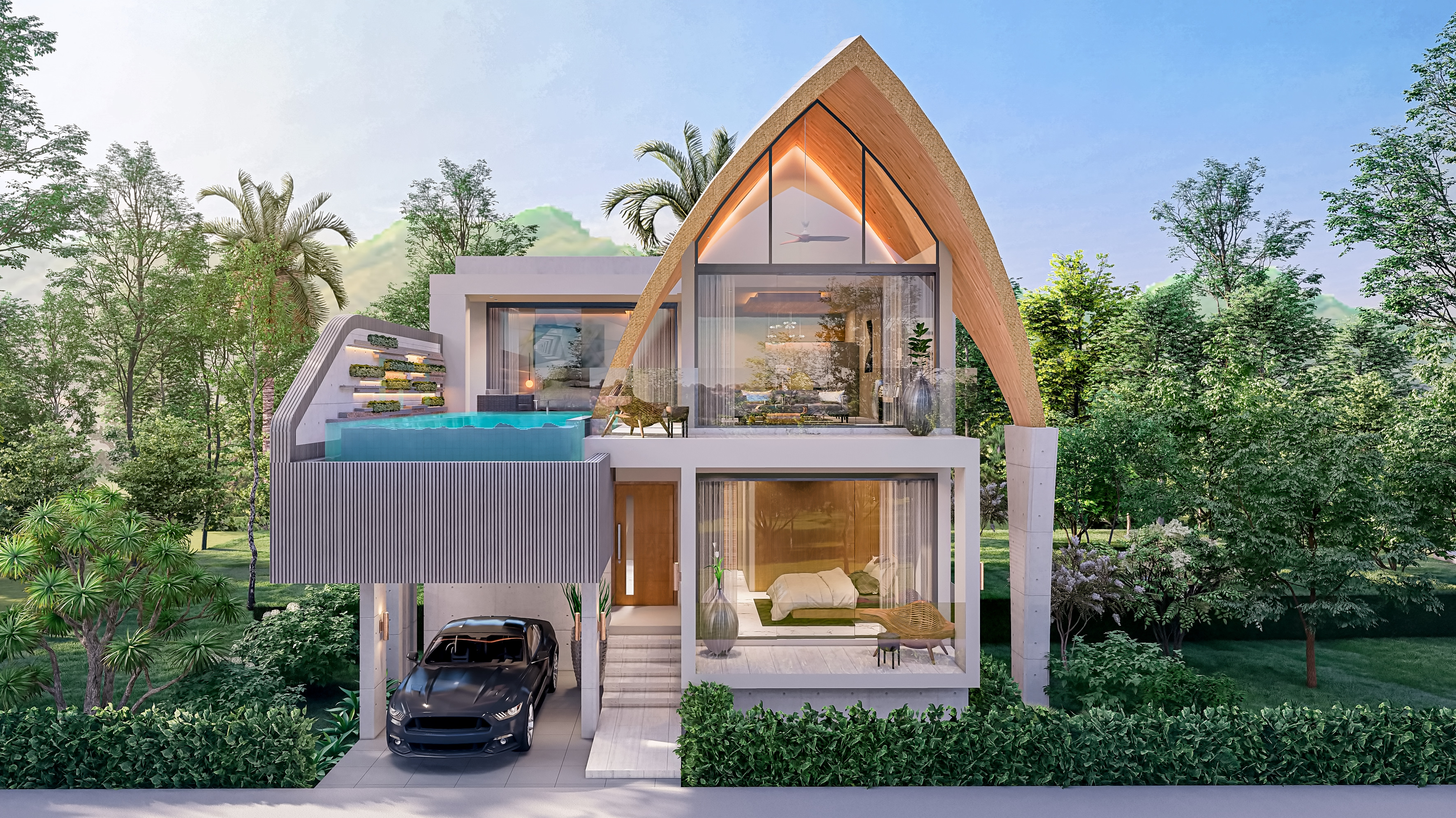 Designed in the evocative Moon Shadow styling to the premium quality build and finishing with superior standards of luxury and comfort to provide luxury living at its best. The top floor features an extensive open plan living with captivating floor-to-ceiling windows that invite an abundance of natural light and warmth. Kitchen and dining space, with the master bedroom leading directly onto the pool deck and terrace with its stunning sea views. The second and third bedrooms are downstairs.
INTERNAL AREA 142.00 M2
EXTERNAL AREA 31.00 M2
SWIMMING POOL 26.50 M2
PARKING, WALK-IN IN WAY 23.00 M2
TOTAL AREA 222.50 M2
Villa TYPE B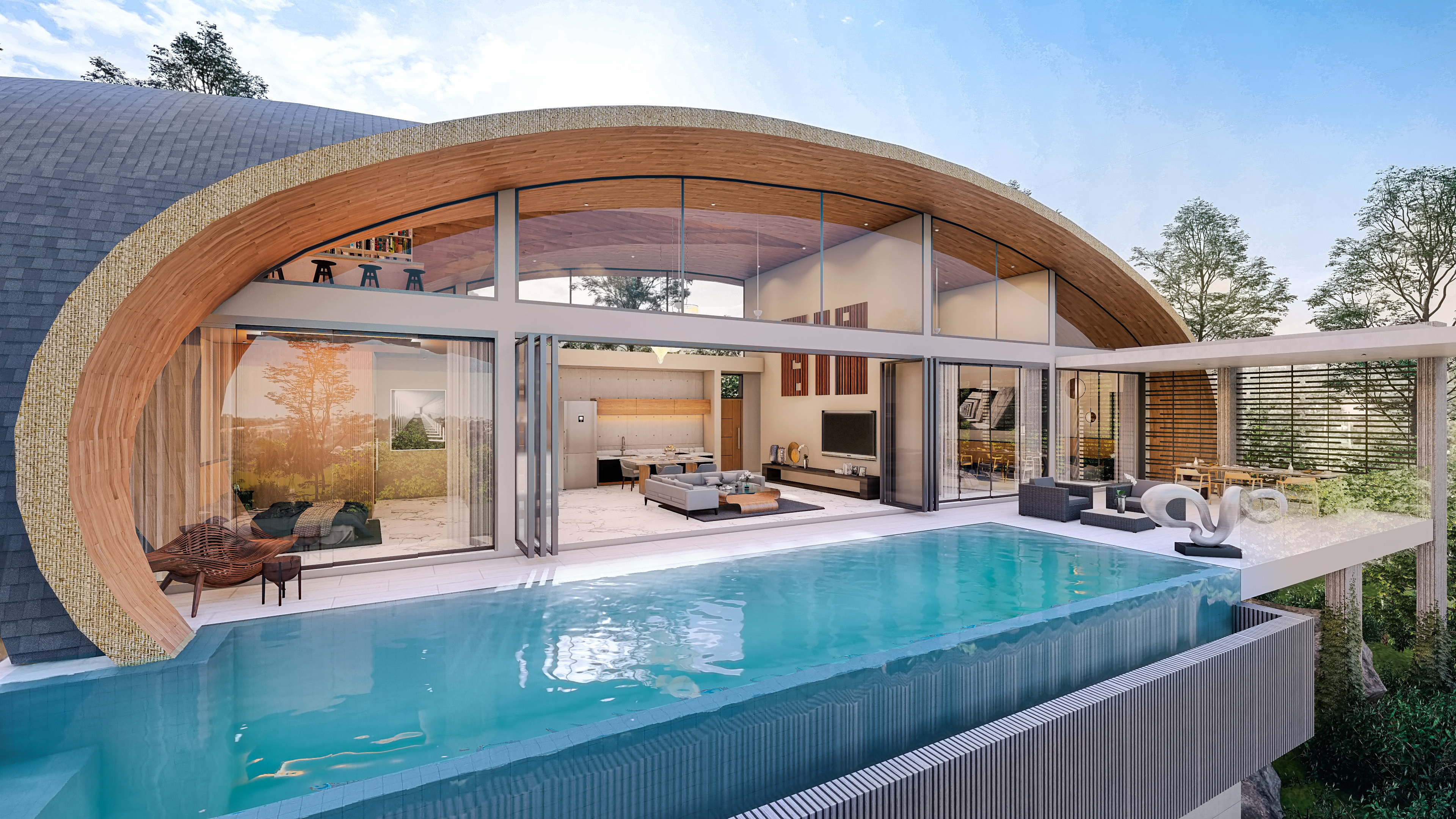 The villa is designed in a unique style that cannot be seen anywhere else on the island. The interiors are a destination in themselves, with the living areas, kitchen, bathrooms, bedrooms, and outdoor spaces offering the utmost privacy, spaciousness, and versatility. The villa features extensive open-plan living with captivating floor-to-ceiling windows that invite an abundance of natural light and warmth. Kitchen and dining space, with the living room leading directly onto the pool deck and terrace with its outstanding sea views.
INTERNAL AREA 146.50 M2
EXTERNAL AREA 58.00 M2
SWIMMING POOL 53.00 M2
PARKING, WALK-IN WAY 30.00 M2
TOTAL AREA 287.50 M2
10 Years Rental Program
Enjoy the exceptional launch prices during a pre-sale period and indulge in a beachside lifestyle with high annual rental returns. 
Our 10 YEARS RENTAL PROGRAM is an optional scheme designed for those owners and investors looking to maximize their rental returns while not in residence. During the 10 years of the managed rental pool, we will divide the total room revenue derived from the rental pool on a 60/40 basis – 60% paid to the owner, and 40% will be retained by the operator.
This commercial structure is an improvement on the 50/50 profit share used in other projects in Thailand as conflicts always arise from the lack of transparency on operation costs and expenses. A top-line revenue split removes this uncertainty and protects our buyers and residents. From the operator's share, all operating expenses will be paid. Such expenses will include (but not be limited to) utilities, marketing, salaries, cleaning equipment, and all other necessary expenses to operate the rental program efficiently and properly.
The rental program also includes check-in/out services, maintenance, upkeep, and cleaning, as well as management, all assured by Santi Pura Villas team.
PROFIT SHARE - 60/40 basic
HOW LONG - 10 years
OCCUPANCY BY OWNER - Anytime
ELECTRICITY & WATER - Free
MAINTENANCE & REPAIRS - Free
CLEANING & UPKEEP – Free
Location
Located on the green hill just 1800 meters from Bophut pristine beach and famous Fisherman's Village, the project is surrounded by beauty and overlooks the clear blue ocean.
Santi Pura Villas are nestled within idyllic surroundings of a prestigious hillside location with masterful views out over the Gulf of Thailand and across to the neighbouring island of Koh Phangan. The incredible location within the trendy area of Bophut, near beaches, and exciting shopping and nightlife venues are met by the seclusion. One of the island's most sought-after locations of Bophut Hills.
Fisherman's Village - 2 km - 5-minute drive
Bophut Beach - 2 km - 5-minute drive
Tesco Chaweng - 4 km - 5-minute drive
Airport - 8 km - 10-minute drive
Chaweng Beach - 7 km - 10-minute drive
Bangkok International Private Hospital - 6 km - 10-minute drive
This development is an advertisement supplied by LDR Group and does not constitute property particulars. While aplaceinthesun.com (APITS Ltd.) requests all advertisers to supply correct details, it does not carry out checks on the information supplied and cannot be held responsible for any inaccuracies. Aplaceinthesun.com recommends seeking independent legal advice prior to any overseas property purchase.
A Place in the Sun will send the above details on your behalf to LDR Group. By submitting this form, you confirm that you agree to our website Terms of Use, Privacy Policy and consent to cookies being stored on your computer.
Property Types
Villa A

from £236,000 (may change due to exchange rate)

Designed in the evocative Moon Shadow styling to the premium quality build and finishing with superior standards of luxury

Enquire Now

Villa B

from £347,000 (may change due to exchange rate)

The villa features extensive open-plan living with captivating floor-to-ceiling windows that invite an abundance of natural light and warmth.

Enquire Now