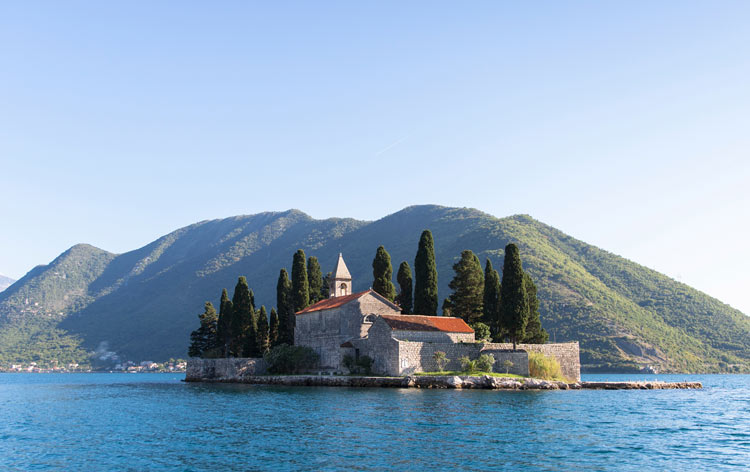 The beautiful Balkan nation of Montenegro is beginning to establish itself as a country with serious investor potential.
During the 1950's it was billed as the Adriatic's answer to St Tropez and attracted glamorous visitors such as Sophia Loren and Marilyn Monroe. But during the Balkan conflict of the 1990's, tourism fell away and the country and its property market were slow to recover.
Development has been steadily increasing with a handful of new notable resorts riding on the back of the first major success, Porto Montenegro. It's not hard to see why investors are attracted. After all, Montenegro is packed full of beaches and beautiful Mediterranean style coves, and is ideally situated between eastern and western Europe, making it the perfect spot for a holiday home or a relocation.
Talks about the country joining the EU have been going on since 2010, with corruption and organised crime being issues to address.
Where to Buy Property in Montenegro
It is generally much easier to buy a new-build property in Montenegro, where there are no history of ownership issues and no refurbishment or upkeep issues. Building surveys are hardly ever used in Montenegro but if you are buying an historic property, you just source one yourself.  But be very careful about who you buy from, and do use a lawyer to help look after your interests.
Much of the general interest – and the new developments - have been focused around the coast:  around the beautiful Kotor fjord (or Kotor Bay) area, that includes Tivat, or around the resort strip that is now Budva, or the exclusive little island of Sveti Stefan.
Well-connected Tivat has an international airport, which is just one of the reasons it is heralded as an investment and tourism hub. Before this, visitors need to fly to Dubrovnik and drive across the border (and driving in Montenegro can be a hair-raising experience).
The coastal town of Tivat has plenty to offer including an open air theatre, galleries, museums, and cinemas and is one of the reasons that the World Travel and Tourism Council has rated Montenegro "one of the top two fasting growing tourist economies of the next decade". As a result there is a bustling rentals market in the town, which is good news for those looking to lease their properties to holiday makers.
Price wise, property in Tivat is a mixed bag. It is possible to pick up huge swathes of development land for less than €200,000, while small apartments can be yours for €80,000. However, like much of Montenegro, the more popular areas of Tivat such as Porto Montenegro (see below) are fast becoming a millionaire's playground, and large villas in prime spots could potentially tip your budget into the €2 million mark.
Porto Montenegro is at the heart of the government's efforts to regenerate the country and drag its infrastructure (which can still be lacking in some parts– electricity shortages are common) into the 21st century. The marina development of 650 residential units and 600 boat berths includes a five star hotel and leisure facilities, luxury shops, a beach club plus residences and has become a yachties' paradise. It also brought the country to the attention of property hunters looking for properties with a berth, or a turnkey apartment with everything on tap.
With backing from the Rothschilds, it soon attracted the attention of the world's super rich – especially Russians who love Montenegro. While it is still possible to buy new hotel residences for just over €400,000, larger properties in the marina's prime spots will set you back significantly more.
Elsewhere in Kotor Bay
Kotor Bay and the walled port of Kotor are both UNESCO world heritage sites and are extremely popular with investors and tourists as a result.  In fact, high quality developments in the area can see 100% holiday occupancy during peak months.
Property prices in coastal areas rose tenfold between 2006 and 2008, they have dropped considerably now and are relatively reasonable at around €400 a square metre. But lack of supply means that new-build properties on swanky developments often cost more than in Spain or Portugal, for example.
You can get an apartment for €100,000 to €150,000 but it won't be one of the high-end developments and it will a studio or a one-bedroom most likely. For €400,000 for might get a new two-bed villa.
Popular areas are Tivat, Herceg Novi, Perast and Kotor Old Town.
The popularity of Kotor as an area has spread to surrounding neighbourhoods such as Dobrota, Muo, Prcanj and Stoliv, which have found themselves becoming increasingly popular with a western European audience.
South of the bay, at the new resort of Lustica Bay – on the Lustica Peninsula – you can buy high-end apartments for €400,000, although entry level is less than €100,000.
Finally, Budva (also very popular with Russian holiday makers) offers a large range of affordable apartments, with prices from around €80,000 for something new.
How to Buy Property in Montenegro
As mentioned above, use a lawyer to help look after your interests in this emerging market for overseas buyers. Historically Montenegro has fallen short when it comes to effectively tracking property ownership, so don't get caught out.
In order to buy a property in Montenegro there are two stages needed –"justus titulus" (legal entitlement to the property), and "modus aquirendi" (the registration of the property with the Area Property Registry). Both parties must sign the purchase contract and a court in Montenegro must certify all signatures.
As well as a deposit of around 10%, a purchase tax of 3% is payable on all properties. This is not calculated on the cost of the property as it was sold to you, but by the Montenegrin Inland Revenue. Other expenses the buyer must meet include the lawyer's and notary public's fees, which are typically 1 per cent.
If you want to buy a plot of land you must register as a company. You do not need company status in order to buy a house. A plot of land then it has to be designated as building land and not agricultural.
If you are planning to rent out your property then you must make sure you have a rental licence. It is illegal in Montenegro to advertise or profit from your home without one and regular checks are made.