Show Special 2009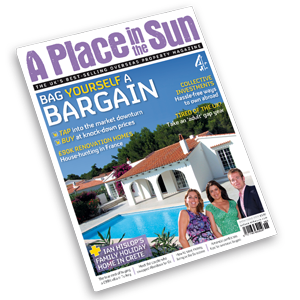 Want a bargain home abroad? There are loads of ways you can buy abroad for less through repossessions and distressed sales or collective investments such as fractional ownership, REITs, funds and holiday clubs.
Been made redundant or just want to escape the UK for a while? We've matched some dream destinations with day jobs to fund your grown-up gap year.
If you're selling your overseas property, saving on agent's fees by selling your property yourself on the Internet is tempting, but does it work? We weigh up the pros and cons of going it alone or using an agent.
Cheshire couple Chris and Liz Shaw love to renovate properties - now they want a rural French property they can work their magic on, so we help them find one.
We talk to Here Dene and Stuart Creegan, who relocated from Aberdeen to Australia, and pass on their experiences and meet Maureen Greuez and her husband Hervé who moved to Toulouse, where she runs a grocer's specialising in British food.
Plus, as always, this issue is packed full of the latest news on the overseas property market, from Australia's most affordable towns and Ryanair's new check-in rules to a million-pound property you could win in Mallorca, our pick of this month's hot properties, all with price tags lower than £500,000 - except the budget buster: well, it costs nothing to dream... and our panel of experts answer some of your queries on buying, mortgages, emigration, finance, currency and legal issues.