September 2009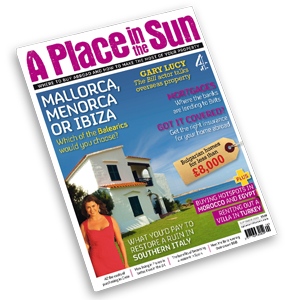 In this issue...
The September issue of A Place in the Sun magazine looks at the property options in the Spanish Balearic islands, and discover which foreign banks are still willing to lend.
Our property hunt is in Bulgaria and we find out how much it really costs to renovate a property in Italy. For the perfect desert getaway, we take a closer look at what Egypt and Morocco have to offer, and give you a guide to overseas insurance that won't leave your holiday home unprotected.
Plus as always, there's a round up of all the latest goings-on in overseas property, including the latest comment from television presenter Amanda Lamb. 'Hot Properties' features a stunning selection of properties well within your price range and the usual line up of experts panellists answer some of your queries on finance, legal, emigration, mortgage, currency and health issues.