March 2012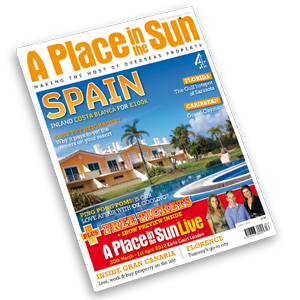 In this issue...
How well do you know your neighbours? We're betting that other than a nod as you pass each other on the street, and perhaps an exchange of Christmas cards, your contact is pretty limited. But overseas, things are a little different. Many Brits dream of resort living and being surrounded by like minded expats, but what if you don't get on with the people you have to share a pool with? In this month's issue of A Place in the Sun, we look at the importance of making sure that the other owners in your complex are as alluring as its price tag.
Elsewhere we're giving you the lowdown on A Place in the Sun Live which takes place at London Earls Court between the 30th of March and the 1st of September 2012. With show news, guides to our feature areas, and more about when you can catch up with your favourite presenter, it is an essential guide to finding your way around the show and making sure you get the most from your weekend.
We're also investigating Florida's arty Sarasota, Grand Cayman in the Caribbean, and Mexico, as well as finding out about what it's like to live and work in Gran Canaria from author Matthew Hirtes. And we've also got an article on ping pong poms- Brits who have relocated to Australia and then moved back, causing us to ask whether our love affair with Oz is cooling?
Plus, as ever we are packed full of tempting properties from across the world, and expert advice about everything from rentals to mortgages.